My work on the Sangria Jeans for the PatternReview contest begins.
Originally, I intended for the Sangria bull denim to be just for a muslin, because the color is so strong.  But now it's going towards making an actual, wearable pair of jeans.  And I just found a matching colored jeans zipper at JoAnn's last night.
I do have a floral nylon/lycra Hawaiian T-shirt I sewed, which will go very well with the Sangria fabric.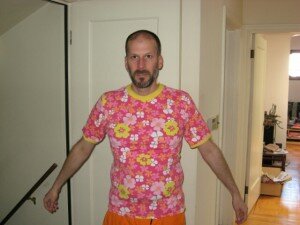 Now, for what occasion I'm not so sure. But when the jeans are done I'll definitely do a photo of the complete outfit.
In my fabric stash, I also have two cuts of Indigo denim.
.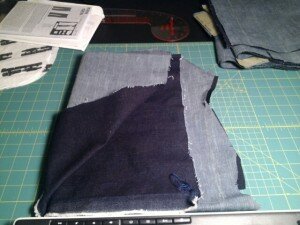 Both indigo cuts are stretch denim.  This was a total accident on my part; on both shopping occasions, I was at the Fabric Outlet "40% off everything in the store" sale, and I bought each cut from their pile of denim remnants. And both times, I didn't discover they were stretch denim until I got home.  (I also have some cheap white narrow-wale corduroy that is also stretch).
I really don't want a pair of jeans in stretch denim. I've pretty much worn Levi's my entire life, and to my knowledge I've never worn a pair of stretch denim jeans. Perhaps I'm wrong, but I kind of think of stretch denim as a women's thing. And I am also worried that stretch jeans would be a bit too revealing in that guy sort of way.
Additionally, I am concerned that you can't judge fit properly if you use stretch denim on the muslin, and non-stretch for the final garment. I posted this question on the PatternReview contest forum, and didn't get a definitive answer.  But I suspect the answer is that it won't work well.
I am following the suggestion of using it as a muslin in order to learn the techniques for pockets, fly, and waistband.  The only other thing I can do with it is give it away, or use it in craft projects.
I began by tracing out the pattern.  My hip size indicates that I should go with Medium, but my ever-expanding waist says to go with Large.

I traced out the Medium version, and I'll look at how much I'll need to modify the pattern after doing the muslin.  So, I completely expect that the muslin won't fit.  The tracing and cutting were carried out on the living room floor, as my desk isn't big enough to accomodate pants patterns.  I think once I take up pants making in earnest I'll have to find a more comfortable solution for pattern drafting and cutting.
I got a good tip from the MPB Jeans Sew-Along. If you are muslining the pattern, you really only need to do shorts, as the fit for pants is all in the waist and hips.  I did a trial layout to see if I had enough stretch denim to do a pair of shorts in addition to a full-length pair of pants.
As you can see from the photo, once the full-length pattern is cut, there's not enough left over for a pair of shorts.  So I just cut pieces for a full-length pair, on the wild chance that these jeans turn out wearable.
I must say that my dislike of stretch denim appears to be justified.  It's difficult to cut with the rotary cutter.  If you cut along the grain, everything is good.  But when you cut cross-grain, the fabric resists, then stretches out under the downward/forward force of the cutter.  This causes the fabric to bubble up and otherwise cut inaccurately.  I had to go back and trim with the rotary cutter in several places to make the fabric better match the pattern piece.
I also cut out the pocket linings.  They are from some 99 cent/yard "Este Skateboarding" logo print cotton broadcloth I bought from Fabrix, just for learning purposes.  I bought at least 5 yards of the stuff, and I've lost count of the number of projects it's wound up in.  At this point, there's only enough left for things like pockets, but it's still the gift that keeps on giving.
Este Skateboarding was a brand of Tim Brauch, a professional skateboarder who in 1999 died of a heart attack at age 25.