And another project is complete!
Truth be told, I finished the Chambray Shirt about two weeks ago. I just had a delay in preparing this post, since I have been away in Florida for a week at Walt Disney World and the Kennedy Space Center.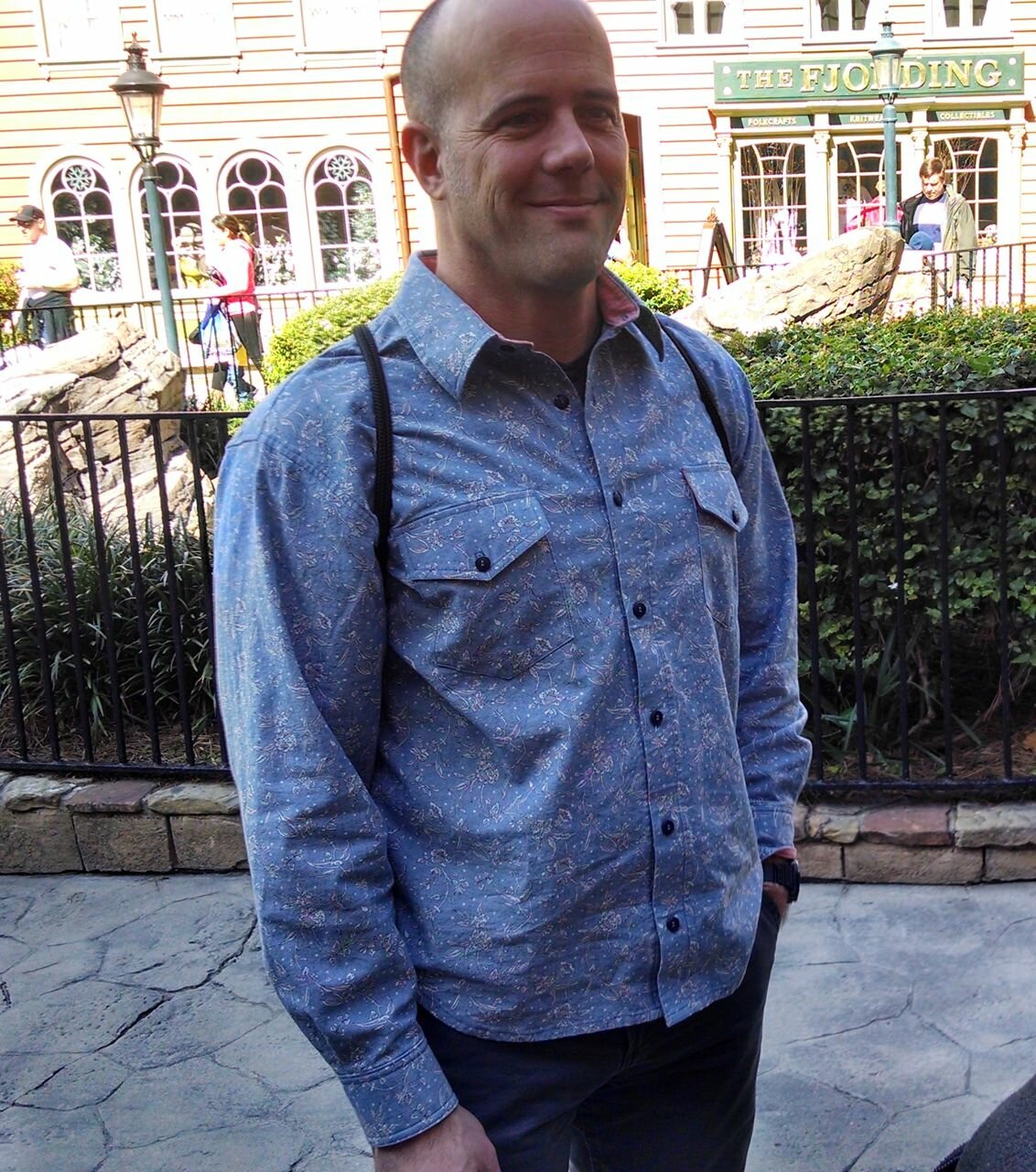 Above, you can see Jim wearing (not modeling) the Chambray Shirt as he waits in line for the "Maelstrom" ride in the Norway section of Epcot. I'm really pleased with the way the navy blue buttons really "pop" and add visual interest.
Lacking better pictures to work with, here's a photo of the backside I took mid-week.  The yoke seam puckered a bit when run through the laundry – I had pre-shrunk the fabric twice – so I'm not sure what happened there. But the yoke and box pleat did turn out nicely.

Better Next Time?
If there was one thing I would have done differently with this project, it would have to be the interfacing.  I chose medium-weight fusible interfacing for the collar, cuffs, pocket flaps and placket. While I like the stiffness of the collar and cuffs, the pocket flaps came out very stiff from too much interfacing.  Next time, I would use a light weight or no interfacing at all for the pocket flaps.  The good news is that the fusible interfacing from Wawak I used in this project otherwise worked well.
Finally, I did make one mistake: the placement of the buttonholes on the pocket flaps wound up too low relative to the interfaced edge of the pocket.  I interfaced the pocket edge provide support for the button.  I ended up having to add two squares of interfacing to the already interfaced and finished pocket.

What's Next?
With the completion of this project, and a week in Disney World behind me, I'm ready for something completely new.  But I don't know what it is.  My original plan was to continue this project by making another chambray shirt for myself, and I will, but I'm not sure if I want to press on with shirt-making or take a break for another project.
But next time you hear from me, I'll have it all worked out.