I didn't want to keep my readers waiting, so here's a few quick pics I snapped of the finished hoodie with my phone.  It came out looking much nicer than all of the mistakes would lead you to believe.  I haven't yet worn it out of the house, but my coworkers want me to wear it to work next week.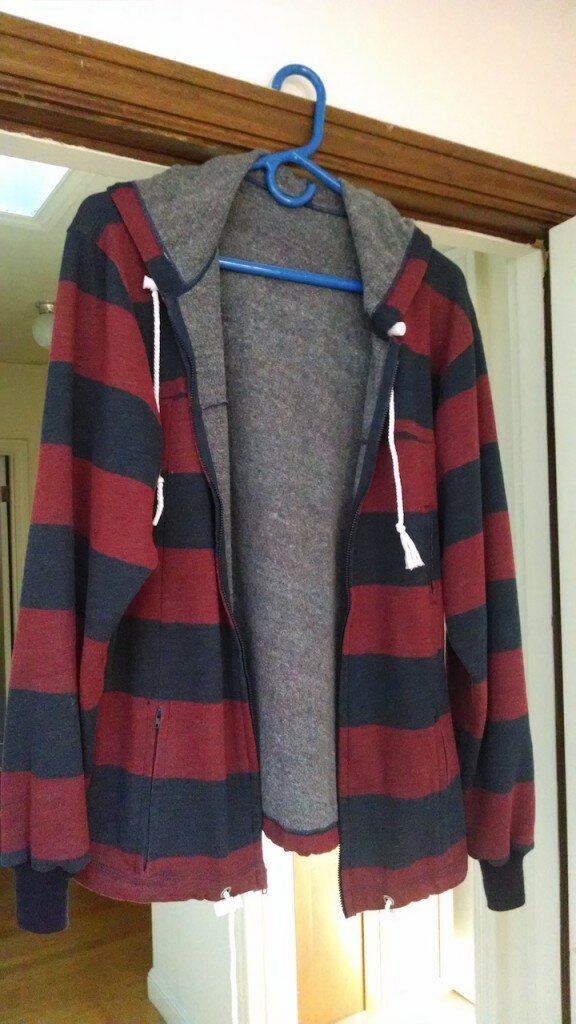 Drawstrings
The drawstrings are a feature I added to the pattern. The drawstring cord and the cord stops came from WAWAK sewing supplies.  I was just barely able to use a small safety pin as a bodkin to thread the cord through the grommets on the hoodie.
The drawstring cord immediately unravels when cut.  I knotted the ends, but it looks a little amateurish; instead, I'd like to fashion some real "aglets", those little things at the very tips of shoelaces that keep the cord together.  Ian's Shoelace Site seems to be the best resource on the Internet for making your own aglets, with several types of construction methods.
Next Time
Maybe some modeling photos of the hoodie, and on to the next hoodie.