I've acutally had this shirt complete for a few weeks now, but haven't had an opportunity to take photos.  So, here's the second of the three short-sleeve shirts I made for my summer wardrobe: a blue checked plaid shirt.  I love this shirt, I love the color and the way it turned out.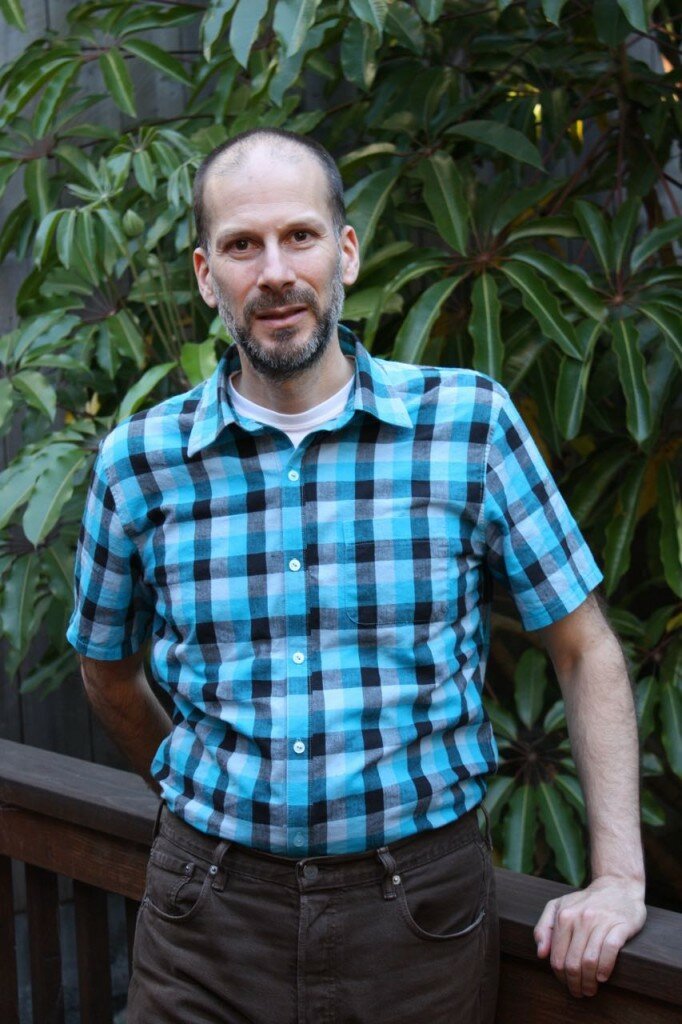 My photographer (ahem) didn't tell me the back of the shirt was wrinkled to hell all from wearing it that day, but you can at least see the bias yoke and associated detail.  McCall's 6613 has a box pleat right at the center of the yoke.

Collar
I'm getting increasingly better with my collar work.  I've found a way of doing the collar points that has been consistently working for me, producing sharper and more consistent points. My edgestitching is getting better.

And for attaching the collar to the shirt, the Margaret Islander method described by Peter at Male Pattern Boldness is helping me get the collar band attached evenly, with even topstitching and good alignment on the front placket.
Note also the buttonhole exquisitely made by my sewing machine before it was "tuned" by the repair shop to the point of inoperability.
Pocket and Front Bands
The front pocket and front bands turned out nicely.  I routinely use the walking foot when stitching the front band to keep the band from twisting and distorting as I put in the lines of edgestitching.  You'll note that the front band doesn't precisely line up with the shirt front in this photo (even more visible in the front profile above), but it's close.
For the pocket, I've gone back to shaping the fabric around a cardboard template and pressing with an iron to shape the pocket before attachment.  I've had mixed success using Janet Pray's technique of holding a finger behind the presser foot to compress and ease the fabric around the curves.  It works on the curves but doesn't give me straight edges along top and bottom, which is important when you're matching plaids.
Here's the front band with the buttons. I had a problem getting the collar band to end up flush with the front band.  I know what went wrong here.  I got good results on the other side (see above photo) and my yellow shirt has come out nicely.
Yoke and Shoulders
Next Time
I'll share some closeup photos of the work-in-progress yellow shirt, that just needs buttons and buttonholes to be called "finished".  And more talk about sewing machines.