Sunday, I traced out the trouser pattern from Vogue 8940 and made a muslin, and I'm back to report my first attempts at fitting them.
Pattern Details
Vogue 8940 is a contemporary styled, tapered trouser pattern.  Some things I noticed about it:
It has slant pockets in front. In back it does not have welt pockets, as I first guessed. The rear pockets are on-seam pockets, using the yoke seam. The rear pockets are covered with flaps.
Unlike the Jedediah pants, V8940 has a contoured waistband with overlap and underlap extensions across center front.
The pattern comes in two multisize editions: 34-36-38-40, and 40-42-44-46. I have both editions, so all bases are covered.
Constructing the Muslin
Following the instructions on Vogue's website, I chose the size corresponding to my waist measurement – 36, according to my tape measure. I traced out front, back, yoke, front pocket facing, and waistband pieces. Then I cut out the muslin.
Following the advice in Roberto Cabrera's book Classical Tailoring Techniques: Men's Wear, I added a zipper and a waistband for the fitting. It was good to get that question settled, because I have heard and read conflicting advice from fitting experts as to whether a waistband is desirable for a fitting muslin. Peggy Sagers says you don't need the waistband and it gets in the way; Joyce Murphy says it is essential so you can properly judge how the pants hang.
Also following advice from another pants fitting article in Threads, I drew grainline, crotch, hip and knee lines onto the muslin as guides to judge how the garment hangs.
After going through all that effort, I was rewarded with a pair of pants I couldn't put on.  The waist was three inches too short, and there was no ease at all along the hipline.
Measuring the Pattern
So I did what I should have done from the start: took a tape measure to the pattern and directly measure the pattern sizes.
Waist
I measured the size 36 muslin I prepared, then used the tape measure to measure the waistband for the other pattern sizes.
| Pattern Size | Muslin measure | WAISTBAND measure |
| --- | --- | --- |
| 36 | 32.5″ | 33″ |
| 38 | — | 35″ |
| 40 | — | 37″ |
My current waist size, 36″, falls right between the 38 and 40 pattern sizes.
I also measured the pair of Levi 501 jeans I was wearing. The jeans, advertised as a size 33 waist, actually measure 36.5 inches and fit me well. Vanity sizing in action.
Hip
Following the instructions in Nancy Zieman's Pattern Fitting With Confidence, I measured the pattern at the hip and compared with Vogue's finished hip measurements printed on the pattern tissue.
My measurements consistently came out 2 inches more than Vogue. But I think Vogue might be more accurate, as I have a 39-inch hip measurement and I just fit into the size 36 pants.
| Pattern Size | MY Measurement | Vogue's Measurement |
| --- | --- | --- |
| 36 | 41″ | 39″ |
| 38 | 43″ | 41″ |
| 40 | 45″ | 43″ |
Either the size 38 or size 40 patterns could possibly work.
Unsure of how much ease I wanted in the hip area, I consulted Don McCunn's book How To Make Sewing Patterns and found this table for recommended hip ease:
| | Tight | Snug | Comfortable |
| --- | --- | --- | --- |
| Women | 1″ | 2″ | 3″ |
| Men | 1″ | 2-3″ | 4″ |
I also measured the hip, as best I could, on two pairs of Levi's pants in my closet. Docker Alphas are Levi's slim and tapered take on their traditional Docker pants.  The City Khakis are a very similar silhouette.
| Pant | Hip Size |
| --- | --- |
| Docker Alpha | 43″ |
| Docker City Khaki | 43 1/2″ |
Considering that it's easier to pin-fit a slightly oversized muslin, all signs pointed towards size 40.
The Muslin
Here's what the size 40 muslin looks like, straight out of the envelope, no alterations.  I did pin up the legs at the knee so the hem would break nicely.
Already it looks better than the Jedediah Pants pattern; it can even pass ready-to-wear fit standards for a lot of people.
I thought there might be too much ease in the hips, but sitting takes up all that ease and I'm glad it's there.
The problems I'm noticing with the muslin are:
Wrinkles under the seat from excess fabric.
Fullness in the back, vertical drag lines along the thighs.
Seat Wrinkles
The wrinkles under the seat seem to be a recurring theme with me. Previously, one of my readers suggested, "It's not you, it's the pattern". Perhaps it is me, after all.
I consulted the many fit references I had on hand for the best match for the problem and advice for solving it.
Pants for Real People
I don't want to turn this into a review of Pants for Real People, except to say this book gets on my nerves for the same reasons its companion volume Fit for Real People does: it's insistence on tissue-fitting as part of its "secret sauce", and its heavy emphasis on plus-sized women as the definition of "real" people. Also, roughly half the book deals with pants construction, not fitting, which I feel is a bit of a ripoff.
But I was pleased to discover that PFRP devotes three whole pages to pants for men, half of that actually devoted to fitting.  Here's what it had to say:
I hope I haven't broken any fair use laws; this is close to the extent of the fitting coverage for men in the book.
Fabulous Fit
Fabulous Fit, by Judith A. Rasband and Elizabeth L.G. Liechty, offered a similar diagnosis: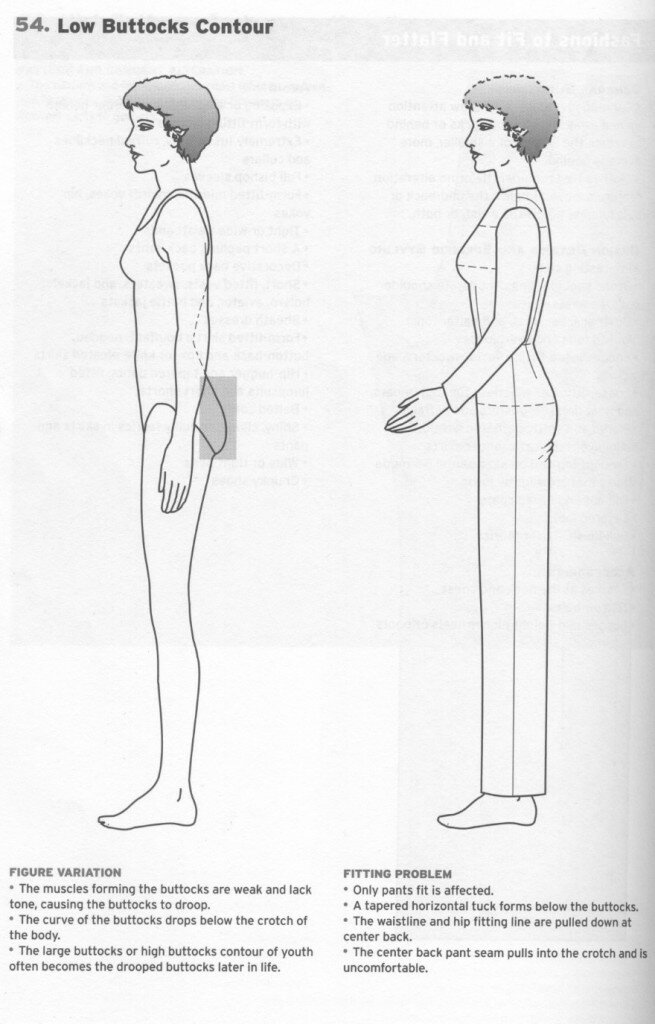 It also prescribed deepening the crotch curve, pointing out that this alteration is one of the few that can be done with ready-to-wear as it simply involves stitching a deeper curve below the original.
Here's the thing, though: I don't really have a flat butt.  Yes, I'm over 40, and I'm sure my butt was rounder at age 25, but I don't think I yet quality for the flat-butt club.
Trouser Draft
Kenneth D. King's ebook Trouser Draft has an extensive section on fitting, using King's own fitting methodology. Here's King's take on my issue:
And there's a big insight: my hips/seat have always been a little large in relation to my thighs.
Finally, it's worth noting that some readers (Laura and Shari) suggested a flat-butt adjustment back in the first article of this pants fitting series.  It just took a while for me to realize it too.
Fixing the Seat Wrinkles
I decided to follow the advice in PFRP and Fabulous Fit by stitching a new, deeper crotch curve in back.
First I tried deepening the curve about 3/8 inch, tracing out a curve formed by matching a flexible ruler to my body.  I marked it in yellow and just stitched over it on the machine.
And here's the result.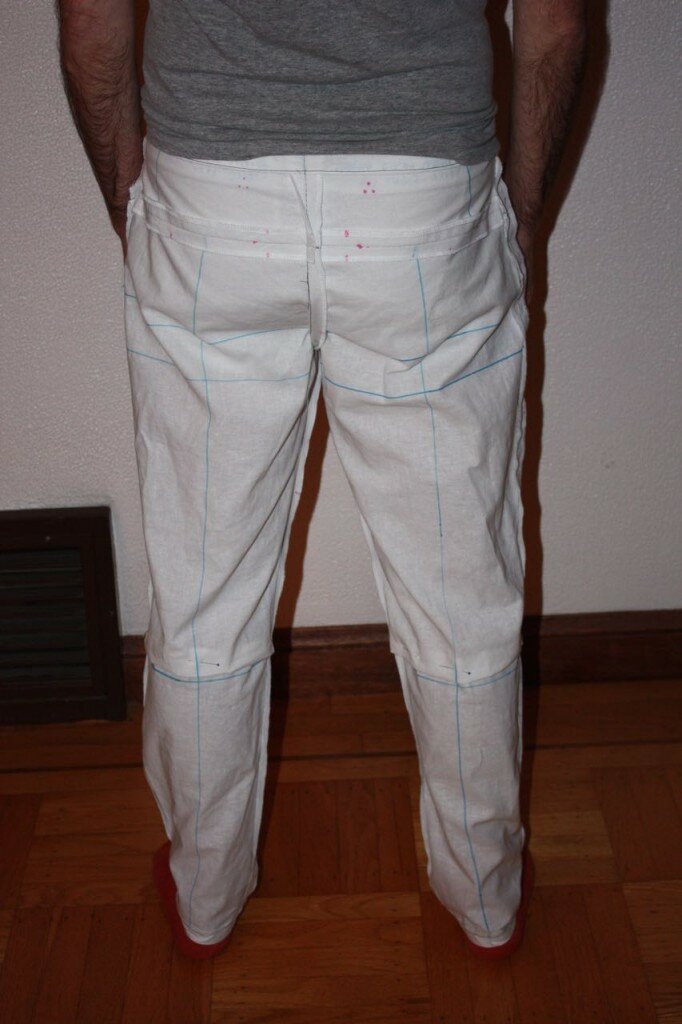 A little bit better, but not that much of a difference.
So I deepened the curve even more.
I think this change has made a noticeable improvement.  On the photos below, I also took in the right side seam both front and back by about 1/2 inch from the hip to knee, removing about 1 inch of ease in total.  This was to try to eliminate some of the vertical drag lines along the back thigh.
So What Now?
Right now, I'm trying to decide if I should try more modifications before proceeding to an actual garment. The muslin is actually quite stiff and not as drapey as some fashion fabrics, so I'm curious how this will look as an actual garment.
Also, removing the excess along the side seams also makes the legs look straighter, so I'm mulling if I like that style choice.  (Though it just occurs to me I could remove the excess along the side via pivot/slide, and reduce circumference while retaining the style lines of the original pattern).  I could also consider taking a vertical tuck along the back as suggested by PFRP, but I really don't want to mess with the pattern above the hipline.
Overall, though, Vogue 8940 seems like a nicely drafted pattern that looks like a viable path to a decent fitting pair of pants.
About Cloning
Several readers suggested I clone a garment.  I took some photos of myself in the Levi Docker Alpha City Khakis – the garment I had considered for doing a rub-off.
Ugh.  I thought I actually looked reasonably good in these pants. The V8940 muslin looks better than these pants do.  If I'm going to do a rub-off, I'm going to have to look for pants that fit better than these Levis.
Next Time
Maybe an actual test pair?  We'll see.  As always, I value and appreciate your comments.