I like to think of David Page Coffin as the "Alton Brown of Sewing". The two have a lot in common, including attention to detail, commitment to a high-quality result, and the relentless search for best tools and techniques to achieve that result.
Being a big fan of Coffin's books including Shirtmaking and Making Trousers, I was always hoping that he might offer a Craftsy course to better present his techniques. So I was really pleased to see his new course Pants Construction Techniques: In The Details appear on Craftsy.
If you've read through Coffin's book Making Trousers, the Craftsy class will be familiar to you – it's basically a video companion to the book. You'll even see some of the same example garments on display.
In the Craftsy course, Coffin leads you through the techniques he uses for constructing these features:
Inseam pockets
Slash pockets
Welt pockets
Zipper fly
Cut-on waistbands
Sewn-on waistbands
Belt loops
Closures
Pockets
The pocket construction coverage is extensive. Coffin shows you how to draft your own pocket patterns for any pants pattern, including facings and pocket bags.  Then he demonstrates how the pieces go together to make the finished pocket.
For welt pockets, Coffin shows only a single welt pocket in detail, since the single welt is actually a double-welt pocket with some special handling – so if you can do single you can also do double.
Zippers
For zippers, Coffin demonstrates two different styles of fly construction, and also deals with how you install a zipper for cut-on versus sewn-on waistbands.  This section probably bears rewatching because it's the most technical section of the course; he works on both fly options side-by-side, at the same time.  This is great so you can see how the construction methods compare, but once you decide upon your approach you're going to concentrate on only one set of steps.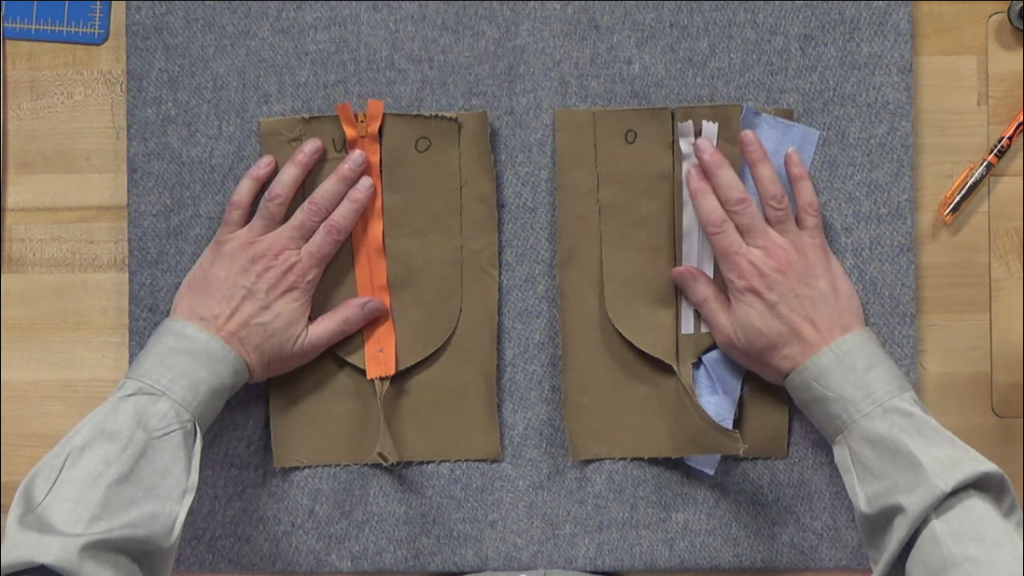 Design Features
In the final class session, Coffin discusses unconventional techniques like waistbands with built-in expansion, as well as zipper enclosures hidden inside pockets.  He encourages you to use these techniques, as well as those found in ready-to-wear garments, as a springboard to experiment with your own pants designs.
Comparison to the Book
The book Making Trousers comes with a companion DVD, with video mini-lessons.  It's been a little while since I reviewed the content on the DVD, but I would say this is a better presentation of the topics than the DVD mini lessons that came with the book.
However, there is content on the DVD that isn't in this class. If you have the book and haven't covered that material, you certainly should do so first. The DVD includes some videos for some off-the-beaten-track techniques, such as sewing a keyhole buttonhole on a standard zigzag sewing machine.
(An aside: One thing about the DVD is that the videos are part of a large PDF presentation, and you will need Adobe Reader (free download) to view the video content. You can't view them on a standard DVD or Blu-Ray player. I wish there was a way to view the videos outside Adobe Reader, as I would like to view them on a tablet device.)
Caveats
As the title of this course makes clear, there is no content devoted towards fitting. That might upset some people, but I think it's wise to limit the scope of the class, since pants fitting is such a complicated subject it really deserves a course all its own.
I was disappointed that a few topics from the book were not included; there is no demonstration of how to make a button fly, for example.  And there's some nice tailoring touches Coffin includes in the book, for instance tweaking the lining of a pocket flap to get it to favor towards the inside, that aren't included here as well.
You should bear in mind that in the Craftsy class, Coffin sews samples rather than actual garments. Most of the time I was okay with this, but for waistbands I actually would have liked seeing the entire construction process and the fully finished result. Especially since there are so many ways to structure a waistband – some go fully around the garment, some have seam breaks at the side seam or center back. etc.
Finally, Coffin constructs each of the features in isolation. A beginner who's making their first pair of pants might benefit from seeing the entire construction process unfold from start to finish, including order of assembly.  So for that reason I wouldn't recommend this class to the beginner who's never sewed pants before. But for an intermediate sewist, it's an excellent guide to quality construction techniques.
Update: The downloadable class notes do include instructions on proper construction order. But I stand by my feeling that beginners would benefit from seeing the process unfold live on video.
Summary
This class sells for $49.99 at full price. I paid $24.95 via a promotion, and I definitely think it's worth the price I paid. Is it worth full price? I won't answer that, because you should never pay full price for a class at Craftsy.
For what's included in this class, and the quality of the techniques presented, I give Pant Construction Techniques: In the Details 5 stars.