I've been reading David Coffin's brand new book, The Shirtmaking Workbook: Pattern, Design, and Construction Resources. It's a wonderful book, and it's best described as the "yang" to the "yin" of his classic book, Shirtmaking: Developing Skills For Fine Sewing. While Shirtmaking centered mostly on skills and technique in construction, this new book concentrates on design inspiration and pointers to helpful resources.
I'll probably post a detailed review here soon, but if you're reading this blog you should just go out and buy it.  It has a ton of content, and it's more than worth the price.
Coffin discusses digital pattern drafting in the early portion of the book, and describes his workflow using a large-format office printer/scanner to scan patterns and garments, edit the patterns in Adobe illustrator, and print on large format paper (13×19 inches).  With a machine that can gulp in scans that large (11×17 inches), you can scan large pattern pieces and even whole garments into the computer fairly easily.  And printing out patterns is a lot easier because there's a lot less cutting and taping involved.
I've shied away from print-at-home patterns for the most part, as well as using a computer to do my own pattern work. I don't like cutting and taping letter-sized sheets a whole lot.  And I simply don't have the space for a large-format plotter, like many digital pattern junkies have.
Following his recommendation in the book, I recently purchased an Epson Workforce WF-7610 printer.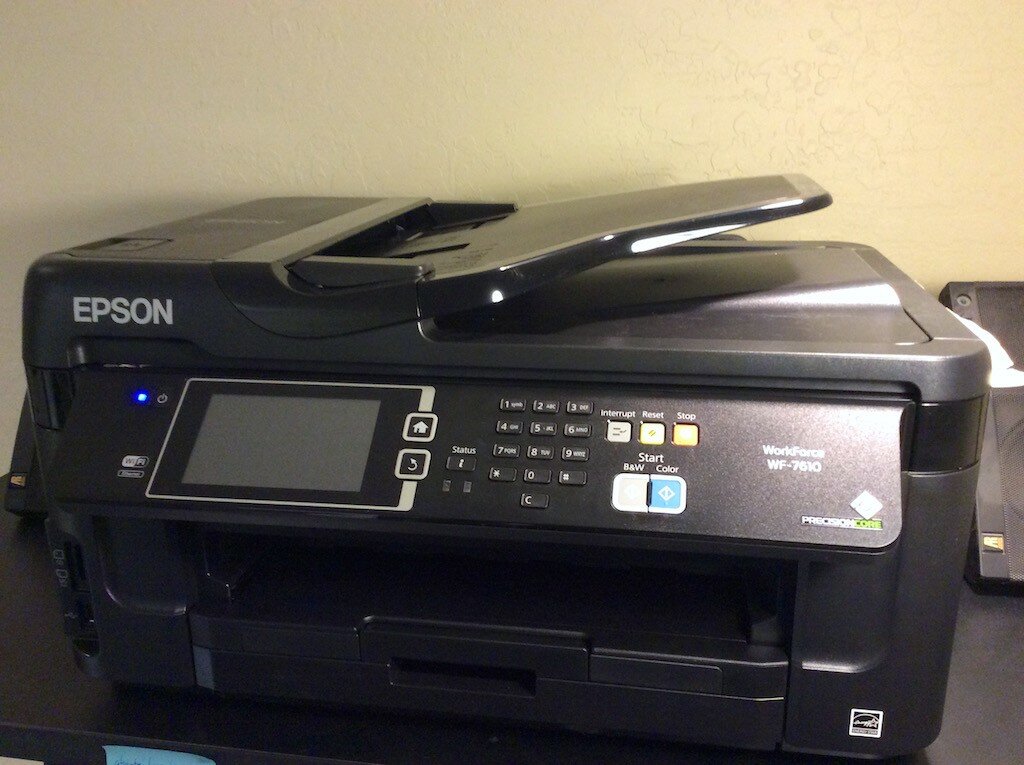 I got it from my local Office Depot, because the price was comparable with Amazon (it was on sale) and I didn't have to worry about having a bulky item shipped.  It cost less than $200.
This machine can scan (and copy) at 11×17, and is also an inkjet printer that can print on 13×19 inch paper.  I bought a package of 11×17 inch paper from Office Depot since it seems to be a better "bang for the buck" than 13×19, and is easier to find.
I've already started using the Epson to "archive" my revisions to the pants pattern I've been fitting by scanning the front and back pieces in to the computer as chunks, and using Inkscape software to combine the scans into a full-sized scan in the computer.  Here's a tutorial video that shows you the process.
I've also been examining Wild Ginger pattern-making software to use to create and alter my own patterns, then print them out on the printer.  Wild Ginger's CAD editor also allows you to take a scan or a photograph of a paper pattern and digitize it, so you can alter it onscreen.
Wild Ginger's Pattern Master Tailor Made software is geared specifically for menswear. It sells for $125, but for 2015 they offer 20% off many of their products if you purchase on the 20th of the month.  I've downloaded their free demo edition (which doesn't save or print) and am checking it out.  It requires Windows, so that might be an issue for some.  More on this in future articles.
Next Time
More on pants fitting.