Here's where I'm at so far in the construction order.
Staystitching and Interfacing
Prepare and Attach Front Pocket
Shirt Front Bands
Yoke and Shoulder Seams
Prepare and Attach Collar and Neckband

Prepare Sleeve Placket

Attach Sleeve to Armscye, flat-fell armscye seams
Sew Side and Sleeve Seams (with flat-felling)
Prepare Cuffs
Pleat Sleeves, Attach Cuffs, Topstitch Cuffs
Rolled Hems along bottom of shirt
Buttonholes (including front band, collar, cuffs, and sleeves)
Attach all Buttons
Final Shirt Press
For the sleeve plackets, I had planned to work from Pam Howard's video tutorial, but the McCall's 2447 placket piece is a little different from the class pattern, and so I chose to follow the pattern directions instead.  The big difference between the two is that the McCall's pattern has 1/4-inch folds along the placket edges and the point, rather than wider folds along the edge.
First, I had to match up the placket to the sleeve it belongs to.  Right side of placket to wrong side of sleeve piece, tower towards center of sleeve.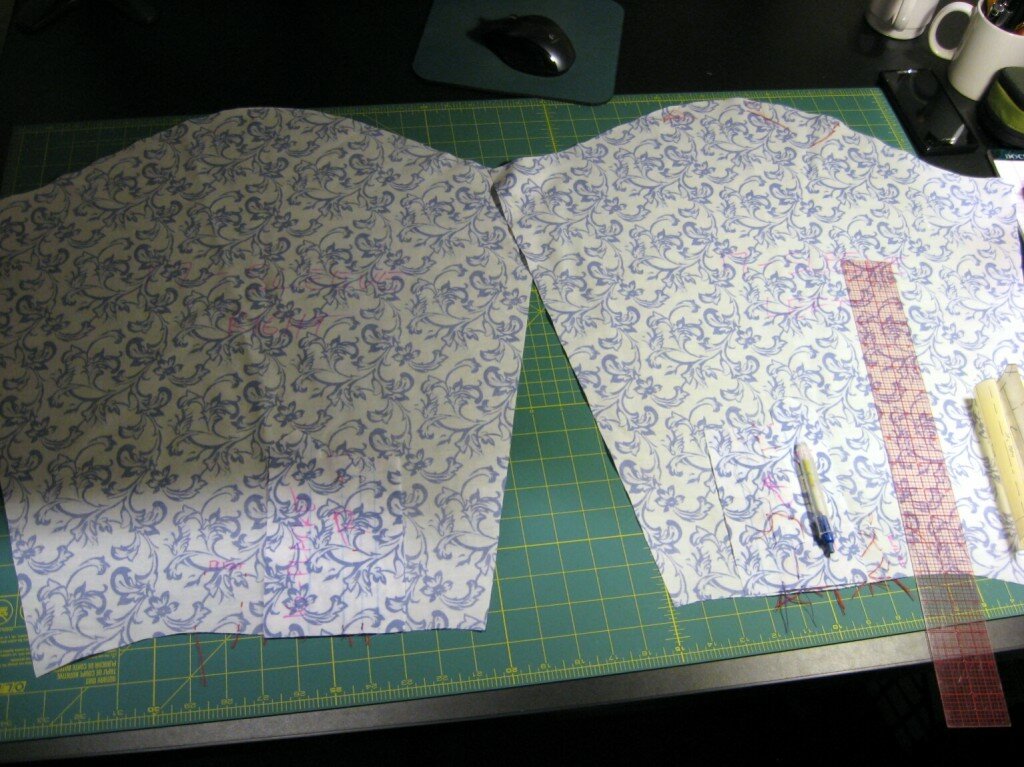 I pressed the 1/4 edges on the outsides of the placket,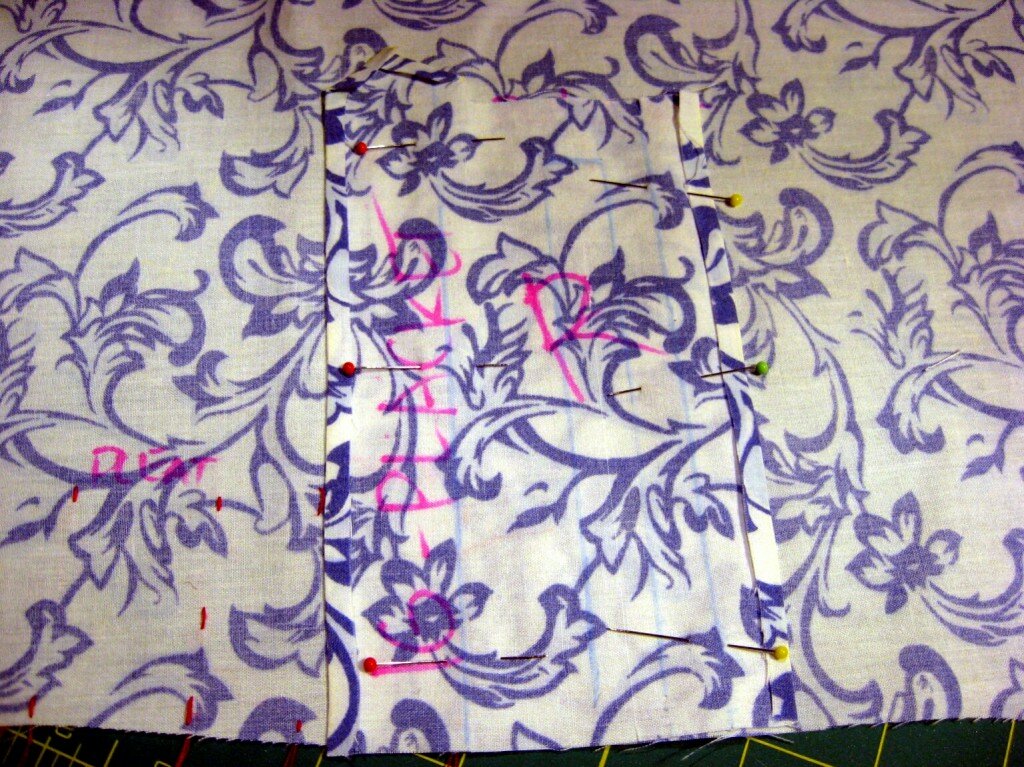 then stitched the outline of the placket opening.
After cutting, turning inside out and pressing, it looked like this.
The narrow inside band and wide outside tower were folded and pressed: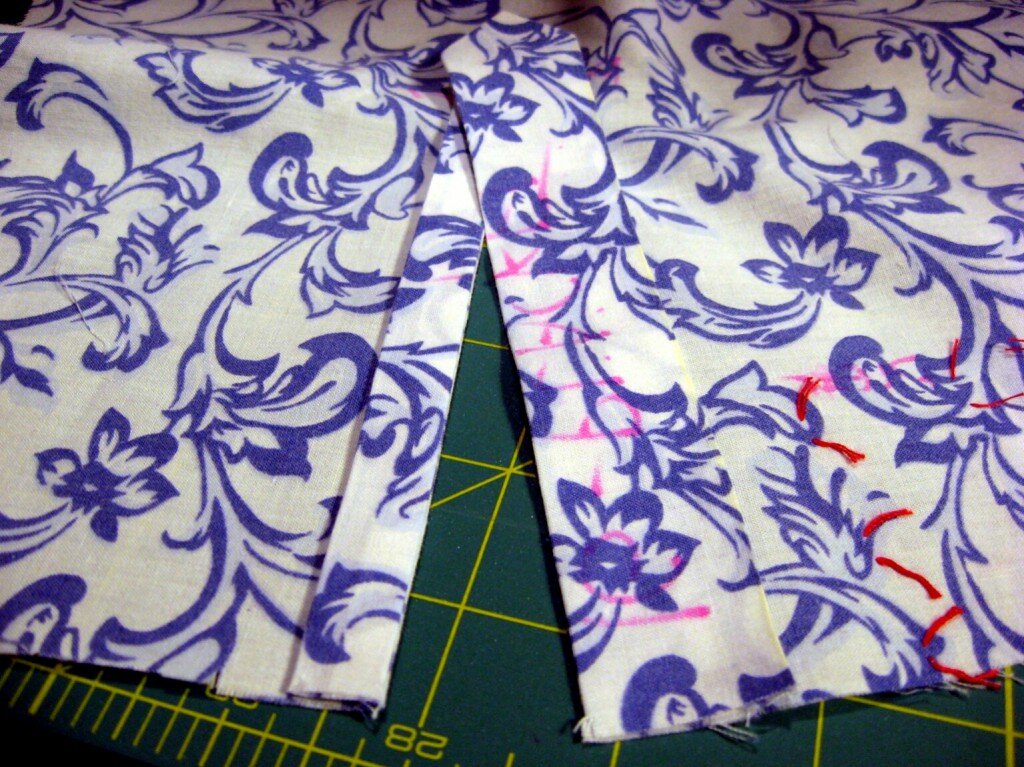 The inner strip of the placket was stitched, then the outside around the placket tower.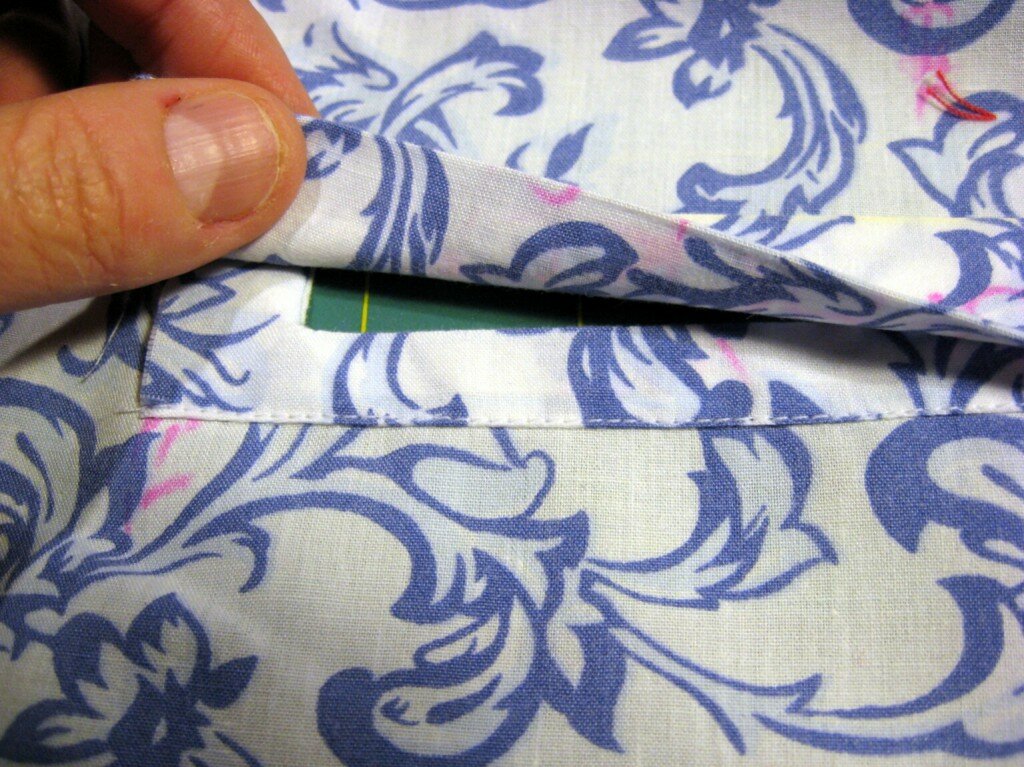 The yellowish coloration along the edges is from the iron; I stopped to clean the iron soleplate with a bit of iron cleaner, and failed to fully wipe it off before ironing the towers.  I hope the discoloration will come out in the wash.
The big thing I would do differently with the placket construction is to fold the tower points after attaching the placket to the shirt, rather than before. This would make it easier to get an evenly balanced point.
To do that, I would not want to press the folded edges before attaching them, as the McCall's pattern instructions have you do. I would actually want a different pattern that allowed for folding the tower point after the placket was stitched onto the shirt.  I think next time I will use the tower placket pattern that Pam Howard supplied with the class, or the one in David Coffin's book.
What else would I do differently?
Take more time with the edgestitching. I hurried through some of the pivot points and so the edgestitching doesn't quite follow the line of the towers everywhere.
But looking at them now, one night later, I feel pretty good about them.
Onward, to attach the sleeves and flat-fell some seams.