Hello… (tap tap tap) is this mic on?
Good?  Good.
(Those of you who get this blog via email from WordPress.com: I've been in touch with their tech support, who assure me that everyone who was subscribed will continue to receive new articles.  I will be reaching out privately to some of you who wrote me, to make sure this article arrives in your mailbox).
Now that the blog has (mostly) settled in its new Internet home, we can get back down to the business of sewing.
Idea
I've been thinking about tailoring projects for a while.  I have a cut melton wool for a peacoat sitting in my stash, and there is also a tailored blazer project in view on my project queue.  But as a way to ease into tailored garments, I wanted to first make something with a lining.
I spotted a lined, buffalo-plaid shirtjacket in a store at the mall a few weeks ago, and it got me thinking.  Shirtjackets (aka, "shackets") are a bit of a thing for many in the mens sewing blogosphere, and it looks like now I'm catching the bug too.  Shackets really are perfect for the type of chilly but not freezing cold weather we get here in San Francisco.
Inspiration
The overall idea for the shacket isn't totally in shape yet, but I do want it to be a plaid flannel garment that vaguely recalls a lumberjack shirt.
Besides looking at the aforementioned blogs for inspiration, there's a great chapter on shirt jackets, with associated online material in David Page Coffin's book, The Shirtmaking Workbook.  He has a Pinterest board with lots of design inspiration, and I have also started my own Pinterest inspiration board for the project.
Fabric
This project is both a learning exercise and an experiment for me, so I'm not devoting precious fabrics to the project.
This cut of blue plaid cotton flannel is from my dwindling stash of fabrics from JoAnn's.  I'm trying to destash, and assuming I have enough fabric in this cut, should work great for this project. (I bought enough to make a shirt, but I may not have taken plaid matching sufficiently into account.  And a jacket pattern is a bit larger than a shirt).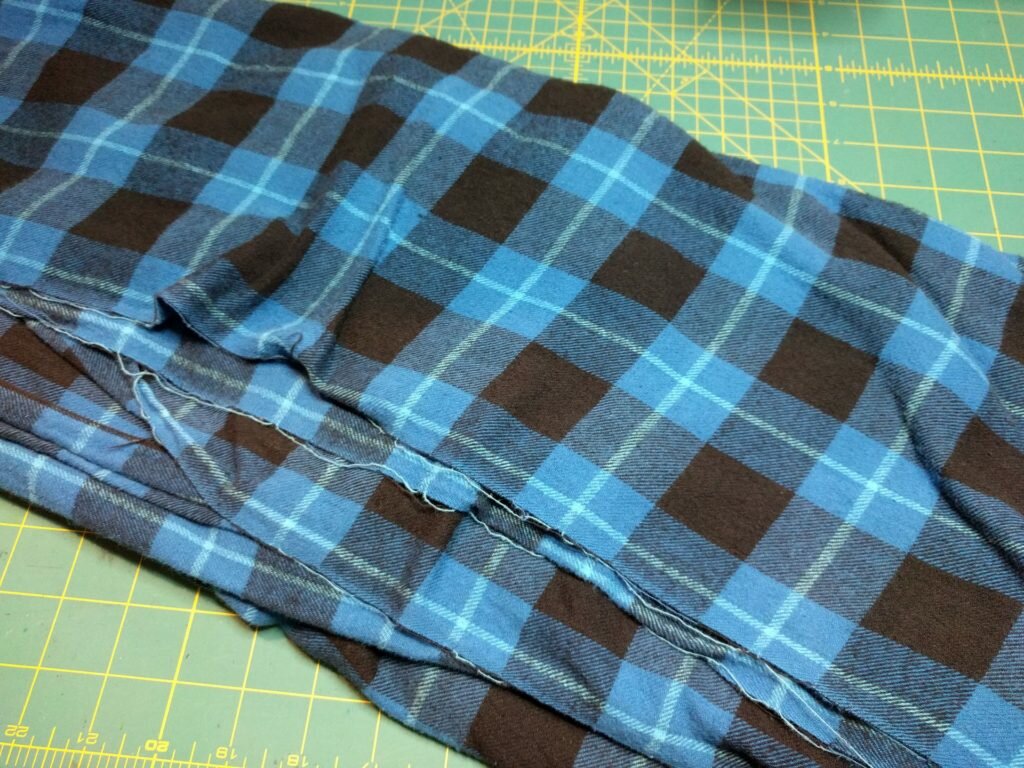 For interlining to make the jacket warm, I went back to JoAnn's and bought this cut of black polyester fleece.  If there's one thing JoAnn's is good for, it's buying fleece.  You almost even have to search to find their quilting fabrics in amongst all the fleece.
And finally, for the lining fabric I'm going with this piece of navy blue polyester satin. I bought a ton of it from Fabric Outlet when I very first started sewing.  I used it to line a laptop sleeve, and the excess has been sitting in my stash ever since.  The photo shows a scrap piece, I'm pretty sure I have enough to make a lining.

Pattern
Being true to character, instead of making things easy I'm going to draft my own pattern for the project.
My plan is to take the dress shirt pattern I poured so much effort into, and to use it as a starting point for developing a jacket block.  For my guidance, I am following the book Patternmaking for Menswear: Classic to Contemporary by Myoungok Kim and Injoo Kim.  This is a professional book aimed at fashion design students.  It has a good mix of technical knowledge along with coverage of many different styles of garments and details.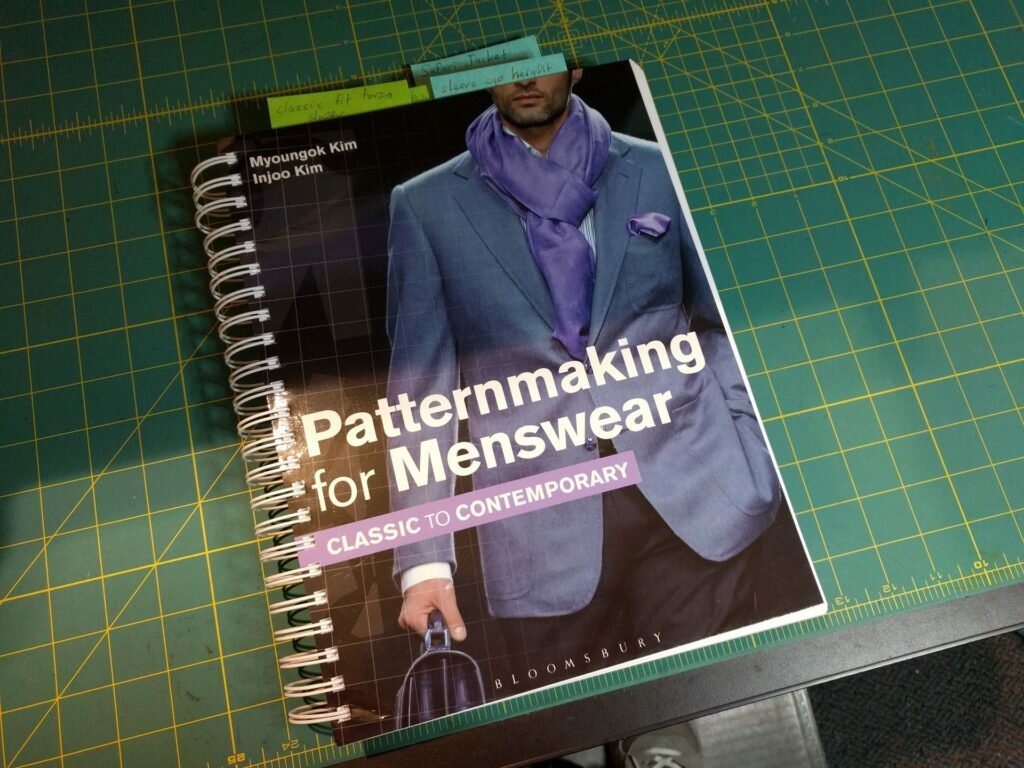 The book has a draft for a classic-fit Safari Jacket which I'm using as rough guide for the kind of garment I want to make.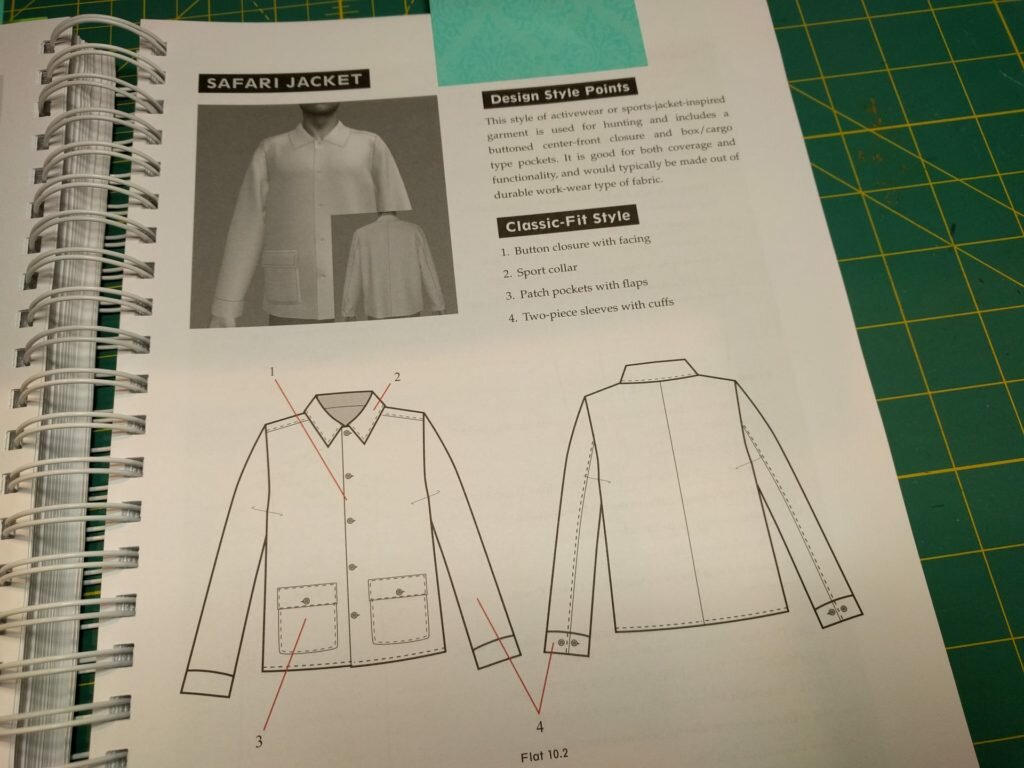 I'm going with it's instructions for the silhouette.  All of the detailing on my shacket will be different (more on this in a moment).
Before drafting the Safari Jacket pattern, you first draft a foundation block for jacket designs, using either a slim-fit or classic-fit torso sloper as a starting point.  I am pretending my dress shirt pattern is a classic-fit torso sloper, and am altering the pattern according to the draft in the book.
The main changes to create the jacket sloper are:
Extend out the shoulder point slightly
Lower the armpoint and move out the side seams
Square out the side seams
Lower and expand the neckline
All of these enlarge the garment to make it fit over over other clothing.
Here's a screenshot from Wild Ginger's Pattern Editor showing the changes I'm making.  The black outlines are the original dress shirt pattern.  The teal lines are the jacket foundation block.  (The green lines square off the original dress shirt for comparison).  I rotated the shirt yoke into place to make the alterations to the back piece; I intend to retain the yoke in the shirtjacket pattern.

To make the sleeve, instead of altering my existing dress shirt sleeve I drafted a new one from scratch using the instructions given in the textbook.  This was the first time I drafted something from scratch on the computer, rather than scanning in a pattern draft from paper and altering it digitally.
It might be me, but I had to resort to math on paper (including some algebra and an application of the Pythagorean Theorem) in order to figure out where to place some of the points for the sleeve cap guidelines.  Sometimes when drafting a pattern, you need to draw the long leg of a triangle at a certain length. On paper, you just slide around the ruler until you get the length you are looking for.  But because Pattern Editor won't tell me how long a line is as I'm drawing it, I had to calculate in advance where the line's endpoints would be – in this case, along the bicep guideline.  Hence the math.
Leftmost is my original dress sleeve.  Middle shows the jacket sleeve sloper in progress, the rightmost (in teal) is the "finished" result.   The long, gently sloping side of the curve is the back. It looks a bit odd to me, which makes me wonder if I've messed up some measurements somewhere.  But, I'm just going to sew it up in muslin and see what happens.
Detailing
The shirt design isn't done yet, so I don't know exactly what I want to do in terms of detailing.
I am thinking of making a convertible collar rather than the traditional stand collar, again because it's something new for me.  As usual, David Coffin has an extensive treatment of the convertible collar in The Shirtmaking Workbook, including downloadable patterns so I plan to use this as a starting point.
As for pockets, I like welt pockets on the outside of a jacket because they give a cleaner look, but I am leaning towards patch pockets. I can put the plaid on bias for the pockets and that will look interesting.  I will probably challenge myself by putting a welt pocket on the inside lining of the shacket, but also because I know I would find it useful.
Next Time
I'll have fitting photos of the jacket block.  We'll see how that crazy sleeve looks.  And hopefully more on the shacket design.
Everyone, enjoy your holiday shopping!  See you soon.