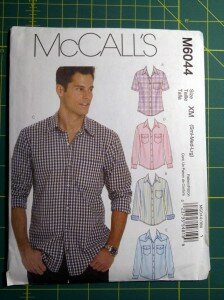 I think what first attracted me to this pattern was seeing it modeled in this post at BurdaStyle. Both the styling and the fabric choice looked great on the "boyfriend" who was fortunate to get the finished shirt!  I even purchased some blue plaid shirting fabric that's somewhat similar to what's exhibited there.
Unfortunately, while I still intend to make this shirt at some point in the future, I won't be making it for the class.  Here's a breakdown (again, click/tap on any photo for a larger version):
Yoke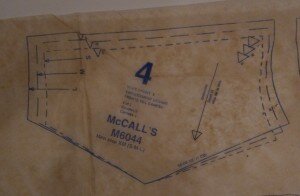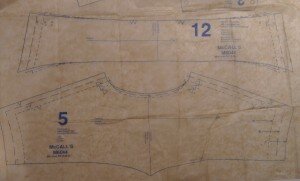 I was disappointed to find that most views of the design don't include a yoke.  Of the five views presented, only View E has a yoke, and as you can see here it's an oddball: a two-piece western-style yoke. This is a very casual shirt, which is fine, but not what I was looking for as a learning exercise because I want to do the yoke and the only option presented here is something I'm not crazy about.
Sleeve

Here's another curveball: The sleeve is actually a two-piece construction. The seam line is right where the placket would go, it seems.
I know from reading David Coffin's book that pieced sleeves are not uncommon; apparently tailors of old routinely did this in order to make better use of fabric in cutting. I did this myself with a pajama top when I found myself with not enough fabric to cut the sleeves; I divided the sleeve pattern, cut pieces of my remaining material, and pieced them back together. That worked well, but here I'd be tempted to simply join those two pattern pieces back into one for the sleeve.  I'm not sure I want to deal with that hassle for my first shirt project.
And though I didn't take a photo, the sleeve also has some sort of a "sleeve tab" instead of a tower placket. Strike two.
Front Band
This pattern, like the other McCall's patterns I have, has a separate front band component that gets joined to the left-front, I think.  I'm not sure what this is for – I thought the front band was already built into the front pattern piece – so this is a mystery that will get solved when I try to make the pattern.
Summary
This is a really nice casual shirt pattern that I do plan to make at some point, but it doesn't match up well with what's being taught in the class. So I'll look to the next item in my pattern stash.