My goal was to get out of muslin-land by the time this 4th of July weekend was through. I almost made that goal; while I got a shirt and a pants muslin made, I think there's at least one more to do.
The Shirt Muslin: Print It
I'm pleased with the alterations to the shirt pattern.
First, I like the look better with the shoulder seam relocated farther back.  Now that I look at the photo, I notice some pull lines across the collarbone area, especially on the left, but wonder if that's due to the use of pins rather than actual buttons.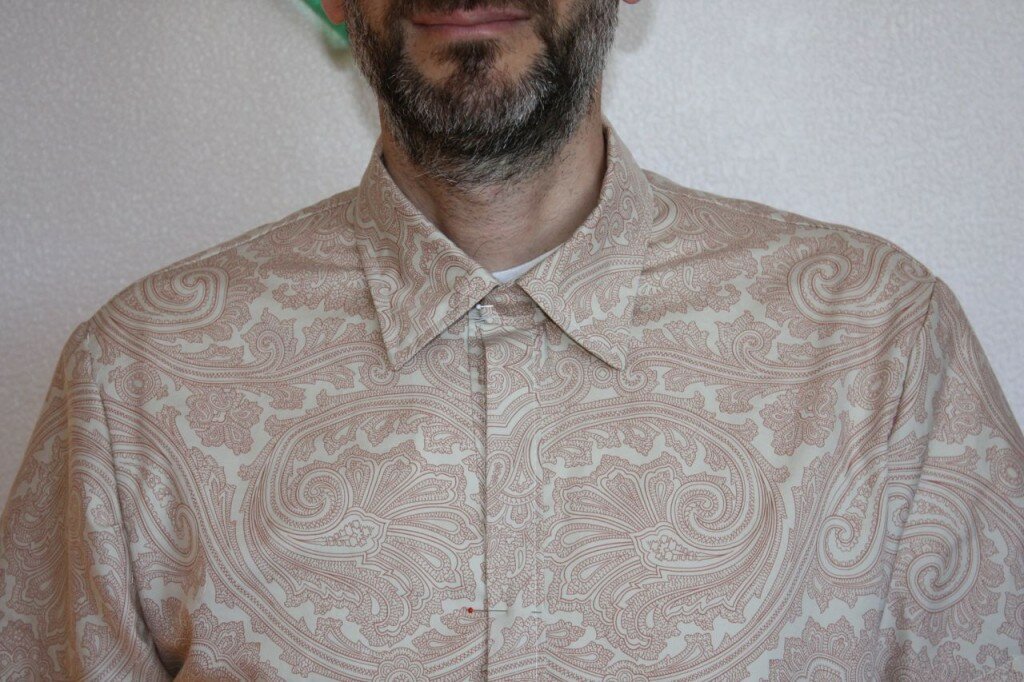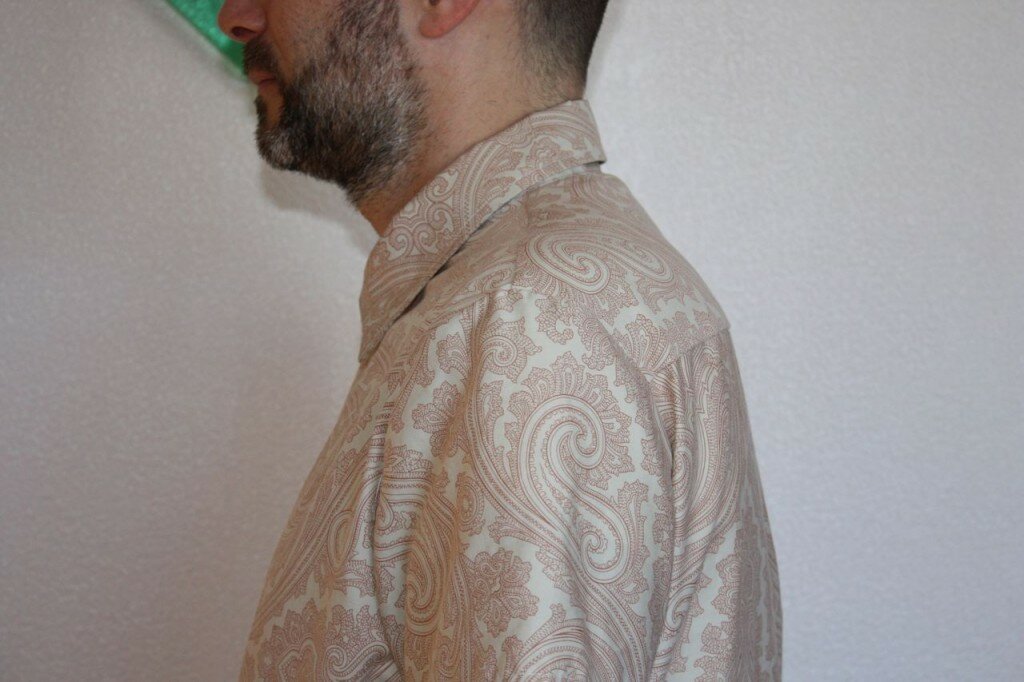 The alterations to remove the pooling fabric behind the collar were also successful.
I'm happy with the shirt pattern as-is; it's ready for production.
I want to give a shout-out to Kenneth D. King's "Smart Fitting" method, which really worked well for me. There's a fancy video course that you can buy on DVD from Threads Magazine for a lot of money, but I got the basics from their special magazine issue on fitting, which you can find in hardcopy or digital download for just $7.
The Pants Muslin: Hammer Time
I spent most of Sunday hammering out the pants muslin, made from my ugly polyester that doesn't take creases well. I skipped the patch pockets, belt loops, and zipper insertion.  I also skipped all the fancy seam finishing, though I did finish the seams with an overcast stitch on the machine. The fabric was fraying quickly and I hate dealing with fraying fabric.
I chose the size 36 pattern based on my waist.  The waist ended up a bit loose, maybe about an inch too large.  And I need to shorten the legs by 3 1/2 inches or so.
But it's clear everything else is way, way too big. They look like Hammer Pants on me.
I plan to deal with the problem tomorrow.  The general plan is:
Reduce the waist by about an inch.
Shorten the legs by about 3 1/2 to 4 inches.
Grade the pattern from a 36-ish waist to one of the smaller sizes at the hips and legs.
Hopefully this will also address issues with the crotch, which is a bit too deep.
As with the shirt, I plan to pick apart this muslin (also sewn with a basting stitch), recut and resew the muslin to check fit.
Do any of you have fitting/alteration suggestions? If so, please let me know in the comments.
Next Time
I hope to have the muslins behind me, and ready to cut fabric for the actual garments.  See you then.