Making my own boxerbriefs has been on my project backlog for a while. I've sewn woven boxer shorts a few times, some very recently, but woven boxers are not my favorites. For me, knit boxerbriefs are definitely more comfortable to wear and they don't bunch up in close-fitting pants like jeans.
The "premium underwear" trend
You could argue that it's better to put my energy towards other sewing projects, given that underwear is pretty cheap. But an entire market has developed around "premium" men's underwear, made with exotic anti-microbial fabrics, sophisticated styling, and equally sophisticated marketing.
I haven't tried any of these brands, but I have been disappointed by the stuff I have purchased for more everyday prices.  A batch of Uniqlo boxerbriefs stretched out after only a few wearings and became uncomfortable to wear.  And the stuff from mainstream makers like Hanes is pretty low quality, with thin fabrics that are not very durable.
MakeMyPattern "premium" boxerbriefs
And as always, a big reason why sewists make their own clothing is for fit. This project gave me another opportunity to try the custom pattern drafts at MakeMyPattern.com.
The MakeMyPattern boxerbriefs generator not only drafts a pattern specific to personal measurements, it also allows you to tweak to preference.  In particular, you can make high-rise or low-rise briefs, and you can also choose how much "negative ease" to incorporate.
In patternmaking, "ease" is extra room, usually in width, added to allow for freedom of movement or for design purposes.  Negative ease produces a garment that is actually smaller than the body.  This is used with many knit garments, where the fabric will stretch and form-fit the body.
I chose the default settings for my pattern, altering only the elastic width to match my choice for the project.
The pattern has four pieces – a back panel (1), side panel (3), an inset for the inside leg (4), and the front (2). The front piece has a long, curved dart to accommodate male anatomy.  The pattern was so easy to print and cut I actually did it twice, so I could lay out the "Cut 2" pattern pieces without folding the fabric.
Construction notes
Fabric
I used a bunch of cotton jersey fabric that has been sitting in my stash. The blue and black striped knit for the pair at the top of this article came from the Bay Area Sewists fabric swap. Most of this knit jersey worked well for boxerbriefs, although the higher quality cuts, with a little more stretch, produced a nicer result.
One piece of discount-priced blue striped jersey knit was off-grain.   Here in this photo I've placed the ruler on the grainline. I intentionally cut the pattern along the grain, producing slanted stripes.
Elastic
The first trial pair used waistband elastic reclaimed from my disappointing Uniqlo trunks.  This elastic was pretty good, but it is extremely labor-intensive to rip out all the commercial coverstitching with a seam ripper.
For the rest of my "production run" of eight, I used some 1.25-inch waistband elastic purchased from Wawak.  It's not as stylish as what you find on the commercial stuff, but it looks okay. I measured out a length that felt comfortable, then mass-produced a batch of waistbands.
To join the ends and form a circular waistband, I used a trick from Nancy Zieman where she butts the elastic edges together, then bridges them with a small scrap of fabric.  This joins the elastic while reducing bulk.  In my case, I used small pieces of grosgrain ribbon, combined with zigzag stitching to join the ends.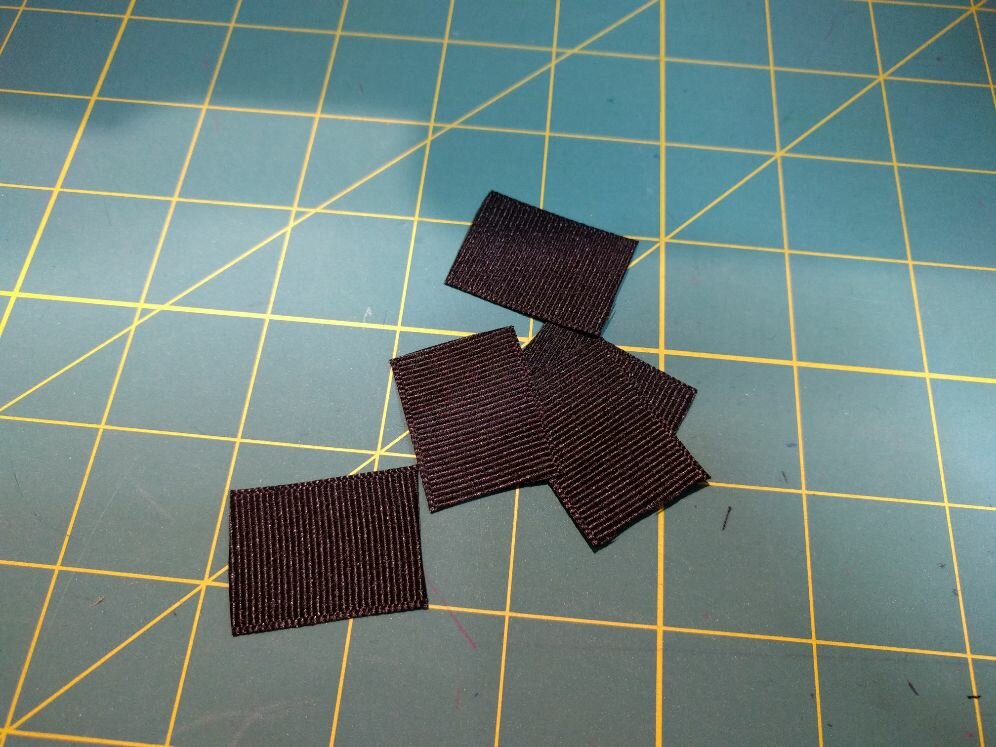 Construction
Other than joining the waistband, the entire project can be done solely on a serger plus coverstitch machine.
The assembly instructions have you assemble back panels and front panels separately on the serger.  Next, you (optionally) topstitch the seams, join fronts to back, topstitch again, then serge the crotch seam.  Finally you hem and attach the waistbands.
If you don't wish to do the topstitching, the coverstitch machine is used only for hemming and waistband attachment.  Both of these can be accomplished with a conventional machine using a twin needle for hems, and a zigzag stitch to attach the waistband.
I seamed the pieces with the serger, then topstitched over it with the coverstitch.  The lines of topstitching from the coverstitch needles faced outwards.  The loopy underside of the coverstitch enclosed the seam allowance created by the serger, as you can see here on the inside side seam.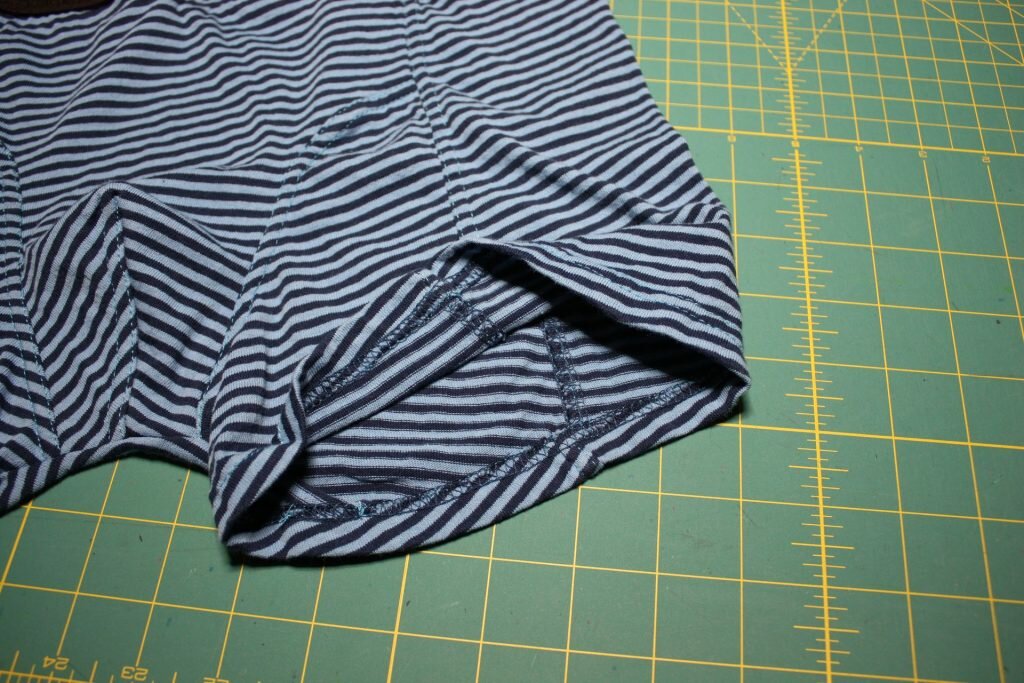 I used a four-thread serger stitch to seam everything, and a three-thread coverstitch for topstitching.  Since nearly all seams were topstitched, I could probably have used a three-thread serger stitch for the seaming, rather than a four-thread.  But I don't think the four-thread stitch noticeably affects bulk.
To attach waistbands, I used a four-thread coverstitch (three needle threads).
I am quite pleased with the performance of my Brother 1034D serger. I can't say the same for its companion coverstitch machine, the Brother 2340CV.  This is a very temperamental machine that requires lots of testing and tweaking to get a good stitch.  It's easy to thread it wrong even though I know how it is supposed to go.  Removing fabric from this machine is very complicated, and you can cause a thread jam that can eat your project if you are not careful.
And even when you dodge all those minefields, sometimes the machine just throws you a curveball.  Here the right thread broke for no apparent reason, giving me a single thread chain stitch I had to unpick.
The 2340CV consistently had problems forming the first half-inch or so of stitches.  Midway through the project, I remembered an old sewing trick: use an "anchor cloth", a short piece of fabric you use to begin stitching. This trick solved the problem nicely.  In this photo, I'm topstitching a seam, running from the yellow anchor cloth immediately onto the project.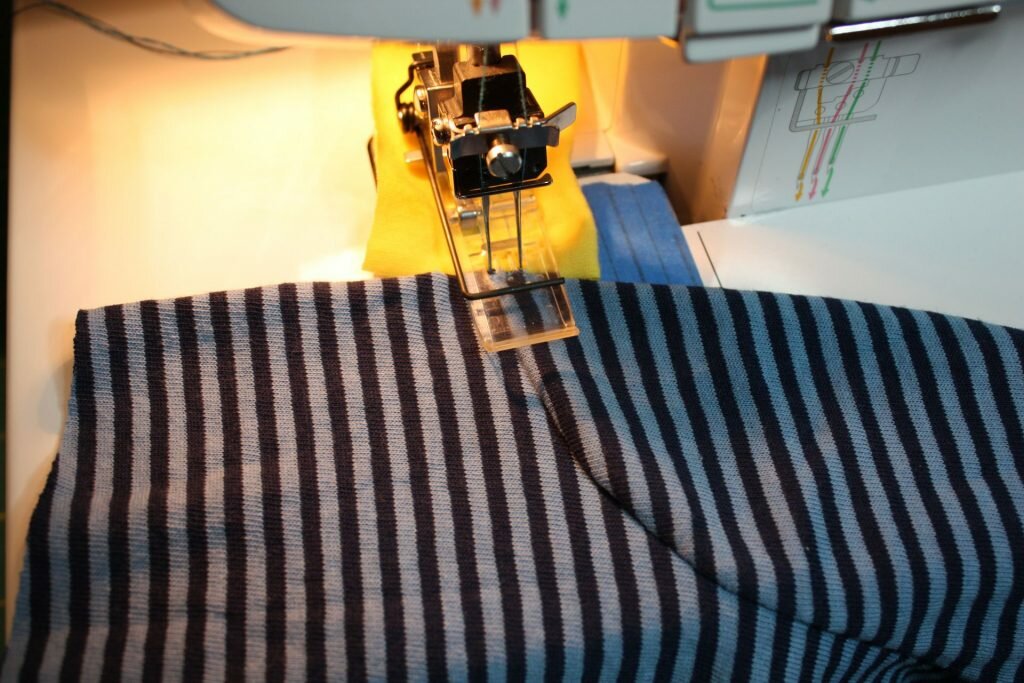 Style
Here's the Stripes Collection.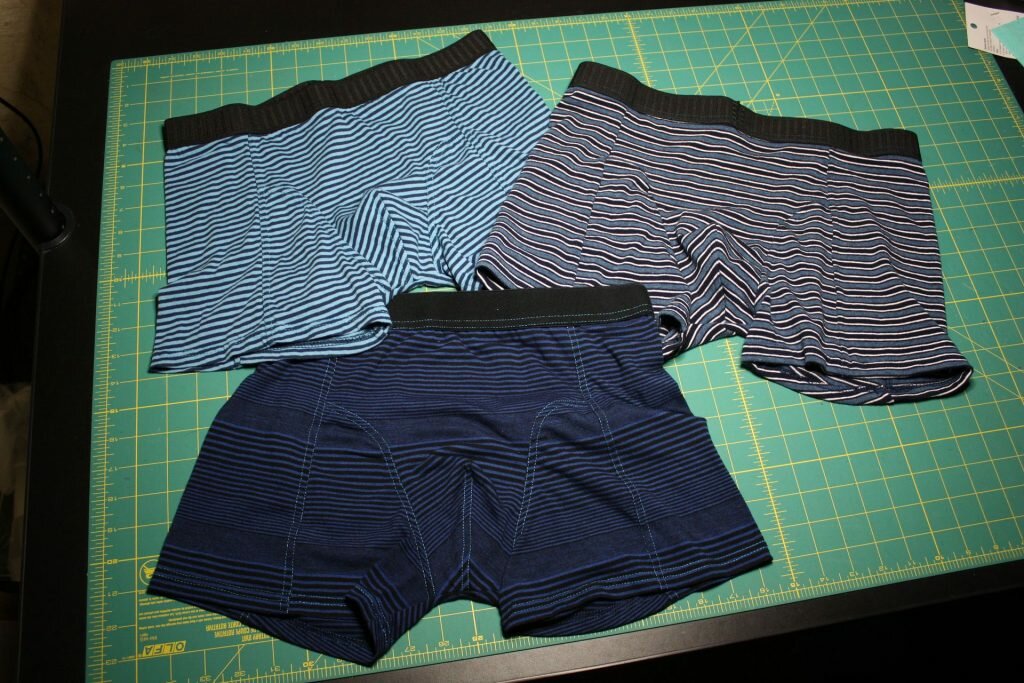 Next, is the Colorblocked Collection.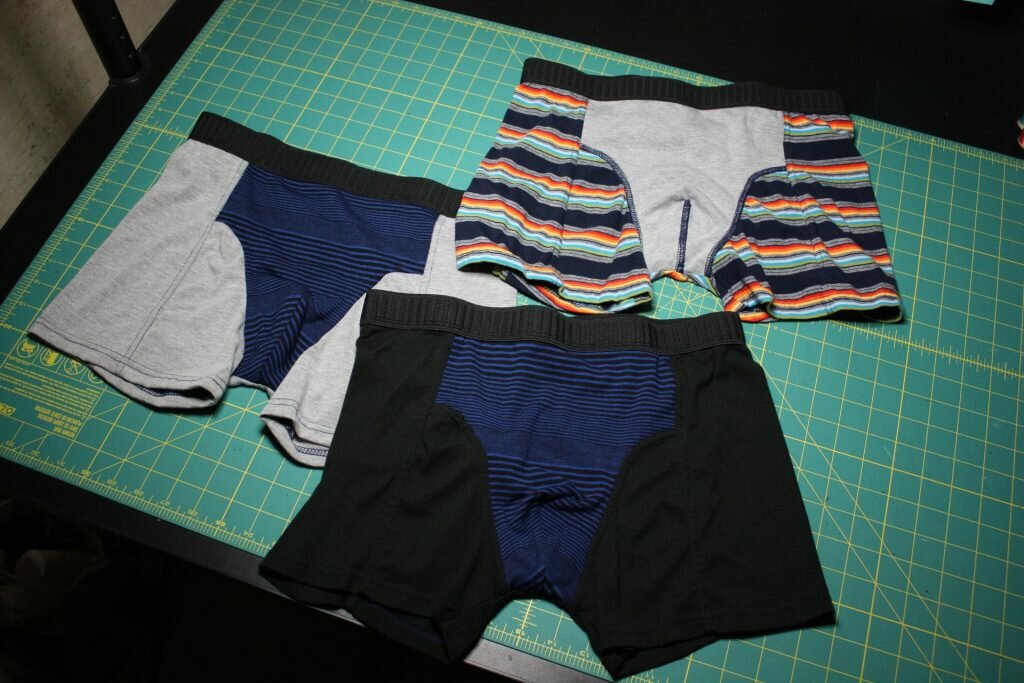 Finally, we have the Vibrant Colors collection.  On these, I reversed the topstitching to put the looper thread on the outside of the fabric.  I used neon-colored Maxi-Lock serger thread in the loopers.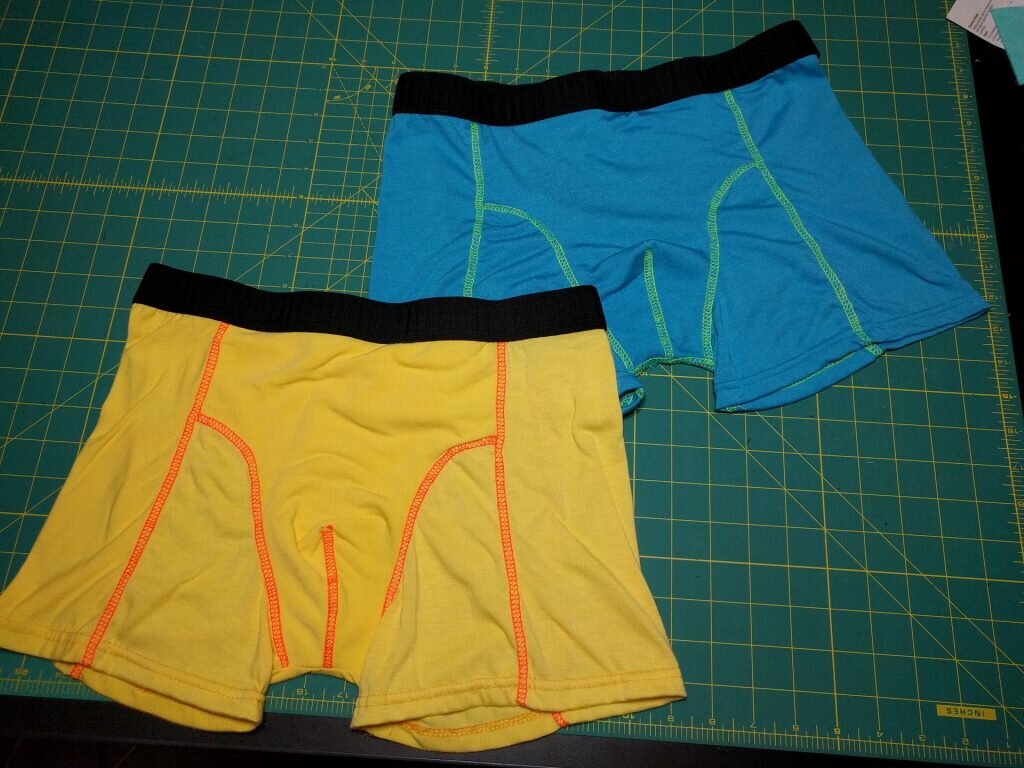 Fit
These boxerbriefs are more comfortable than anything else in my underwear drawer.  The front dart provides the right amount of room and support for those special parts.  They are a little extra snug in the seat, but I'm okay with that.
Both solid colors (yellow and electric blue) fit a little less snug than the others because the jersey is a bit thinner.  The gray colorblocked briefs as well as the blue-black-white stripe pair are both made from a stretchy fabric, and so they are a little more snug.  Overall I'm pleased at how well this pattern works across the jersey knits I used for this project.