Between personal life, the holidays, and other hobbies, work on my Shacket project has progressed at a rather stately pace. But I have made a new muslin that represents some real forward progress on the project.
Muslin B
With Muslin B, I wanted to check and validate the fitting changes from the first shacket draft, this time with linings and interlinings in place so I can take into accout the volume they add to the finished garment. But this muslin was equally useful to practice lining insertion, and to help make style decisions.
I am using fuschia bull denim for the outer fabric, black polyester fleece for interlining, and yellow polyester charmeuese for the lining as described in my previous article in the series. To me, the colors look garish, but others at the sewing studio commented the fuschia denim and yellow lining actually went together. Who knew!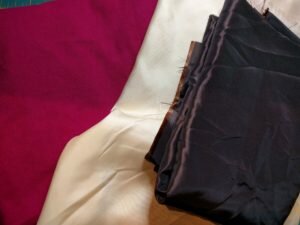 Continue reading →