It has been a while, hasn't it? Quite a lot has happened in my life since the last blog post. My readers are completely forgiven for thinking I have vanished off the face of the Earth.
An Update on Me
For one, I finished my classes in the Fashion Department at City College of San Francisco. I earned two certificates of completion, one in Garment Construction and the other in Patternmaking. I have earned most of the credits necessary to complete a third certificate, Advanced Garment Construction, lacking only a class in Couture Sewing Techniques to qualify.
But, I'm getting ahead of myself.
With two certificates in hand I had also completed exactly half the credits necessary for the Fashion degree proper. I decided I was at a good stopping point. The remaining classes were mainly design and business-oriented, and I simply didn't feel I wanted to be a student forever.
And had I continued, I would have faced two headwinds. One of them I knew: that City College of San Francisco was facing budget shortfalls even before the coronavirus pandemic and cutting classes across the board. The cuts have hit the Fashion department, meaning some of the courses I would have wanted to take, especially the more advanced courses, are no longer offered. There's no longer a Couture Techniques class and there likely never will be.
The second headwind is of course the coronavirus pandemic, which took everyone by surprise and has made in-person classes impossible for the time being. I had the opportunity to consult for City College instructors to help move their classes online. While I don't think it's impossible to teach fashion online, especially for the more lecture-oriented classes, I also don't think it will be easy to do so. The lab-oriented classes will be especially challenging to offer over a videoconferencing connection. And so in retrospect I'm glad I'm didn't commit myself down that path.
And so after completing City College last May, I worked on a design for a travel pant which I wore on a three-week trip to Italy in October 2019. I began to build a new business as a sewing instructor at Sips n Sews sewing studio in San Francisco. The studio provided a very flexible arrangement for us instructors. We worked essentially as independent contractors. We set our own schedules and developed our own course offerings, while the studio earned a share of the proceeds for the classes we taught. I enjoyed working with my students, as well as the opportunity to team up with other instructors to offer joint classes.
Then COVID-19 hit, and the studio, as a non-essential business, was forced to close. Tammy Gustin, the studio owner, looked at several avenues for pivoting the business but in the end was forced to close the studio for good. The studio's two main sources of income – the sew-for-fun hobbyist and the "maker" entrepreneur who manufactures and sells sewn goods – have evaporated. The studio will not have a source of income for the foreseeable future.
And with the pandemic and the loss of the studio came the end of my nascent career as an in-person sewing instructor.
A Silver Lining
I am in a state of grief over the loss of the studio. It was so, so supportive of me and I made some really wonderful friends there. But there is a bit of a silver lining. I did some shopping at the studio's liquidation sale. Spending a good chunk of my government stimulus check, I am now the proud owner of a Brother Exedra DB2-B737 single-needle lockstitch industrial sewing machine. Here's a photo of it just deposited in my garage.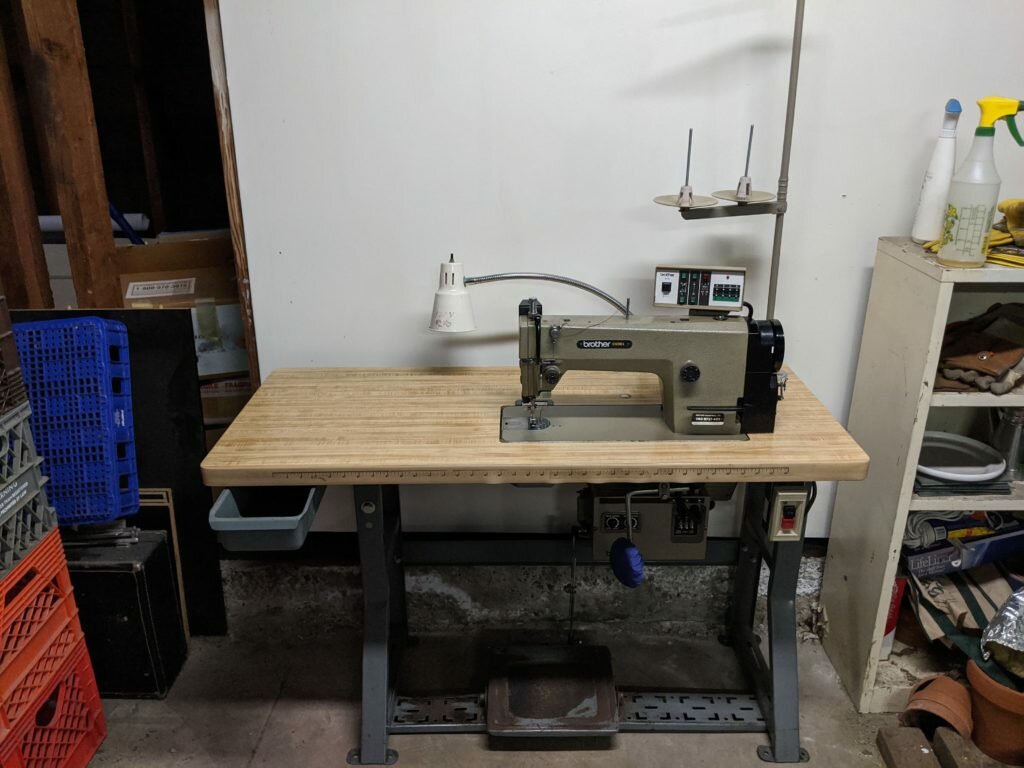 What next
Fates willing, there's plenty for me to share with you on the blog, including some interesting projects I completed as classwork. And there's some things I've put together for classes that would be fun to talk about as well. As well as sewing projects in progress and in the future.
But to start' getting this industrial machine cleaned, tweaked, adjusted, and ready to go has been an interesting learning experience. I hope to share a bit of it with you soon.
Especially in these times, take care.