That was my first thought after I had written out the check to Tammy Gustin at Sips n Sews studio to purchase one of their industrial sewing machines, and had time to reflect on it.
Industrial sewing machines are not portable. They are bulky and difficult to transport; you may need to call a tech on-site if you can't repair or adjust it yourself. They need to be oiled everywhere, and I mean everywhere (more on that in a bit). They are designed for practicality, not convenience; many adjustments on an industrial require screwdrivers and setscrews rather than dials. In short, they are higher maintenance than a domestic machine and a higher commitment to own.
I really had no need for an industrial sewing machine at home when I had access to the studio. But with the demise of the studio, I could definitely see situations ahead where I would want to have one at home. And I also wanted a piece of the studio as a remembrance.
Moving the machine
The first problem was how to transport it from the studio to my home. I set up an appointment on Lugg. Early the next afternoon a large pickup truck showed up at the studio, along with Kyle and Julio, my Luggers for the job.
Industrial sewing machines operate at very high speeds, so all parts must be constantly lubricated to prevent heat and wear due to friction. Many industrial machines have an oil bath beneath the machine, mine is one of them. The oil must be emptied before the machine can be transported, to avoid spilling it all over the place.
I brought a funnel and a container to the studio; Tammy scooped the oil from the pan with a teacup and we funneled it into the container for me to refill the machine at home.
The machine must be transported standing up, so Kyle and Julio set it in the truck bed and locked it down with straps. They did a great job moving it into my garage.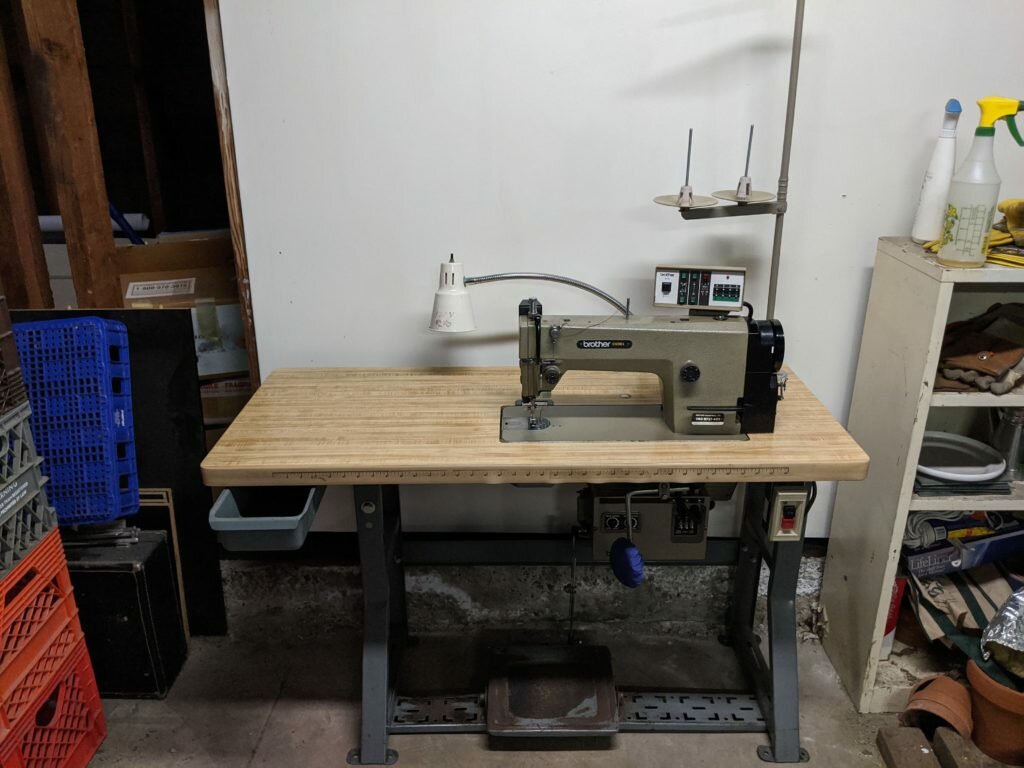 The integrated sewing table has a built-in worklamp. The first thing I discovered is the light didn't work; the switch was broken. More on this in a bit.
Taming the Tension Assembly
I threaded the machine and ran two scraps of lightweight cotton-poly fabric through it. As delivered, the machine could not form stitches. Thread came out top and bobbin, but no stitches formed.
Attempting to adjust the top tension, I noticed a problem with the tension takeup spring. It spun around as I turned the tension adjustment dial. That isn't supposed to happen. I mentioned this to Tammy, who dug up another takeup spring that she thought belonged to the machine, and suggested I try it.
This led to my first big learning experience – how to disassemble the tension assembly, replace the takeup spring, and reassemble it. I joined the Facebook group Vintage Industrial Sewing Machines and received some guidance from the helpful people on the forum.


I discovered the original takeup spring had been installed incorrectly, which was why it was spinning around when I turned the tension adjustment dial. I could have reinstalled it properly, but decided to try the replacement.
The replacement did not fit – it was a bit too large and once installed, it continually got caught on the thread guide bar to its left. So I cleaned and reinstalled the original. It had been bent and distored and so once installed properly, it constantly caught on the back of the tension adjustment dial. Both takeup springs were useless to me.
The nice thing about industrials is they have a good amount of standardization, and WAWAK Sewing Supplies sells several industrial sewing machine parts on its website. I ordered some replacement takeup springs, a gallon of sewing machine oil, needles, bobbins, bobbin cases. I bought a replacement needle plate because the one the machine came with had been struck by needles in the past and thought it would be good to start fresh. I even found a replacement lamp for the worktable. I bought a lot of this stuff on faith that it would fit but even if it didn't, none of the individual parts cost a lot of money and so it wasn't a big risk.
The replacement takeup spring fit the machine beautifully, and I was able to fix the tension assembly. I threaded up the machine. It now formed stitches, but there were also plenty of skipped stitches and the thread frequently broke, especially at higher speed.
The Bobbin, Cleaning and Oiling
I noticed the bobbin thread tensions were uneven. I opened the needle plate, and found plenty of gunk under the needle plate and in the bobbin area. I also found some heavy thread wrapped around the post in the bobbin race, from someone else's sewing disaster. That's a problem with machines in a shared work area; you just don't know what condition they are in when you find them. Using a seam ripper, I carefully cut the tangled thread out of the bobbin race.

I brushed out lint and dirt and oiled everywhere. I also cleaned up gunk that had settled to the bottom of the oil pan, which is important to keep it from ending up in the mechanism.
The machine has oil holes along the top that need periodic lubrication; I opened them and placed a few drops of oil in each.

I noticed bobbin thread tensions were still very uneven. If I pulled on the thread it would alternate between loose and tight, rather than issue forth smoothly. Replacing the bobbin helped a great deal (I threw it away), and then a new bobbin case fixed the problem completely.
I threaded the machine and tried again. I was STILL getting skipped stitches and thread breakage.
The Needle Plate and Feed Dogs
Peeling back yet another layer of the onion, I noticed two more things. First, I was using a spool of domestic machine thread on the thread spindles. Thread was catching on the spool at the bottom every time it unwound one full length of the spool. So uneven top thread tension was likely causing the skipped stitches. That problem has an easy fix; replace the spool with cone thread.
Second, when I pulled the bobbin thread up through the needle plate, it shredded and broke. So the ragged needle plate was possibly causing the thread breakage and I needed to replace it.
But the replacement plate did not fit. Industrial machines have replaceable feed dogs. You can buy feed dogs suited for lightweight (many, smaller, narrower teeth), midweight or heavyweight (fewer, larger, wider teeth) fabrics. There's even teflon-coated feed dogs and rubber feed dogs for specialized uses. Each has a corresponding needle plate. My replacement plate did not fit the middle-weight feed dogs that came with the machine.

So I placed a second WAWAK order. I wrote customer service in advance and asked if the parts I planned to buy were compatible with my specific model, and they answered in the affirmative. I want to offer kudos to WAWAK's customer service, with whom I've always had a positive experience.
I ordered both lightweight and heavyweight feed dogs with matching needle plates, and they arrived next day. I installed the lightweight feed dogs and needle plate and tried another test stitch.
The skipped stitches and thread breakage were gone! Progress! But now I was getting abnormally tight stitches and a lot of puckering.

So then I learned that when you change out feed dogs, you must also adjust the feed dog height. Lightweight feed dogs must be lowered a bit; heavyweight feed dogs must be raised a bit. So I researched feed dog adjustments on YouTube.
Here's a pro tip: It can be difficult to access the needle plate and feed dog screws, because the machine body is in the way and prevents you from positioning the screwdriver in the proper place. I solved this problem by buying a set of "offset screwdrivers" from the hardware store. They have right-angled handles and are low profile, making it easy to get the leverage you need to loosen the screws.
SUCCESS! After adjusting height and the positioning of the feed dogs, I finally got clean, consistent stitches on my test muslin.
The Worktable Lamp
I usually like a small supernova near my sewing space to provide enough light to work, so the worktable lamp is important to me and I wanted it to function. The replacement lamp from WAWAK fit the worktable beautifully. The motor provides power leads for the lamp, so I connected the lamp, carefully wrapping with electrical tape to prevent shorts.
The light didn't light up. I tried several different bulbs, none of them worked.
I checked the manual again. The power tap from the machine motor provides 6V of power for a lamp, NOT the 110V needed by a generic light bulb. I checked WAWAK again, and lo and behold they carry a 6V/17W lightbulb specifically for industrial machines.
The new lamp does support 110V operation, according to the product description. So I picked up a wall plug from the hardware store, and installed a 110V/60W equivalent LED light bulb. I went that route so I could have a light as bright as I wanted. Though the lamp is only rated to 60W, you can find LED light bulbs that are quite bright that use less power.
That work light is so handy to have, it was worth the effort.
A Project
Oh, you were expecting me to actually SEW something on this machine?
I'm getting started with a simple project to get familiar with the machine, making some face masks. I previously made a batch of masks on my domestic machine to give away to friends, family, and people in my local community.
The first batch were all very utilitarian – I used some shirting fabric I didn't much care for to make the masks, and some quilting fabric I really didn't like to make the tie straps. So this time I'm making a batch with a bit of creativity and fashion sense.
See you soon.