Thank you to everyone who entered the Japanese Pattern Book contest.  I really appreciated hearing what you think of the blog, as well as the suggestions for projects for me to work on.
One surprise was the votes of support for non-garment projects such as the recent Duffel Bag project. It was gratifying to hear there's a segment of my readership that really likes those types of projects, and I definitely have more planned for the future.
There were a total of 14 entrants to the contest.  The Internet Random Number Generator picked the winner.
The lucky winner was reader "Auschick in VA", 12th in the list of entrants: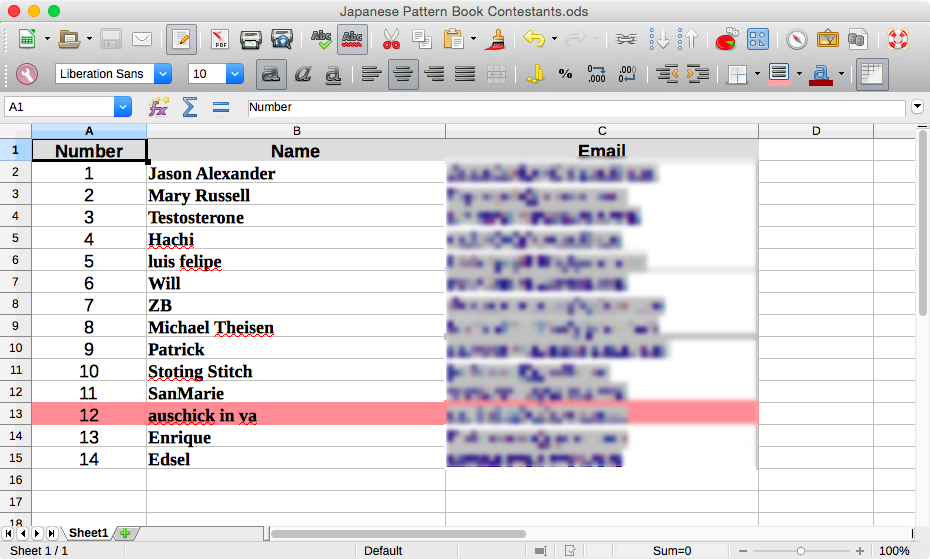 She writes:
Oh this book looks fabulous! I'd love to make clothes for my husband. He is so bad with his lounge pants – they are constantly getting ripped across the knees, so I'm thinking something handmade might hold up better.
The book is now on its way to Auschick – I hope her husband enjoys the new lounge pants! I really like the lounge/leisure pants featured in the book, so I might make a pair at some point too.
New Patterns
Yesterday was the Bay Area Sewists Meetup in Berkeley, CA. The theme of this meetup was a Pattern Swap, followed by a presentation and discussion about Japanese sewing pattern books.
I had a small collection of women's patterns that I got from buying Craftsy classes; they're the patterns you're supposed to work with in each course.
I wanted them to find more appreciative homes, because it is extremely unlikely I'll ever make them.
There were several tables at the swap, sorting the patterns into categories – skirts, dresses, tops and so on.  I forgot to take a photo of the "menswear" table, but it doesn't matter much since I grabbed nearly everything on it.  It was the only table I cared about!
I hung around the Menswear table while all the women milled about.  Each time the horn sounded for the next round of selections, I grabbed my next most favorite item from the table. When "Free selection" began, I just grabbed what was left on the table and kept it for myself!
There were several '70s mens patterns. These two from Simplicity were near the top of my "want" list. Bell-bottom knit pants?  Sign me up!  Simplicity 5048 is a shirt/vest/pant pattern combo I could see myself making.
McCall's 3443 is a blazer/slacks combo, again intended for knit fabrics.  Butterick 4710 is a jacket/pants/shorts combo.  The jacket in particular could be made up in modern way, if you narrow the collar.
I also got an oversized, shapeless, styleless "Fast&Easy" fleece jacket pattern, along with a Vogue shirt pattern with styles I wouldn't be caught dead wearing.  I chose to take the "Fast&Easy" pattern rather than toss it in the trash.
There was this '60s Simplicity robe pattern:
And the creme de la creme of the menswear selections, this '60s vintage Simplicity sport shirt pattern.  It's a size Small, so I will have to grade it up to make something out of it:

Together with my birthday grab bag, I now have a credible vintage menswear pattern collection.
One Last Note
I typically don't update the blog so often, so don't miss yesterday's update on Vogue Pants Fitting. And I'll have even more to say on that subject soon.