I've been very delinquent in contributing to the blog lately, because I've been pouring my attention into sewing!
Part of the reason I have been so busy was Paul Gallo's course in patternmaking and draping I took in January, plus time I spent outside the class absorbing the material.  But another reason why I've been so busy is that I've been engaged in another project, with a deadline: I'm sewing for a client.
Sewing For Others
So, first a confession of sorts.  As I've been developing as a sewist, I have been toying with the idea of sewing for others.
It's part of the reason I've taken the long, difficult road of learning fitting and pattern alteration, rather than just tracing off a garment that already fits, or making minor alterations to a commercial pattern and hoping for the best.  I've wanted to develop a skill set that I could apply to others as well as myself – but to what end, I've never been sure.
I also knew I would have to approach sewing for others as a business, and not as a "for free" or "doing a favor" type thing.  I've read too many horror stories from other sewing bloggers. People think it's easy for you to give up your time to "whip up" a quick something that they know you've been sitting around, just waiting to create for them.  Generally, most people are completely unaware of the amount of work that goes into creating a well-made garment, and are unappreciative of the effort.  I know a lot of other bloggers have an unstated rule that they will not sew for people who ask.
And that has also been my stance on the matter. Until now.
The Request
One day in December, my coworker Kevin came to me with an unexpected request.  He's getting married at the beginning of April.  He's already been fitted for a tuxedo, he's seen some of the things I've made, and would I make him a tuxedo shirt to wear to his wedding?
My first reaction was something along the lines of a deer in headlights – I had never expected anyone to ask.  At first, I didn't know what to say and didn't give him an answer. He made it clear he would be willing to pay for the effort.  After spending the rest of the day considering the challenge involved, and the commitment it would take, I came back to him with a response.
"Bring me a button-down shirt that you think fits you well."
And so my first client was engaged.
Tuxedo Shirts
As I'm about to enter my sixth decade of existence, I have to say that I've never worn a tuxedo. I've always gotten away with wearing a suit to most special occasions.  So I didn't know much about the shirts that one wears with a tux.
I did some research both in books and online about what tuxedo shirts are all about, and the types of style variations associated with them.  I've assembled a Pinterest board with links to all of my online research.
For books, my references were "Dressing the Man: Mastering the Art of Permanent Fashion" by Alan Flusser, and "The Indispensable Guide to Classic Men's Clothing" by Josh Karlen and Chistopher Sulavik.
I also got some help from David Page Coffin (DPC). I emailed him directly asking for any assistance he might be able to provide, and he graciously pointed me to an article he wrote on constructing tuxedo shirts that ran in the Febuary/March 2014 issue of Vogue Patterns magazine. I purchased the back issue online. It covers making a tuxedo blouse for a woman, but all of the details he describes in the article would work unchanged for a men's shirt. He covers a wide range of style details, including the necessary pattern modifications.
Front Style
It turns out my client already had a role model and a style in mind for the shirt, namely Daniel Craig as James Bond.
I learned that tuxedo shirts typically take on one of three different styles:
a pleated front, with a dozen or so vertical pleats roughly a half-inch wide, maybe narrower, maybe wider
a bib front, with an applique of heavier weight pique fabric sewn over the front
or (for those who are not traditionalists) a plain front.
The plain front is the Craig-as-Bond style, and the one Kevin prefers.  Which makes things much easier for me construction-wise.
I went with Kevin on a scouting trip.  At a well-known men's clothing store, he showed me two off-the-rack shirts to use as models for the final product, both of which contain elements he's looking for.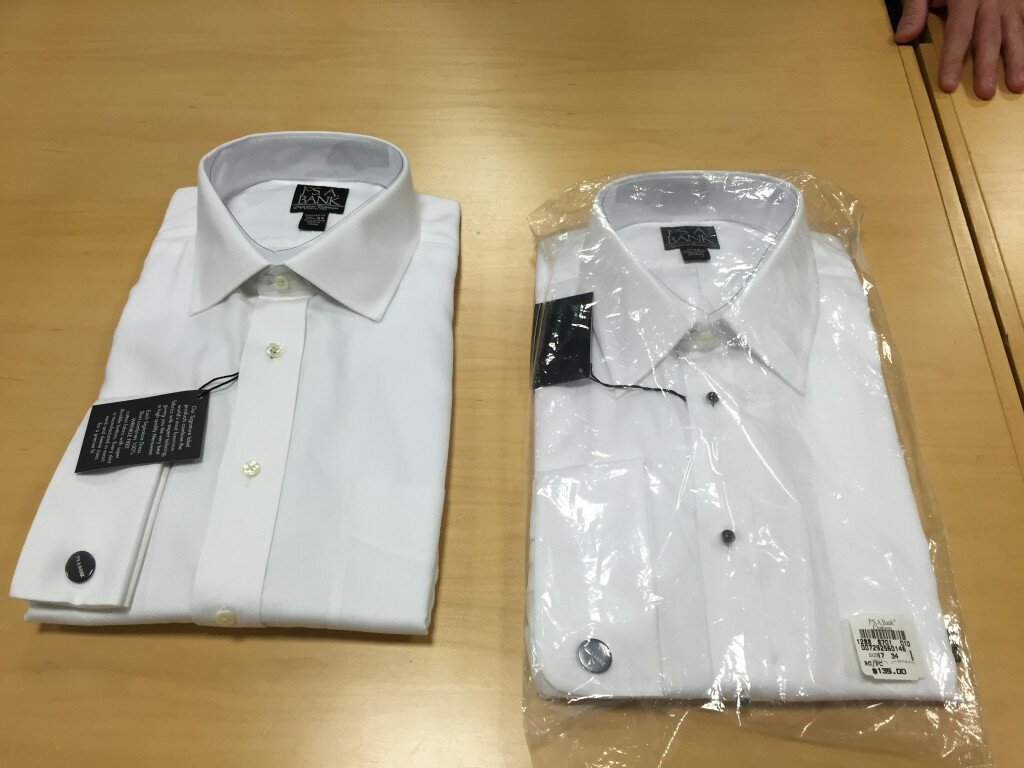 Front Band
Even with the plain front, there's a decision to make about the center band placket.  I'm choosing to make a standard sewn-on center band, rather than a hidden button placket (described along with pleating in the DPC article) or a cut-on front band that folds in on itself to form a self-facing.
Tuxedo shirts also have an additional feature in their front bands; accommodation for wearing studs instead of buttons in the top four buttonholes. Typically, a tuxedo shirt will place a button on the right-side underlap, and right above it another buttonhole (sometimes sideways rather than vertical) that accepts a stud going through both the underlap and overlap bands of the shirt front.  You can see this arrangement in this "how-to" video:
Another interesting approach comes from Proper Cloth, an online made-to-measure shirt maker.  They actually put buttonholes on both under and upper front bands, then make a removable "button strip" of buttons attached to twill tape.  To wear studs, just remove the tape.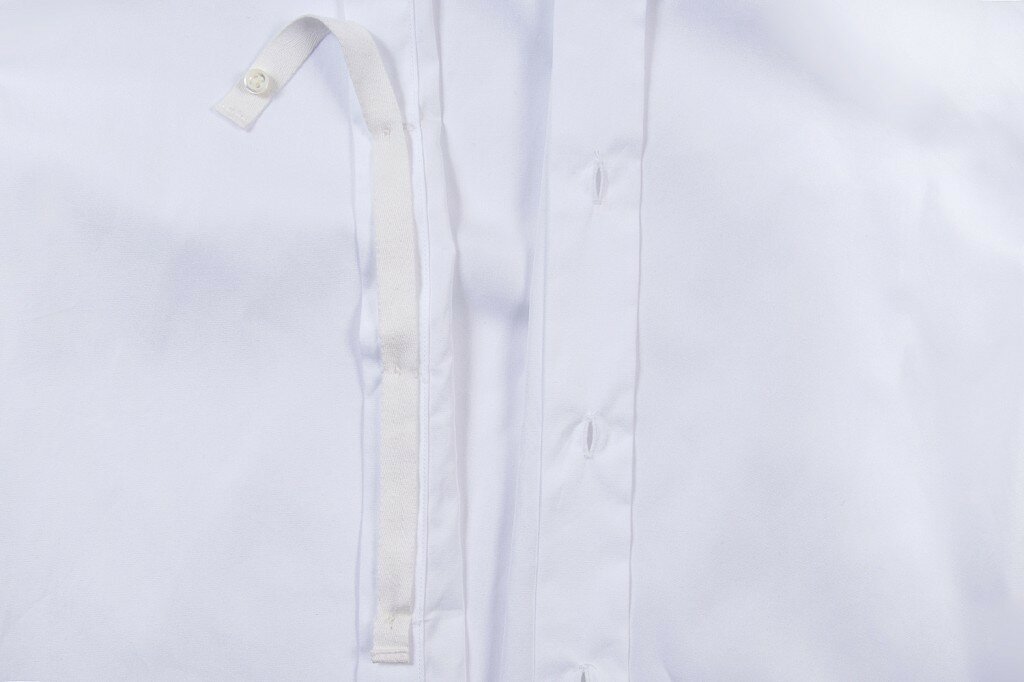 Kevin has told me he doesn't like to wear studs and simply wants buttons.  If there's anything I've learned from watching years of "Project Runway" client challenges, it's that you put your interests as a designer ahead of the client at your peril.  Personally, I feel like it's not a proper tuxedo shirt if it doesn't provide an allowance for studs, but I also know it's a feature he's not going to use.
I haven't decided yet which approach I will use in the finished shirt, but speaking as an engineer, I love the elegance of the Proper Cloth solution.
Buttons
Discussing the front band is a perfect segue into buttons. I looked at several online sources, including some Etsy sellers, and eventually found these mother-of-pearl buttons from Benno's Buttons.  I got sizes for front band and sleeve plackets.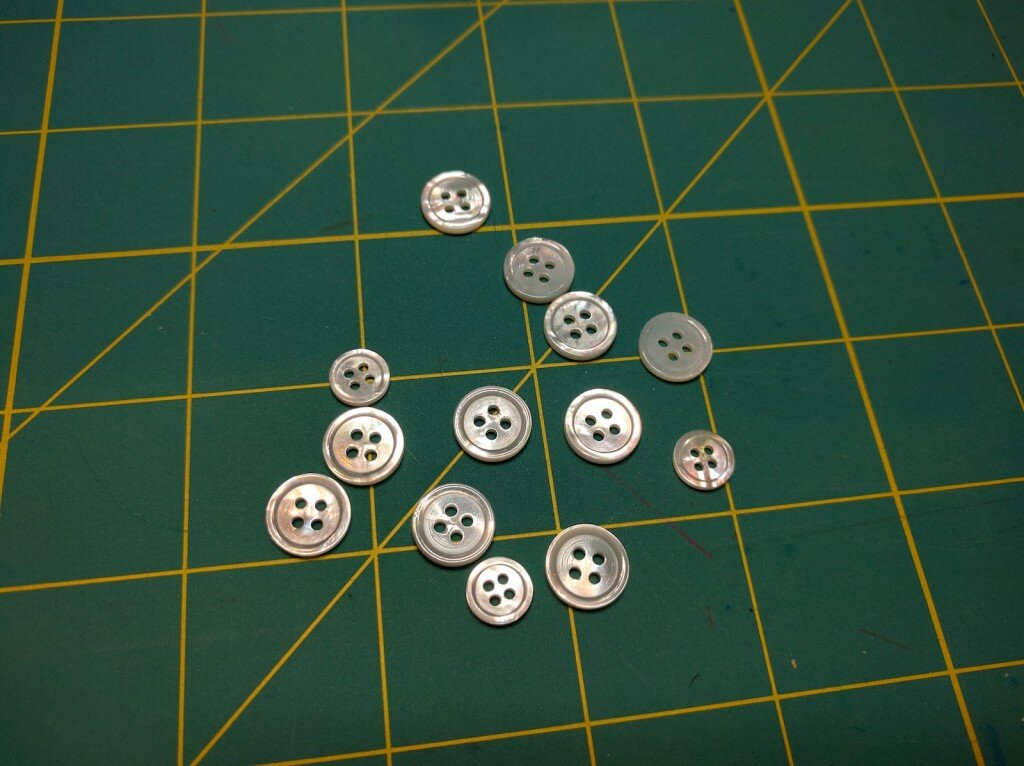 Collar
Likewise, there's several standard collar choices for a tuxedo shirt.  The common ones are:
The turn-down collar, similar to the collar you see on most men's dress shirts.
The mandarin collar.  This is a non-traditional choice for younger men who feel their tuxedo must make a statement.
The wingtip collar.  This is the true choice for a formal shirt, and DPC covers making a wingtip collar in his Vogue Pattens article.
My client prefers a British-style spread collar.  In fact, the model shirt he brought me (also from the Famous American Shirtmaker I'm using for my own shirt pattern) has a spread collar that I'm carrying forward into the finished shirt.
Cuffs
This one was easy; Kevin told me he wants french cuffs.
As a variation, I showed him the single-fold french cuffs which DPC features in his Vogue Patterns article, which he writes were a favorite style choice of Fred Astaire.  This example single-fold french cuff is taken from the article.
In the end, we decided to go with the traditional double-fold french cuff.  Currently I'm planning to make the cuff square, simply because it is easier to make.
The shirt will also have a standard sleeve placket, which requires a bit of special handling for a french cuff.  The underlap portion of the sleeve placket must be folded inward to the wrong side of the sleeve before attaching the cuff.  This allows for both sides of the cuff to fold outwards and accept a cufflink. Initially this didn't make sense to me, but looking at a french-cuff shirt in my closet sorted out the confusion.  I'll have more to say on this topic when we get to patternmaking for the sleeve.
Fabric Selection
I took my client on a shopping trip to Britex Fabrics, where we looked at fabric choices for the shirt.  Kevin snapped a photo of me blathering on about the comparative qualities of the fine shirting cottons on display.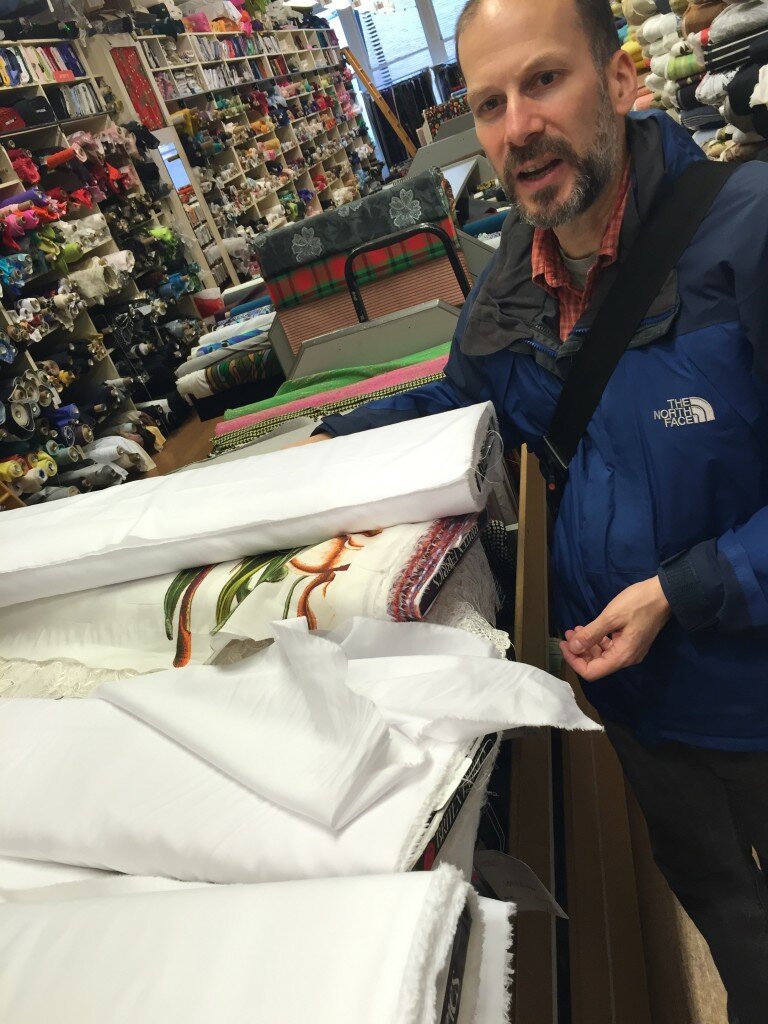 One consideration in choosing the fabric is the color and tone.  A white fabric is of course the standard choice, but the tone of the fabric also has to coordinate with the bride's wedding dress.  If the bride has an off-white or ivory wedding gown, and the groom has a bleached-white shirt, the two will clash and the groom will make the bride's outfit look dingy.
So with that in mind, we walked out with several fabric swatches.
I also obtained fabric samples from Stonemountain and Daughter Fabrics in Berkeley, which had some really wonderful Pima cottons to choose from, as well as two online options – Michael's Fabrics and Farmhouse Fabrics.  Both sent me swatches to evaluate.
The leading choice before the arrival of the online samples was the cotton/silk blend you see in the photo above, which had a nice sheen.  But the winner was this Italian-made shirting from Farmhouse Fabrics.
The fabric is a little heavier weight than you expect for most shirtings (the description on the website said "also suitable for tablecloths and napkins") but I think I can still work with it.  The fabric has the makings of a really nice shirt.
I bought twice what I needed, as an insurance policy and to perhaps make another shirt for myself or someone else farther down the line.  The price was utterly amazing – $5.59 per yard.  Between the time I ordered the swatches and placed the order, they greatly dropped the price.  Perhaps the fabric was put on clearance.  I don't care – that's an unheard-of price for fabric of this quality.
Where I'm at Now
I've been through two fittings with the client so far, and currently I'm working on a third muslin.  It's not quite a wearable muslin – I'm taking shortcuts with the seam finishes, and it's still being worked up in actual muslin fabric – but it will have all the cuffs, collars and detailing so we can get an idea of what it looks like on Kevin. I'll be writing more about this project as it develops, and I hope to tell you about my experiences with the fitting sessions.
As for my own "Holiday Shirt" project, it's been put on hold for the time being.  But I do need something to wear to a wedding.