My course in Apparel Construction at City College of San Francisco this spring encompasses three major projects:
A sleeveless sheath dress
A pant or pencil skirt
A machine-tailored jacket, made with fusible interfacings
So here I'm beginning a new blog series on the first project for the class, the sleeveless sheath dress.   Careful readers will note that project isn't the same as the title of this article, so some explanation is in order.
Requirements
The sleeveless sheath dress, as a class assignment, has the following requirements:
Internal seaming.  These are seams that don't form the structure of the garment, but exist for style purposes.  The garment has to have some sort of internal seaming involving curves, angles, or two seams that meet at a point.
Surface interest.  The dress must have at least three design elements, which can be color blocking, texture blocking, grain play (juxtaposing fabrics on straight, cross or bias grain) or piping
An invisible zipper.
Full lining.
For the men in the class, our instructor realizes we may not be excited about sewing a sheath dress for ourselves, so has allowed us to propose our own alternative garment, as long as it meets the class requirements listed above.
I do have a sheath dress pattern lying around, from a Craftsy class I purchased, so I already had Plan B.  What was missing was Plan A – the project I really wanted to make.
Concept
Menswear, being much more constrained by convention, typically doesn't use a lot of the style options in women's clothing.  Linings are sparse outside of jackets, and invisible zippers are rarely used.
I went through several ideas with a pencil and sketchbook – shirts, shirt-jackets, and even a vest or two.  None of them looked very appealing.  But eventually, I hit upon an idea for a jacket that I liked – a colorblocked jacket featuring internal seaming as the main design element.
I made a fashion illustration to communicate the concept to my instructor, who approved.
Design
Here are the the design features as I currently envision them:
Colorblocked stripes, front and back.  The stripes meet at angles in the front, meeting the requirement for internal seaming.  They also meet the requirement for three design elements in the finished garment.
On-seam front pockets.  The jacket has front pockets, with the opening right at the seam between the lowest stripe and the jacket body.
Zip on center front for closure.
Inside Front Facing to facilitate an inside lining.
Inside Back Yoke for a back facing, again to facilitate the lining.
Zip placket on outside sleeve, at the cuff.  This is done with an invisible zipper, to meet the requirements.
Gusset at the cuff, behind the zipper, in an accent color (not shown in illustration).
Inside Lining to meet the requirements.
A band collar (Mandarin/Nehru style) – think Members Only jacket from the '80s.
Sleeve and waistline hems – I'm not aiming to do anything fancy here.
Together, the design features meet the requirements of the assignment, and in a few cases (the on-seam pocket and sleeve gusset) go beyond what the assignment asks for.
Colors and Textiles
The concept illustration above shows one color scheme I had in mind for the jacket.   I also had an idea for an alternate color palette: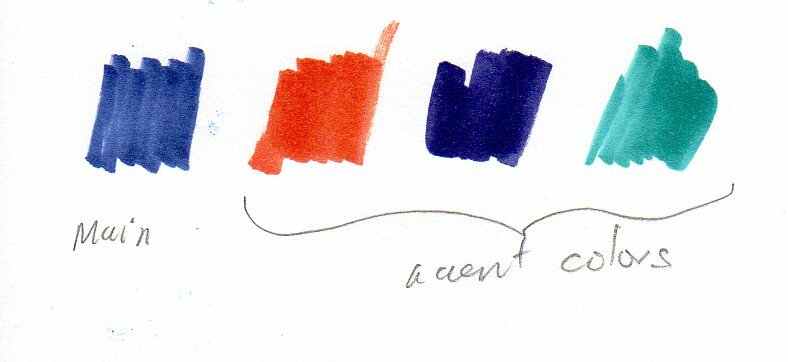 The more I thought about the project, the more I leaned to the darker palette.
There was also the thought of what fabrics would work the best.  My initial thought was something synthetic, like nylon, perhaps with ripstop for the lining.  Another choice was cotton poplin for the outside fabric, and something slippery (like rayon or polyester) for the lining.  My instructor suggested linen as a possible choice, for something a little dressier.
With those colors and fabric ideas in mind, I went on a field trip to Joann's with some sewing friends from the Sips n Sews studio.   I normally don't like shopping Joann's for apparel fabrics, but in this case I thought they might be good because they often carry the same fabric, in multiple colorways – just what I need for this project.
And Joann's did come through for me, with this set of linen-rayon blends for the outer shell, and some dark blue polyester satin for the lining.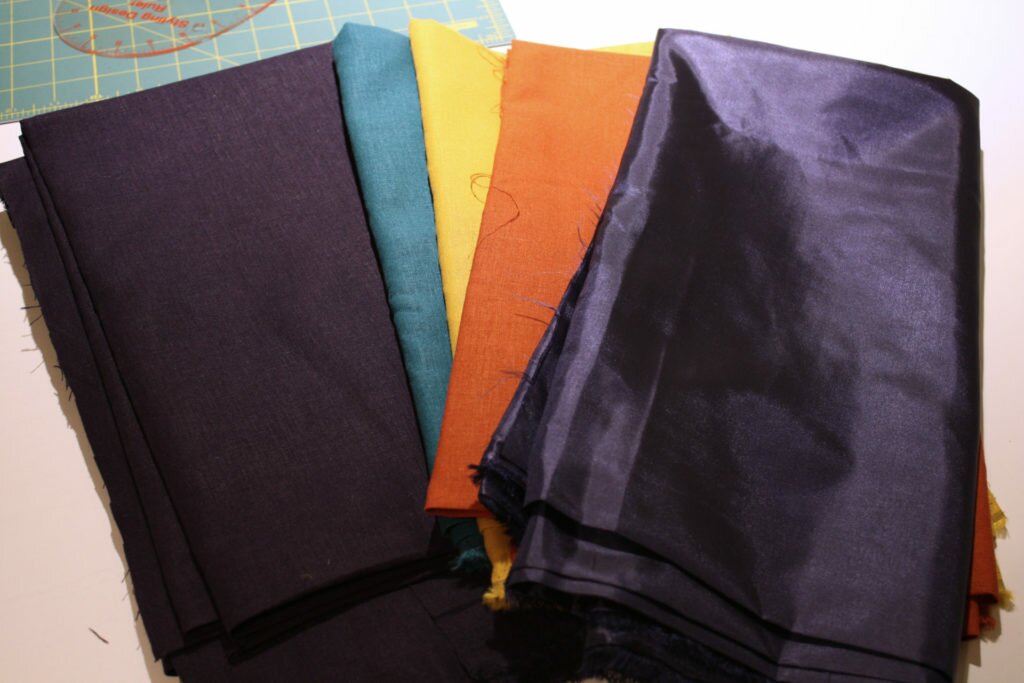 This is a slightly different color palette than I had in mind – the dark purple from my original dark palette concept is replaced with a mustard yellow.  But this palette also works, and I like it.
Here's another illustration showing the back of the jacket with my chosen palette.   This isn't my best illustration ever, but it gets the idea across.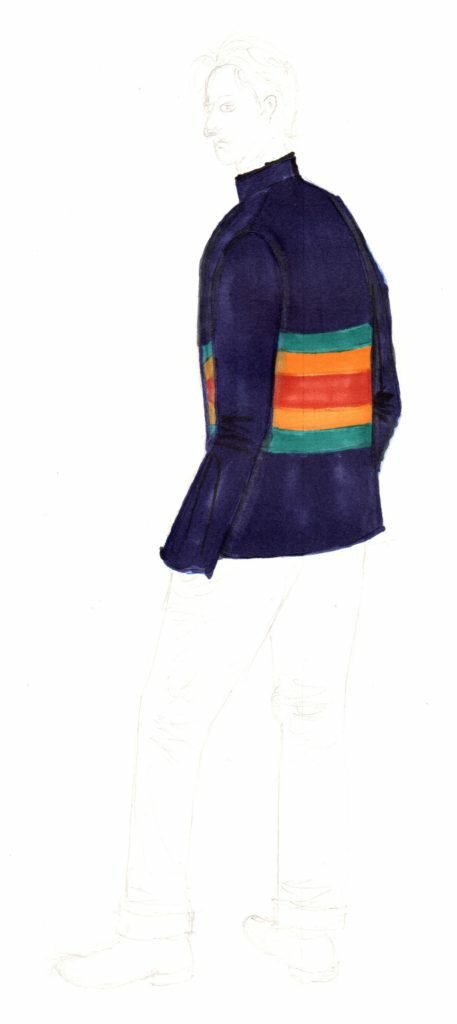 Plan
Part of the assignment is to prepare a written workplan outlining how we intend to create the garment, and the order of operations for assembly.
We are allowed to start with a commercial pattern as a base, and modify it to add the required style elements.  For this project I will be drafting a pattern from scratch, using the personal sloper I made in Moulage class last summer.
Here's my construction plan so far.  The instructor hasn't seen this yet, so it is subject to change:
Fitting
Draft jacket sloper from moulage sloper

Sew muslin

Fit first muslin

Second Muslin, incorporating

Fitting Adjustments

Sleeve sloper
Patternmaking
Drape colorblocking on the sloper, while on dress form

Fronts

Front Closure

Zipper

Front bands?

Colorblocking – split into separate pattern pieces

In-seam Pockets

Front Facing

Pocket Facing

Interfacing pieces

Backs

Colorblocking – split into separate pattern pieces

Yoke Facing

Interfacing pieces

Collar (stand collar)

Sleeve

Gusset

Sleeve facing for Gusset

Hems

Interfacing pieces

Lining

Bodice Front

Bodice Back

Sleeves
Notions Shopping List
Pocketing Fabric (possibly use lining fabric)

Front Zipper (jacket zipper, metal teeth, matching color to fabric, length determined by pattern)

Sleeve Zippers (2 invisible zippers in matching colors, plus 1-2 extras for samples)

Matching Thread

Interfacing – fusible
Test Garment / Samples
Before starting the garment proper, it might be a good idea to do some samples to make sure my pattern draft is correct and the garment can be constructed.
Front placket sample

Sleeve gusset sample
Construction and Order of Operations
Prewash/Preshrink fabrics

Cut and Mark

Interface pieces:

Collar

Front Facings (or outside where facings should go)

Front In-seam Pocket Opening

Back Facing/Yoke

Jacket Hem

Sleeve Hem

Staystitching

Neckline

Shoulders

Construct the Fronts

Stitch the color-block seams

In-seam pocket:

Opening

Pocket Bags

Front Zipper and Facings

Construct the Backs

Stitch the color-block seams on the back

Attach maker label to back facing

Construct the Sleeves

Sew in the gussets

Invisible Zipper into the cuffs

Close Sleeve Seams

Construct Lining Shell

Bodice

Sleeve (in the flat)

Close Side seams and sleeve seams, leaving opening on side

Join Fronts To Backs

Shoulder seam

Construct the collar

Join Collar and Facings

Sandwich collar in between facings

Close side seams

Set Sleeve

Bag The Lining

Attach to the facings

Sleeves

Attach to the hem

Turn inside out/close
Next Time
Currently I'm in the middle of fitting and patternmaking.  I hope to tell you more about that soon.