In our previous post in this series, I explained the inspiration and design of the observing sketchbook and provided some concept sketches. This time we actually start making the sketchbook.
I started with 1/2 yard of  hot strawberry pink bull denim I got from the Red Tag shelf at Jo-Ann Fabrics.  I waited until the 50% off Red Tag sale before I pounced on an entire bolt of this stuff.  I serged it on the edges and ran it through the washer before cutting.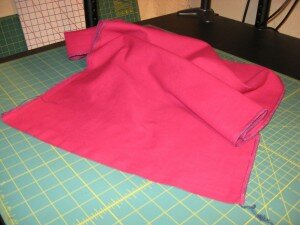 The red rubylith covers the tablet computer and keeps it from being too bright in the darkness.  I scavenged a piece of it from a cover I made from an old netbook computer.
Some pieces of this project already had pattern pieces I had drawn on the computer from previous projects.  I printed out a few of them and adapted them slightly.
I started by constructing the tablet frame, since that's the trickiest part of the project.  First, cut the pieces for both the front and the underside (inside) of the frame.
Some interfacing goes inside the outside frame cover, mostly to provide a guide for folding over the edges and ironing.
Front side of frame interfaced and ironed.

Then the front side of the frame is edgestitched to finish the edges.
The inside frame piece is pinned on, and the rubylith sandwiched between them.
Then I stitched on the side tabs that will anchor the frame to the inside body of the sketchbook.  They're also sandwiched between the inner/outer frame pieces.

The frame is done.

A few problems turned up during the construction of the frame.  Part of it was I was careless, and perhaps hurrying along rather than carefully doing each step:
The edges of the frame turned out a bit uneven.  I should have folded over a straightedge while ironing.
The inside of the frame turned out a bit skewed. This was because of the top layers of fabric shifting against the lower layers being pulled through the feed dogs.
I didn't finish the edges of the fabric tabs, or the inside of the frame where it meets the rubylith.  D'oh!
Still, it turned out functional and certainly good enough to continue onwards.  Next time, we make the cover/insides and attach the tablet frame.