No, I'm not giving up on the pants fitting project.  But I did purchase a brand-new sewing machine over two months ago, and I've basically been using it to sew pants muslins with a basting stitch ever since I got it. It would be nice to have a project that doesn't involve fitting at all, one where I can just sew.
My day job, for better for worse, has me taking the occasional 1 or 2-day business trip. Not being a traveler, I have little in the way of luggage. A bag that could accommodate necessities for an overnight trip would be a handy thing to have.
I spotted the Craftsy course, Sew Better Bags: The Weekend Duffel about a month ago.  When Craftsy had another $19.95 sale on all classes around Christmas, I went for it. The bag pattern, by instructor Betz White, is well thought-out and has lots of nice details that give it a professional appearance.  Here's a model photo I stole from Craftsy's website.
I initially thought it wouldn't be too hard to round up the materials for the project, but I was wrong.  Probably the most frequently asked questions in the class forums are about where to get the fabric, hardware, and supplies, even though the instructor provides a list of suppliers.
Craftsy does sell a "kit" for the class, but it contains only fabric. It's useful if you want to make a bag exactly like the ones modeled. But fabric is the easiest thing to find, so the kit isn't very helpful.
So, for someone who wants to try to make this bag themselves, here's where I got everything.
Fabric
I'm making two bags. The bag pattern calls for a main color, an accent color for the outside, and a lining color.
The main fabric for each bag are two duck cloth remnants I found one day at JoAnn Fabrics. Each is just big enough to make the 18-inch wide variation of the bag. One is canary yellow, the other rocket blue.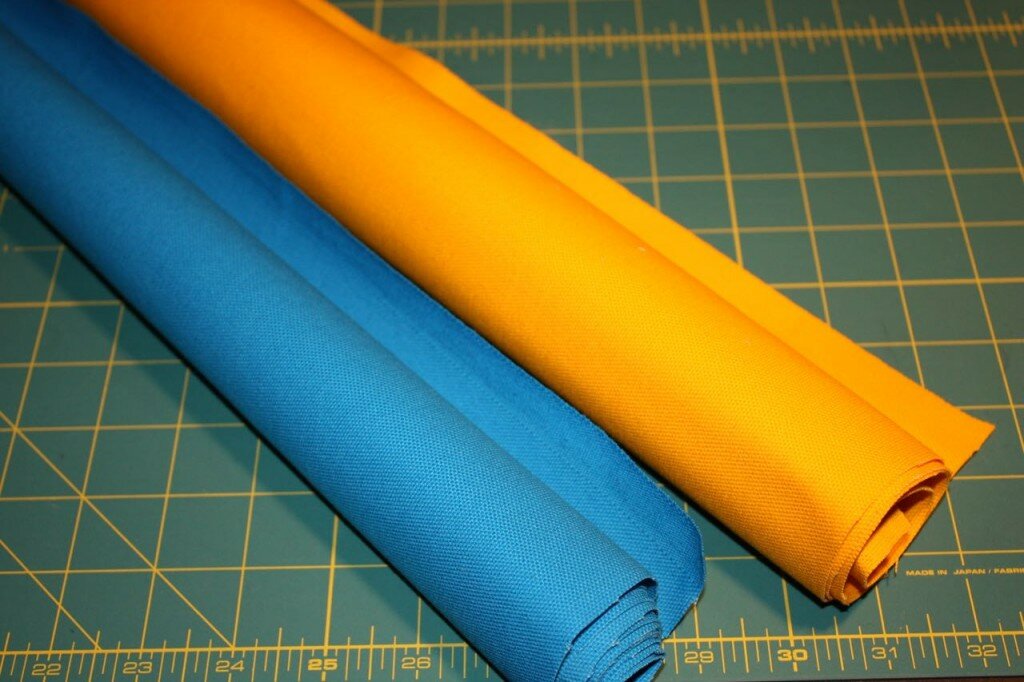 For an accent color, I chose black duck cloth, and for the lining fabric I found some cotton-poly broadcloth.  Both were purchased at Discount Fabrics in San Francisco.
The rocket blue bag will have navy blue lining.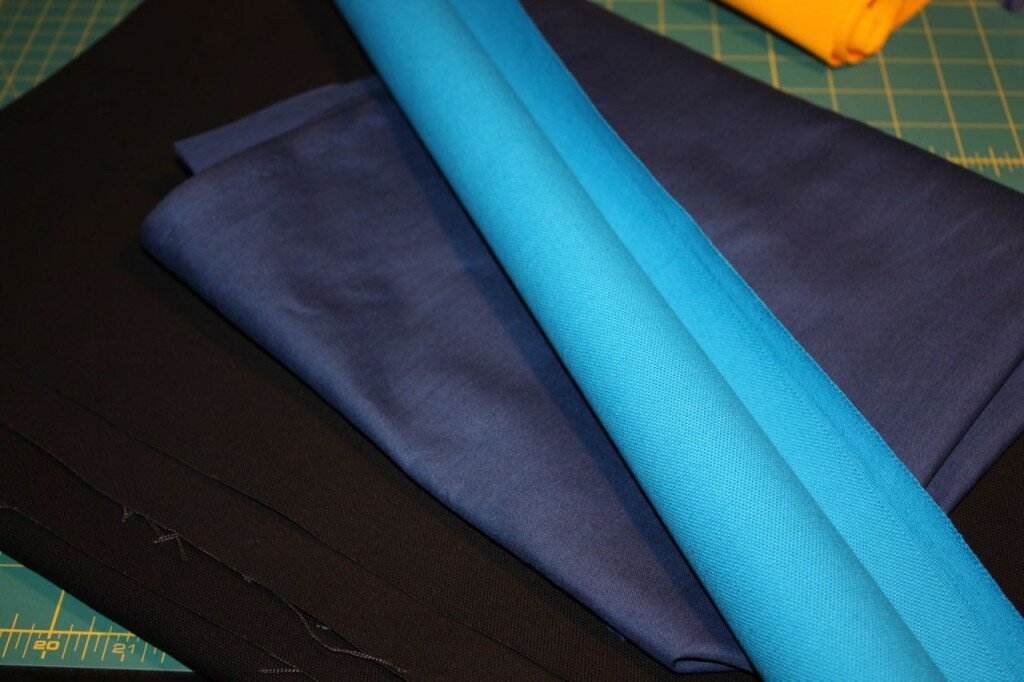 The yellow bag will have grey lining.
Hardware
The project calls for several pieces of hardware: D-rings, rectangular rings, clips, magnetic closures, and so on.  This seems to be the hardest thing for people to find, but it's also what makes the bag look polished and professional.
Every local place I tried had only some of the pieces, and the styles weren't what I wanted.  I checked some online sources and could find individual pieces, but couldn't find a set of hardware that all had a consistent look.
Eventually I found what I was looking for at Purse Supply Depot. They had all the required hardware for the project, and what's more it had a consistent look.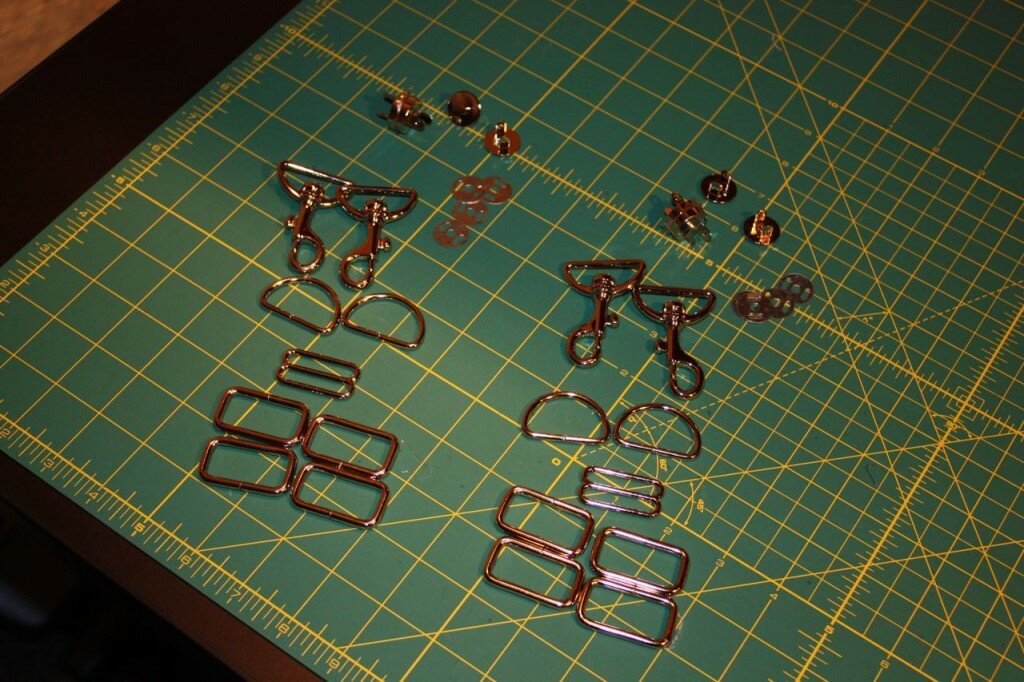 The downside is that they have a minimum quantity of 10 per item; so I ended up ordering enough hardware to make five bags.  Even so, the prices are reasonable. I got nickel finish hardware, which looks odd in the photo above due to the interaction of the camera flash and the room lighting.
Zippers
I was really surprised at how difficult the main zipper was to find. I needed an 18-inch, non-separating zipper with fairly heavy teeth.  Since the hardware was nickel finish, I wanted a zipper with nickel teeth to match. My normal source for zippers, Wawak, doesn't carry anything like that. Nor did any of the local sources I checked, including Britex Fabrics who usually come through for me in situations like these.
The class instructor used a fancy, high-end Riri fashion zipper for the primary closure in her bag. The Riri zippers are really cool; they offer you several style choices for teeth as well as the zipper pulls.  But they also cost over $20 each.
Ultimately I found the right zipper from an Etsy seller, Zipperstop. I purchased five YKK zippers with nickel teeth, exactly what I wanted, for $2 apiece. It's the black zipper in the photo.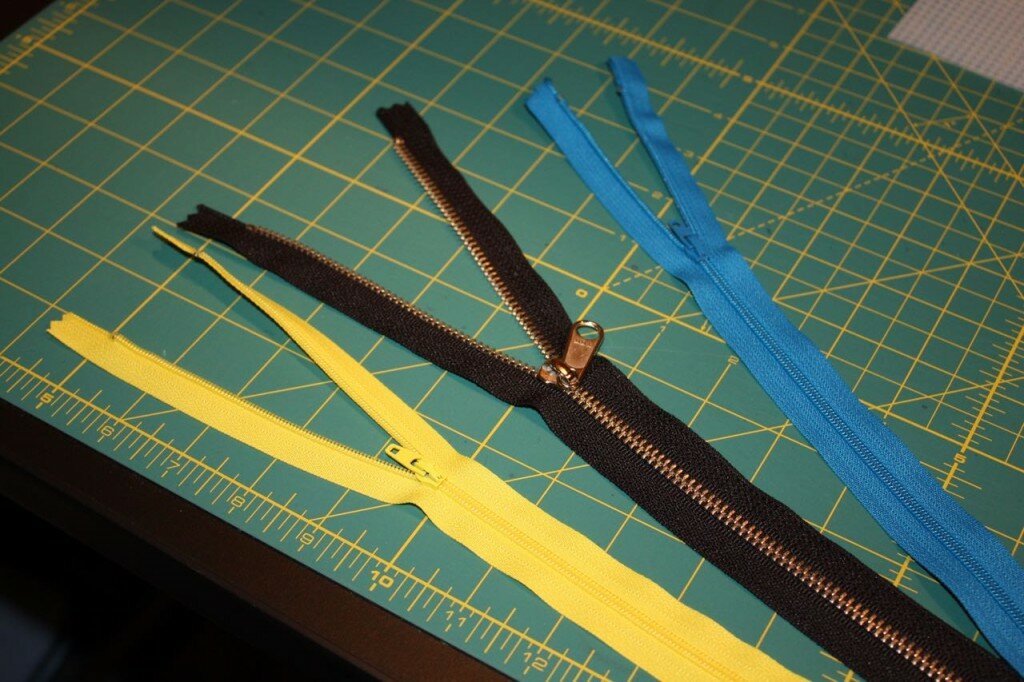 The yellow and blue zippers (also YKK) came from Nancy's Notions. I bought them to see if they might be suitable as the main zipper. The rocket blue zipper especially was a good color match to the fashion fabric, but they are a nylon coil and not heavy/durable enough for the main zipper opening. However, the bag does have an interior, zippered pocket and these zippers will be perfect for that.
Webbing
The project gives you two options for the straps and handles; self-fabric, or use purchased webbing. I prefer the look of webbing and don't want to deal with cutting fabric to stitch my own straps. So I found 12 yards of black cotton 1 1/4″ webbing locally at Discount Fabrics.  A single bag uses 5 yards of webbing, which sounds like an awful lot.
Interfacing
The project uses two types of interfacing; Pellon SF-101, and Pellon Fusible Fleece.
The Fusible Fleece is available at both Wawak and Nancy's Notions; I ended up ordering it from Nancy's Notions along with the colored zippers.
The Pellon SF-101 interfacing was obtained from JoAnn fabrics online.  I ordered a bolt of the stuff, which was drop-shipped directly from Pellon.  It took over a week and was the last item to arrive.  As always with JoAnn, watch out for opportunities to use discounts and coupons to save.  As I type, it's selling for a good deal less than what I paid for it even with the promo discount I used.
Base Insert
The bag also requires some type of stiff material as an insert for the base. The instructor uses plastic canvas, a base material for needle work and cross-stitch.  I found this at JoAnn's at the same time I ordered the interfacing.
Where Next
I plan to continue with the fitting project, but the bag project will be a nice distraction to keep me from going crazy with the fitting.  You'll find articles on both projects here interspersed as I push forward with both.
The bag project has a lot of up-front cutting and fusing, for all the individual outer fabric and lining pieces.  So that will keep me busy for sure.
More on both projects as they develop.