It's the beauty and the bane of every sewist's existence: managing our fabric stash.
We all buy way more fabric than we actually need (and in my case, more than I can store). And we all end up purchasing some fabric that we look at later and say, "What the heck was I thinking?!"
So I jumped at the chance to visit the Bay Area Sewist's Fabric Swap this past Saturday at the Berkeley, CA Public Library, easily reachable via public transit. I "let go" of some fabrics that were taking up space in my stash, with no project for them in sight, to give them a new lease on life.
Among them were:
1 3/4 yards of stretch denim that I bought by mistake. It would make an awesome pair of jeans for a woman but were of no use to me.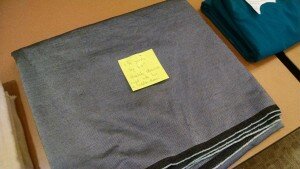 An entire bolt of boucle suiting fabric, which I later learned was also stretch fabric. This bolt was especially irksome because lacking storage, it was perpetually in my way, and has been moved around my work area dozens of times.
Nearly 3 yards of white corduroy, which I had wanted to make into jeans for myself until I discovered they, too, were stretch fabric: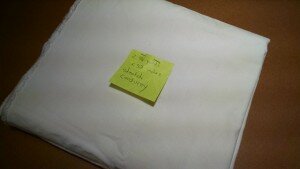 I've finally learned to do a stretch test before getting fabric cut in the store.
Finally, I parted with 4 yards of a faux-sequined metallic knit, purchased long before I took up sewing as a hobby. I had planned to make a decorative cover for my telescope. The fabric is fabulous, but I'm never going to make the project and I don't have another use for it:
The rules for the swap were simple. Everyone laid out fabric on tables organized by fabric type – wovens, knits, synthetics and so on. There were four selection rounds, where each person can grab one piece of fabric. You got as many rounds as you brought cuts of fabric, for instance bringing three cuts made you eligible for three selection rounds.
After the selection rounds were over, it was free selection where anyone could grab anything that was left. The leftovers (there weren't many) were donated to the East Bay Depot for Creative Reuse.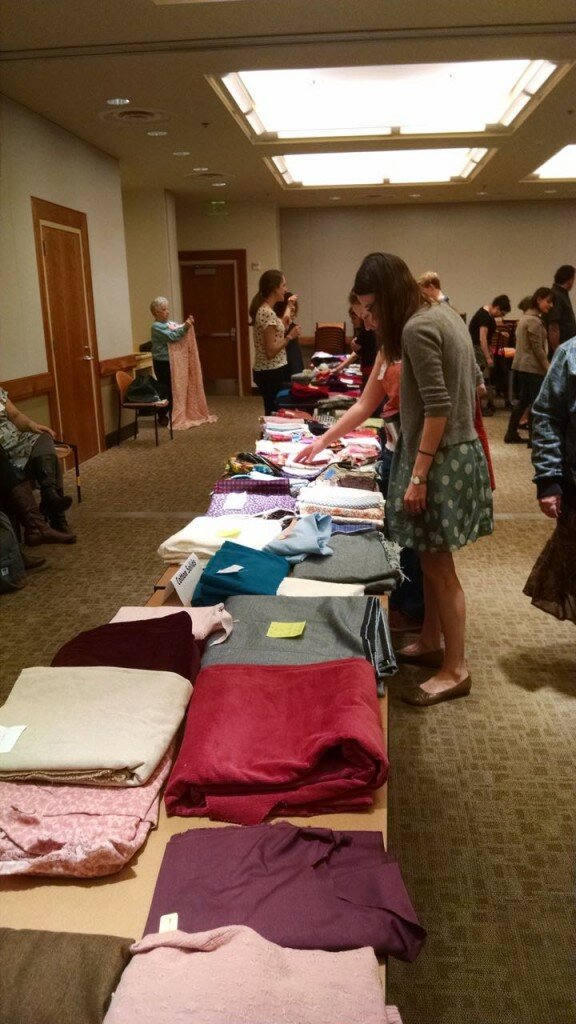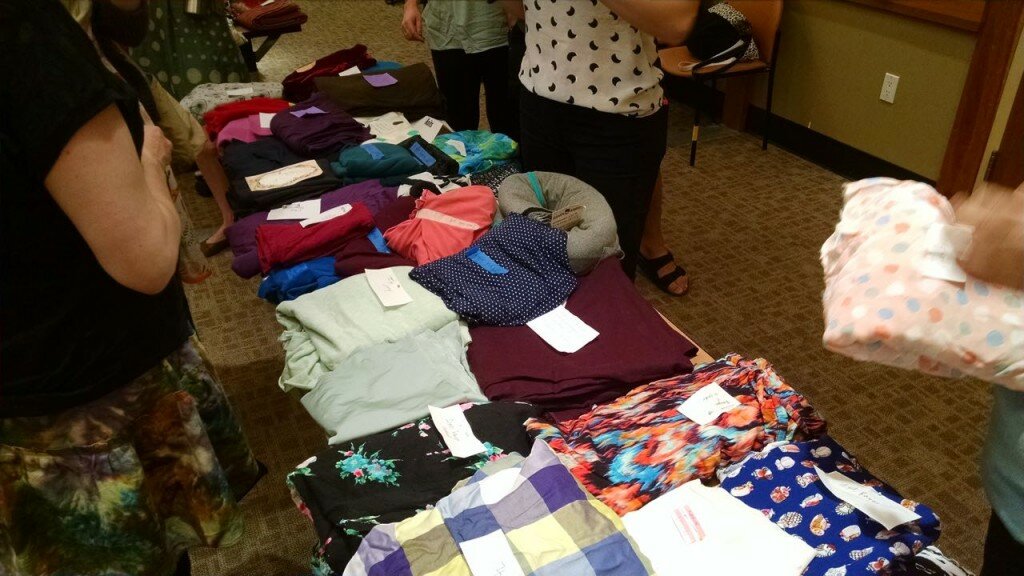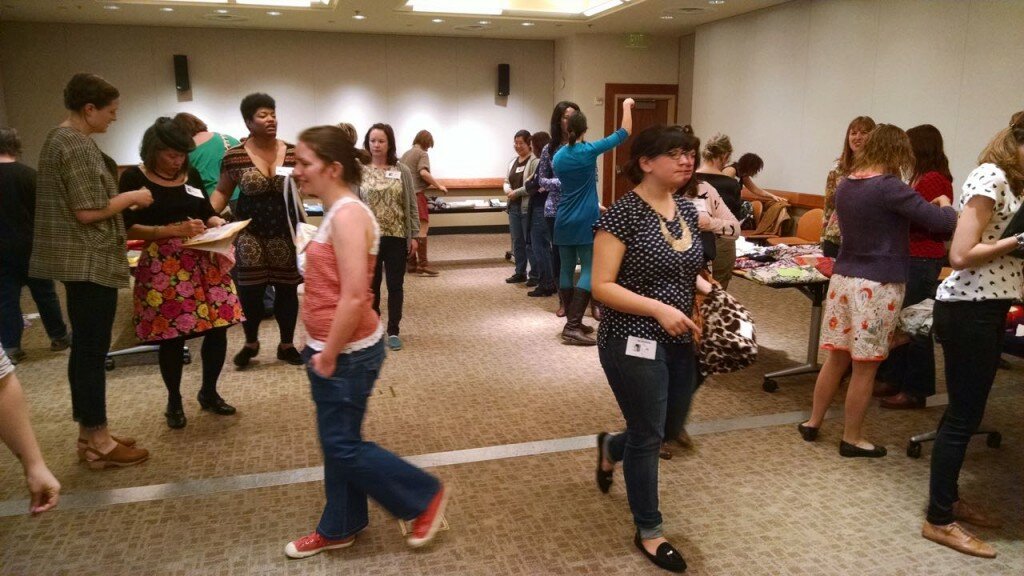 All the pieces of fabric I thought were interesting were immediately snapped up at the beginning of the first round.  But that was okay, because my goal was to leave the event with much less fabric than I brought!
I did want to bring something home, so when I spied this canvas fabric embroidered with bugs at the scraps table, I went for it.  It turned out it was brought in by a sewist named Giliian, who I met on the BART train on the way to the event!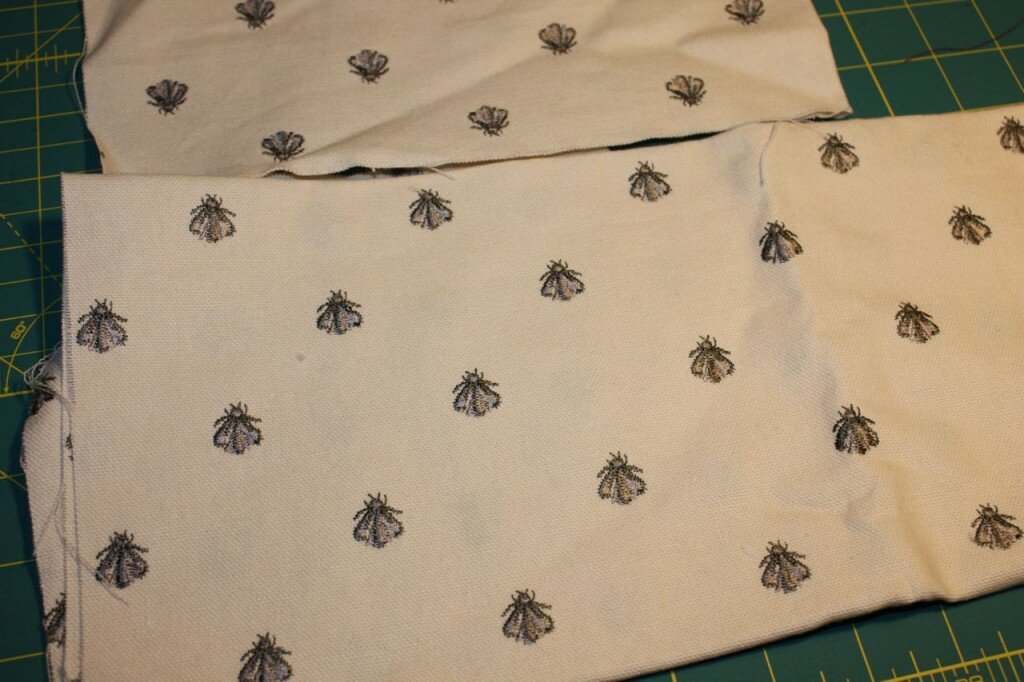 My first idea was to make the scraps into an iPad cover, or maybe a wallet or passport holder. During the group round-table discussion afterwards, someone suggested I make the fabric into a bowtie! I've never made a bowtie before, and there's not much fabric here, but I'll be looking at whether I can piece and seam the fabric into something that works. I have a bowtie pattern as part of McCall's 2447, but I'm not sure how authentic a pattern it is.
Stonemountain and Daughter Fabrics
After the meetup, most participants visited Stonemountain and Daughter Fabrics, just a few blocks away from the Berkeley Public LIbrary.  I had never visited this store before, so I didn't know I was in for a treat.  They have an excellent selection of fabrics, and the staff are super nice and super helpful. They offered a one-day, 20% discount to the meetup participants.
I used the discount to purchase a yard each of these fantastic cotton wovens.  They are destined to become neckties, following the customizable Timeless Tie pattern recommended to me by reader David Page Coffin, along with David's own self-published book on tie making.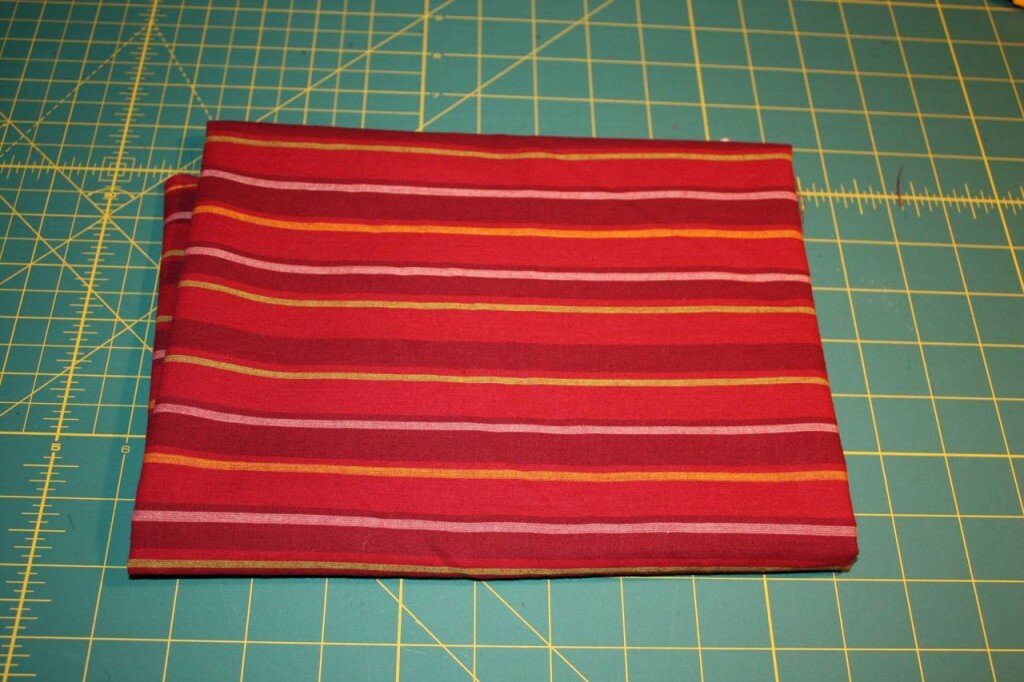 I'm particularly excited about a tie made from this fabric, which is super colorful without being overpowering or ostentatious. I think it would go well with a wide selection of shirts.
Finally at Stonemountain I found this beautiful, Italian wool suiting fabric in their 50% off clearance section.  The checked pattern is virtually the same as on the unflattering Levi Docker pants I featured a few articles back.  My intention is to turn this fabric into a replacement for those Levi Docker's, once I have Vogue 8940 fitted to me.  More incentive to keep the fitting project going.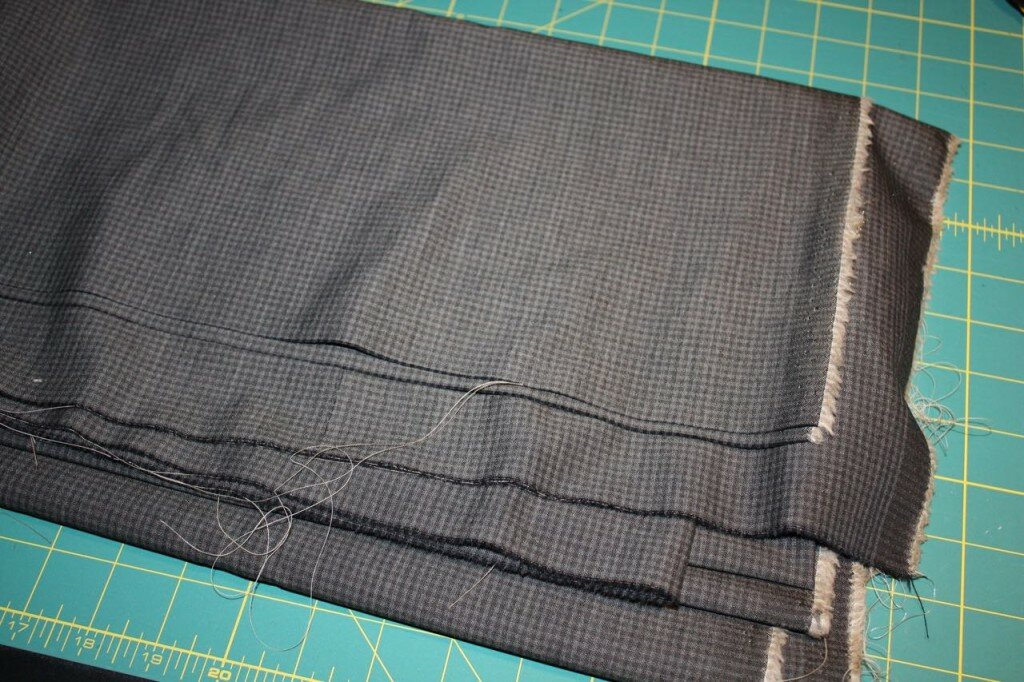 Weekend Duffle Update
Did I mention these bags have a lot of cut pieces?  You have to cut the primary color fabric, the accent color fabric, all the lining pieces, as well as plain interfacing and fleece interfacing. Here's all the cut pieces for just one bag, laid out in stacks on my work table.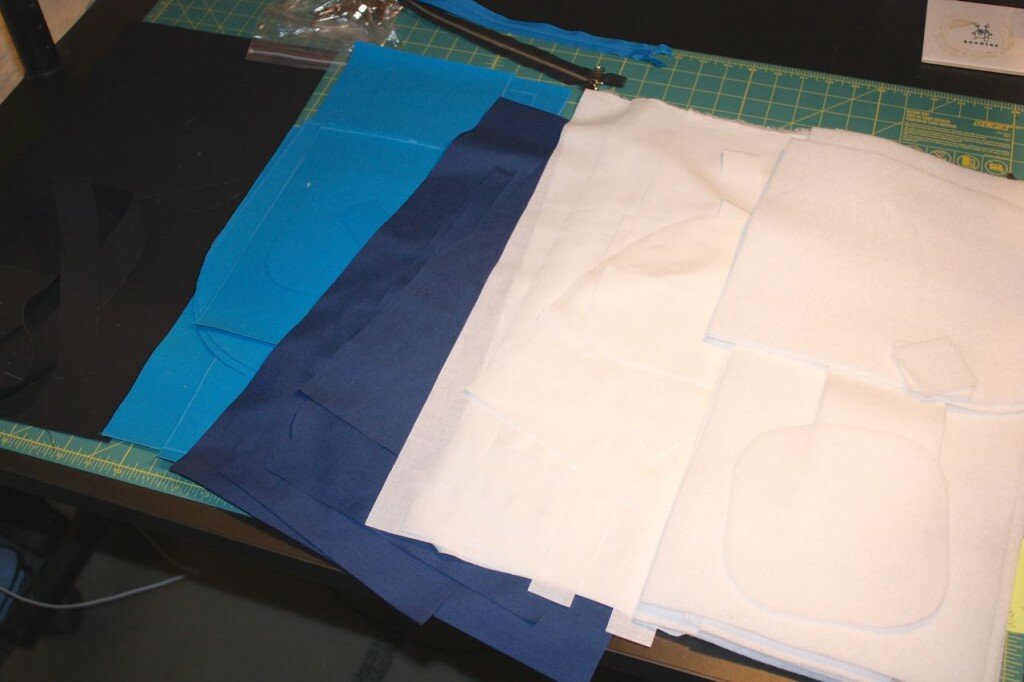 Last weekend I got the fabric cutting done. This weekend, I cut all the interfacing. I spent three hours today just matching the interfacing to the appropriate pieces of fabric for both bags. The class notes have a giant matrix, running for a page and a half, indicating which pieces of fabric match up with which pieces of interfacing.  It's extra confusing because several pattern shapes are cut identically from different fabrics, but are interfaced differently (or not at all).
I double-checked against the class notes as I went along, pinning interfacing to fabric and correcting mistakes along the way – such as a piece of lining that I had cut too large. I plan to go through all the pieces again tomorrow night, ensuring that I have not made a mistake matching interfacing to fabric. I used up nearly all the yellow and rocket blue fabric during cutting, so I have no leeway for do-overs in case of error.
Pants Fitting Update
This project is on hold until I get through all the fusing for the bags.  Basically I have to start from square one, tracing a fresh pattern off the master so I can alter it.
Phew! That was quite a lot for one blog post.  Next time, I'll have more to say for sure on the bag project, and maybe something on the pants.  See you then.