As I suspected from the outset, my Holiday Shirt is not going to be ready in time for the holidays, for sure.  I don't even have the wearable muslin done yet.
I have been through about three muslins now, and I'm learning more about the art of fitting a bodice piece to myself.  But I haven't even gotten to fitting the sleeves yet.
I plan to write a detailed post about my fitting experience soon.  In the meantime, I have several developments to discuss.
Sips N Sews
A sewing studio has recently opened in San Francisco.  This weekend, I dropped by to visit as part of a SF Bay Area Sewists event.
Called Sips N Sews, it bills itself as a "personal sewing studio".  Membership is sold on a monthly basis and gets you access to a brightly lit, well-equipped workspace well-stocked with machines and sewing notions.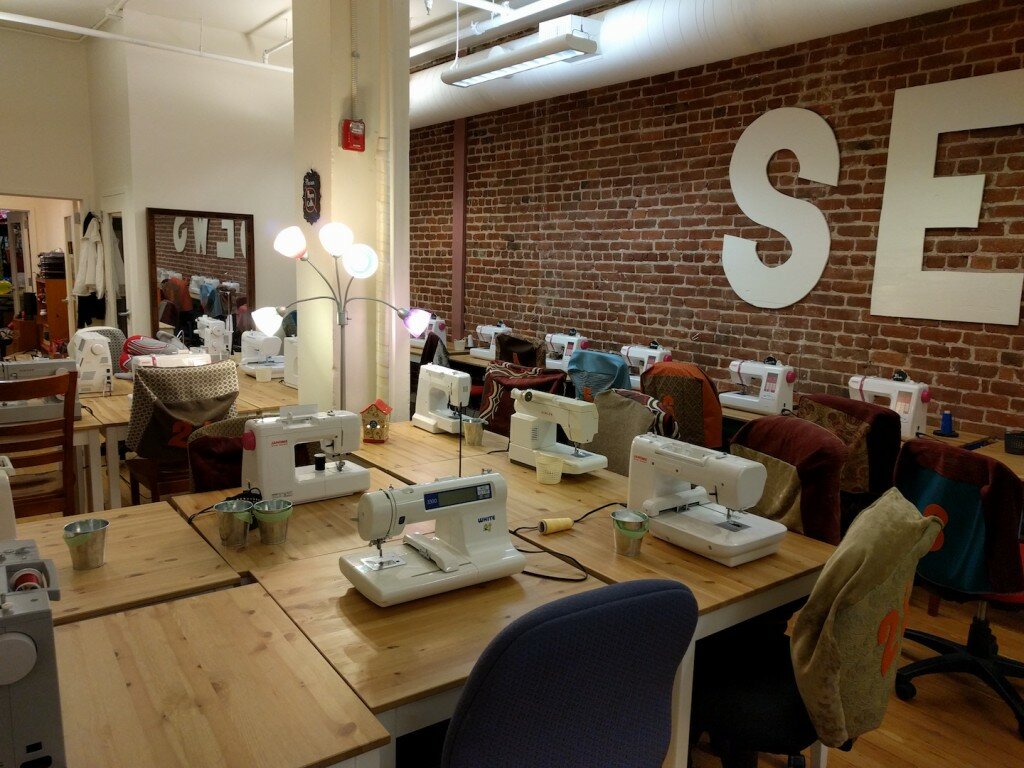 The machines available for use are a wide variety of domestic machines, sergers, coverstitch machines, industrial blindhemmer, embroidery machines, two vintage machines and an industrial straight-stitch machine.  Members can use any of them on a "first-come, first-served" basis.  The studio staff provides free basic instruction for the hardware.
Members can freely use any of the notions provided by the "Notions Nook", including zippers, buttons, interfacing, thread and so on.  Current sewing magazines and sewing books are kept in the Library, and there is also a selection of patterns available.
A lounge in the back offers several comfy chairs, a zillion teacups, and a vast selection of teas for members to enjoy.
There's also a classroom space.  Membership includes access to project-oriented beginner's sewing classes.
And not photographed here is a retail space in the front of the studio.  Members can sell items in the retail space via consignment, with both the creator and the studio getting a cut of the proceeds.
The owner, Tammy Pfeiffer-Gustin, formerly worked in the local tech industry.  She opened Sips n Sews when she saw a need for a space to cater to sewists in San Francisco.  Right now, a lot of the clientele are students in the local fashion schools, but members come from all walks of life and Pfeffer-Gustin wants Sips N Sews to be a hub for a community of sewists in the city.
I like the idea of Sips N Sews enough that I've signed up for a membership to give it a try. I often feel like a hermit working on projects in my basement and so would like to try sewing in the company of others.
The sewing machines at the studio by and large aren't better than the machines I have at home, but it does give me the opportunity to try out different hardware, such as vintage machines as well as the industrial straight-stitcher. And I also have access to embroidery machines at the studio, which is new to me and could be a lot of fun for a project.
Paul Gallo
There's another reason why I signed up for a Sips N Sews membership, which is so I could take a course in patternmaking and draping being offered by Paul Gallo at the studio this January.
Paul Gallo is a Craftsy instructor with two courses on draping and bias design.  He has a long professional career of fashion design work, patternmaking, draping and teaching.
I'm looking forward to taking the course, to get live in-person instruction for a lot of things that I've been working though entirely on my own.  He invites students to bring in their projects to work on in the class, so I can learn from mine and other's projects.  I'm very excited about it!
An Awesome Find
Coming back from the Bay Area Sewists meeting this weekend, I walked past a clothing store on Mission Street that sadly was going out of business after 65 years.  I figured, "Eh, it's worth a look" and walked in.  The owner of the store greeted me with a welcome and a declaration that everything not nailed down was for sale.
I must have gasped when I turned and encountered this men's dress form for $25:
After figuring out that I could, indeed carry it home on the bus, I paid for it and it was mine.  It's a retail dress form, used to display clothing so it doesn't have a floor stand.  But for $25, who cares?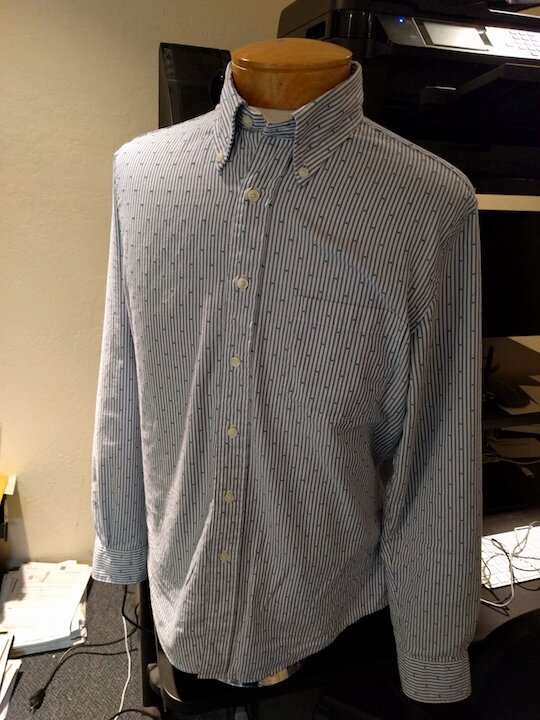 I don't know yet how useful it will be, but for trying out styling variations alone (various types of collar and shirt-front combinations) it should be worth it.
Next Time
I'll have a report on shirt fitting.