I've had to come to grips with the fact that I am a slow sewist.
It's not worth delving deeply into the reasons why: I have a busy professional life, I spend a lot of time researching sewing techniques, I go out of my way to make projects complicated….
But the fact is that by the time I finish a project, it's usually out of season. And sometimes projects can be delayed by more than a year because I'm tied up with some other project and cannot start a new one at the right time.
But right now I have the opportunity to make a holiday shirt, one I can wear to parties and occasions during the month of December.  Starting now, I have a hope of making my goal.
But first, let's make matters complicated.
A New Pattern
I've sewed lots of button-up shirts on this blog, but I'm sad to say I still don't have a TNT (tried 'n true) shirt pattern. It's not for lack of trying.
My very first dress shirt, and the one I made to start this blog, McCall's 2447, was great from the details standpoint but was billowy and blousy, especially in the sleeves.
McCall's 6044 made a springtime seersucker shirt, but the pattern is pretty basic (it has no back yoke piece, for instance).
Kwik Sew 2000 is a nice "Sport Block" shirt that fit my partner Jim way better than it ever fit me.
I thought McCall's 6613 was promising, but this pattern turned out to annoy me in several ways – the biggest being the pattern draft added WAY too much ease to the sleeve caps. And though I wear the finished projects from this pattern, there's something a little dowdy about the styling.  The collars certainly look dated, but there's something about the lines of the shirt that bug me.  Perhaps this stems from it being a unisex pattern, I don't know.
At this point, I'm becoming disenchanted with the commercial patternmakers, at least as far as contemporary patterns go.  For this project, I've decided to clone a commercial shirt pattern, from a Famous American Shirt Maker, whose name I don't want to reveal in print because I would rather not attract attention I am copying their pattern.
The Famous Maker offers four distinct cuts for their shirts. I purchased two shirts for this project.
The "Madison" fit is described as the Famous Maker's "Regular" fit.  This blue Madras plaid is an example.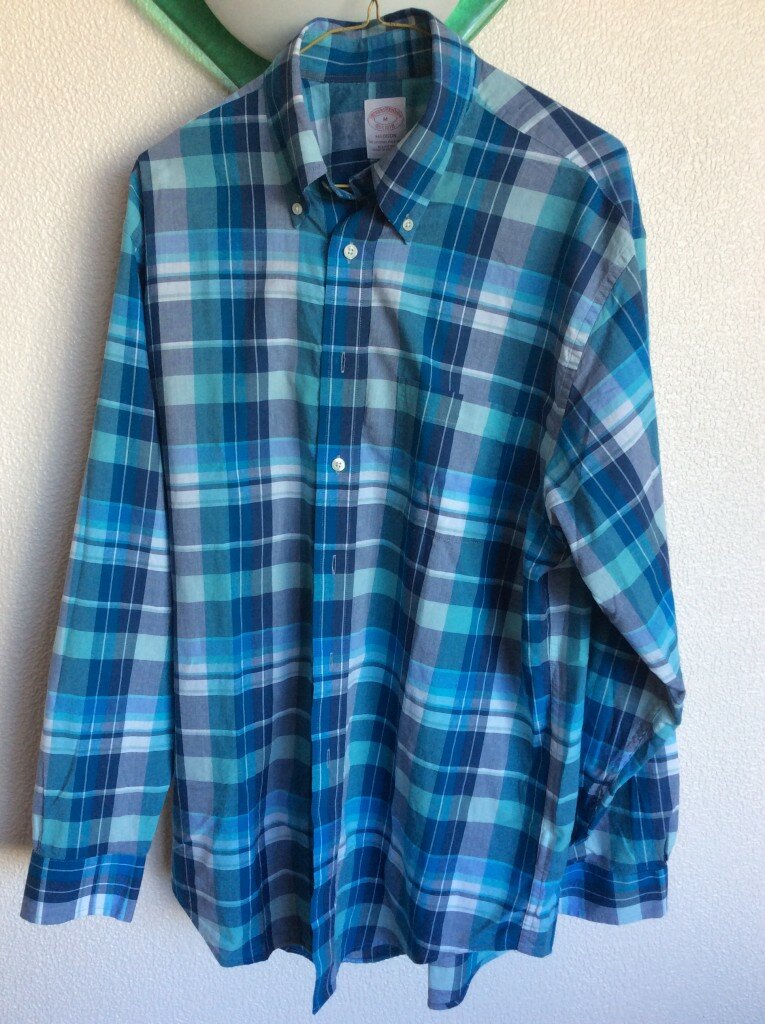 And the "Regent" fit is their slim fit cut.  Here's the sample I purchased.  I likely will go with the "Regent" fit for my holiday shirt.
Copying a Shirt
I followed (as usual) David Coffin's instructions for copying a shirt pattern.  He describes the technique in both his shirt books, Shirtmaking as well as The Shirtmaking Workbook.  He also has produced a YouTube video illustrating the technique.
Basically, you poke lots of holes with a pin at the seam lines, then connect them with a pencil and pattern drafting rule, or French curve.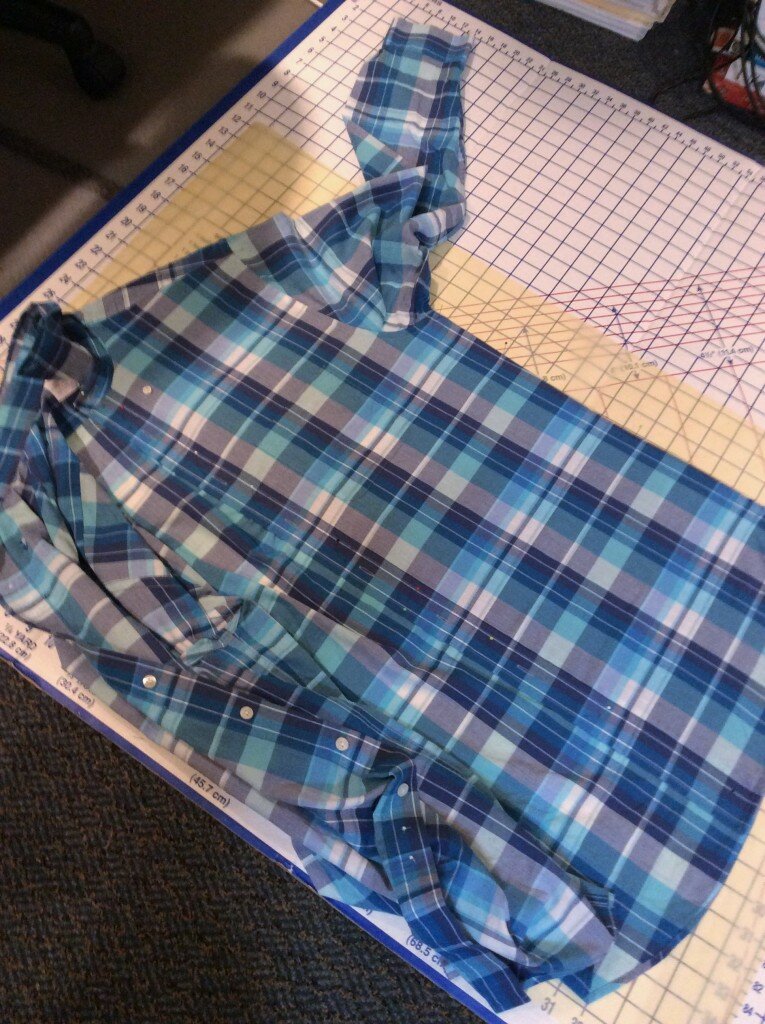 A big challenge came from the tracing paper I used, purchased from the art supply store.  This paper is great for tracing patterns, but the pinholes I made in the paper were almost completely invisible.  I had to poke lots more pinholes that I probably would have had to with some other kind of paper, and I had to turn up the light at the desk as I worked with paper and pencil.  I would advise testing out the paper you use for pinhole visibility before trying out this method.
Also, with the Regent shirt I sometimes ran into difficulty pinning pieces totally flat.  Here, I ran into issues pinning near the back-armcsye-yoke intersection.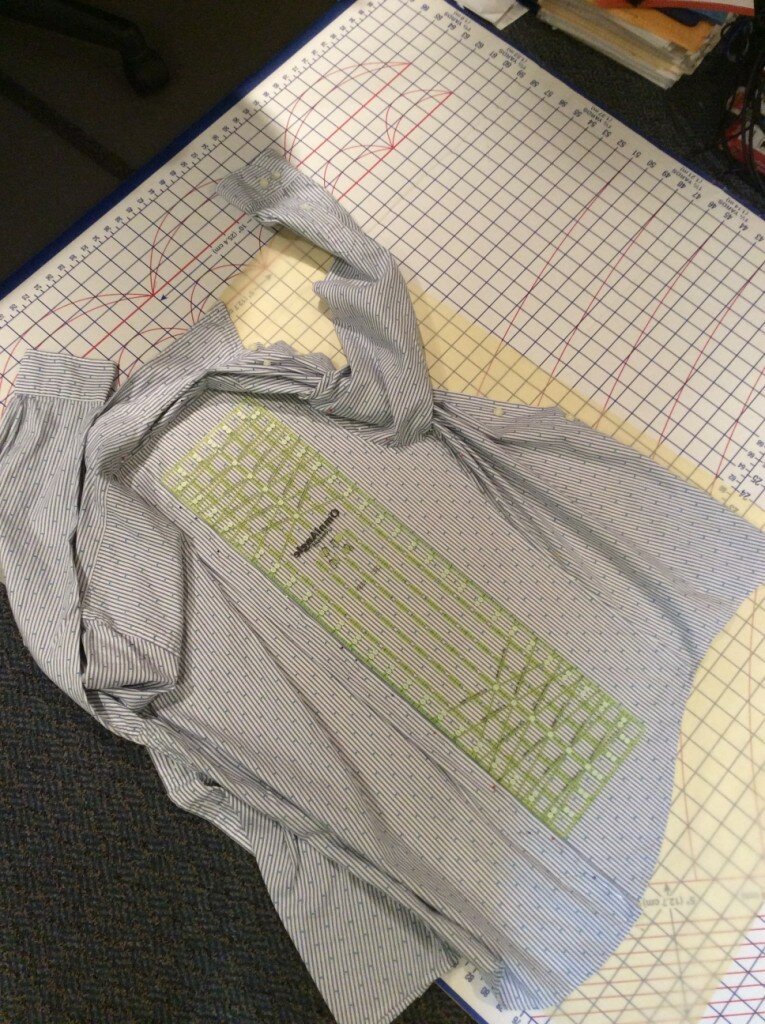 The shirt wouldn't let me get into that upper corner with the rest of the shirt back pinned down.  I had to unpin most of the shirt to let me repin in that area before I could trace it out.
The Completed Trace
The end result of this process was a stack of sheets of tracing paper containing front, back, sleeve, yoke, and collar pieces for both shirts.
Traced on the seam lines, there are no seam allowances.  Seamlines need to be walked and trued. Pleats, for example the box pleat in back, have been folded out for the trace.  This trace will become a pattern block that will need a cuff draft, back pleats added, new front plackets, and optionally new hemlines.
I stuck two-inch alignment squares all over them, for scanning, assembling and digitizing into Wild Ginger's PatternMaster software.
Differences between the Patterns
I'll cover the differences between these patterns in detail in a future article, once they are digitized into Wild Ginger.  But one thing I noticed during the copying process is the difference in sleeves.
"Regent" fit has very straight sleeve seams.
With "Madison" fit, the sleeve seam curves into the armscye.  Presumably this offers a fuller sleeve.
Fabric Selection
For the Holiday Shirt, I'm using a remnant of high-quality Italian-made shirting I got from Britex Fabrics.
I purchased it during a 30% off sale, so I probably paid somewhere around $40 for this cut of fabric. I am very much looking forward to sewing with it.
The matching buttons also come from Britex.  I have front placket, cuff, and collar buttons but I am not sure I am going to use the collar buttons in the finished shirt.  We'll see.
Next Time
I'll get the pattern into the computer, and we might talk about fitting.