For the third article in my Tuxedo Shirt series, I wanted to reflect on the project, as well as the prospects of turning a hobby into a cottage industry of sewing for others.
Some Lessons Learned
Though the project was ultimately successful, I had my share of setbacks along the way, and there were a few things that didn't go the way I had hoped.
Fabric
The biggest regret was that I wish I had run the original fabric through the washer immediately after purchasing it.  I would have known early on that that it might have been too stiff for the project, and perhaps made a test garment.  Instead, I had misgivings at the start of construction with only weeks to go, and had them confirmed only after I had completed a shirt.
Thread
In his book Shirtmaking, David Coffin says: "If you've ever tried repairing a ready-made shirt, you'll know how difficult it is to blend into the topstitching or edgestitching with ordinary, U.S. size 50 thread. This thread looks like rope compared to what manufacturers use on fine shirts."
For most shirt projects I do use standard all-purpose thread, if only for the wide color selection. But for the Tuxedo shirt, I planned to use Gutermann Mara 150, a lighter, finer thread, along with a 70/10 needle appropriate to the thread. I purchased the Mara 150 thread from Bay Tailor Supply, but Wawak is carrying it now.
On the second-to-last shirt, made entirely from the heavy, textured fabric, I had indeed used the Mara 150.  But after the final shirt was complete,  I realized that I had actually used Mara 100 – the heavier, "all-purpose" thread – rather than the fine stuff for the entire project.  I hadn't checked the spools carefully enough when threading the machine.
I figured if I hadn't noticed the difference until after completing the project, I was fine.  It certainly wasn't something the client noticed.  Though in retrospect, the stitching stands out a little more in the final product.
Marking
To mark all the buttonholes on the second-to-last shirt, I used a Pilot Frixion pen, the ones that turn invisible when exposed to heat.  Several tests with the textured fabric showed that it disappeared quickly and completely, and even when I placed a sample in the freezer the marking lines did not reappear.  So I was surprised that faint traces of the pen markings remained underneath the buttonhole stitching, even after multiple hits from the steam iron.  Something about the satin stitching prevented the ink from disappearing completely.
For the final shirt, I decided to take no chances. I used blue tailor's chalk (the clay kind, not the wax kind) to mark the front placket and sleeve/cuffs.  This also created a late-stage disaster
trying to wash them out.  After a single trip through the laundry (cold water, no dryer) the buttonholes on placket and cuffs all carried a blue tinge, and even mark lines that weren't underneath buttonholes hadn't come out.
With two days remaining, I tried to avoid panic.  Instead, I tried scrubbing out the markings with a soft toothbrush and full-strength laundry detergent.  The mark lines along the plackets came out nicely; but the markings underneath the buttonhole stitching still did not come out so easily.
Even a third trip through the washer with pretreatment, and a bleach stain remover pen did not fully remove the bluish chalk tint, but at least it became something you saw only if you started looking for it.
I tested a sample, and was able to get the chalk lines out even when the sample was pressed with a hot iron.  I think the satin stitching for the buttonholes simply trapped the chalk, and that a few more washes would clear it out.  But at 3am, two nights before the wedding, in front of the washing machine I simply decided it was what it was.
Moral of the story: I don't think it is possible to do to much sample testing.  I had assumed these marking methods (Frixion and chalk) would work, but hadn't tested them in advance with buttonholes.
Construction
The biggest construction mistake was that I blew out the corner on the right-hand (underlap) side of the collar stand, where it meets the front band.  Basically, I visually lost the stitching line with all that white fabric, and pulled and redid the stitches at least twice.  When I turned the collar stand inside-out, the corner simply blew and a little frayed mess appeared there.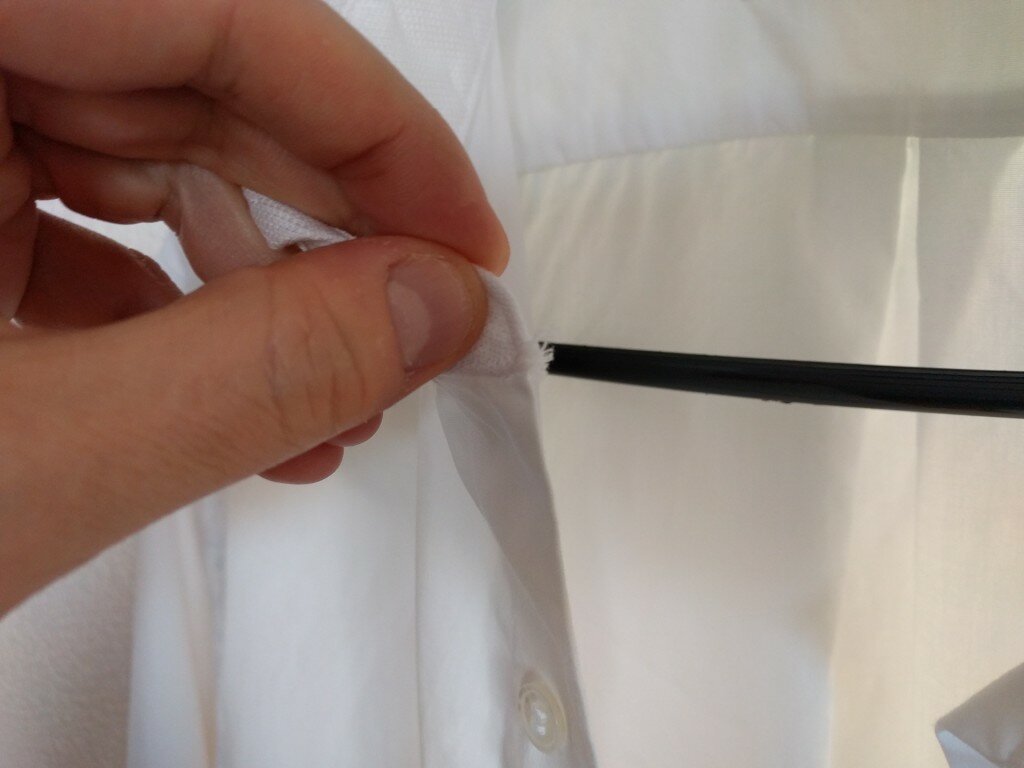 In retrospect, I probably should have drawn a stitching line with the Frixion pen, so that I would have been able to easily see the curve I was supposed to be stitching.
I think this can be patched up with some hand overcast stitches, and I may ask for the shirt back at some point so I can make this repair.
Thoughts on Sewing for Others, or Artist Angst
Though I didn't mention it in my fitting article, there were some things I learned from fitting a client, rather than myself.  The obvious is that it's much easier, since you can see from all angles, and try out changes while the garment is still on the client.
But the less-obvious lesson is that fitting someone else forced me to think harder as a fitter. When sewing for myself, I often stop and deliberate for a really long time about the best way to proceed on some construction technique, pattern alteration, or fitting issue.  It's one of the reasons I'm a fairly slow sewist.  But with a person standing in front of me, with both a limited attention span and a fixed amount of time to get the job done, I'm forced to think faster and make decisions quickly.  And often those decisions are just as good as the ones that I overthink at leisure.
This project was several firsts for me – a client, new design challenges, new construction challenges, pattern drafting, fitting, high standards for success, and a hard deadline.  Though I took the project on as a means of furthering my skills, the combination of all these "firsts" proved to be stressful near the end, with a deadline looming close and key issues (such as the sleeve and collar fitting) unresolved.  What began as a fun project, eventually became a source of stress.
In fact, I remained stressed out even after delivering the finished product two days before the wedding.  Would the finished product, heading down the aisle at a wedding, meet my standards?  Would it meet the standards of  a professionally made commercial shirt?  Would it meet the client's standards, and would they be happy about it?  My coworker and style consultant Mark said to me: "This is the fear an artist has. Either you lack confidence in your work, or you are delusional."
Does the result have flaws?  Yes (see above), but I decided I would not share them with the client, and not apologize for my work. I learned this rule from Julia Child. In her autobiography My Life in France, she explains this best:
I don't believe in twisting yourself into knots of excuses and explanations over the food you make.  When one's hostess starts in with self-deprecations such as "Oh, I don't know how to cook…," or "Poor little me…," or "This may taste awful…," it is so dreadful to have to reassure her that everything is delicious and fine, whether it is or not.  Besides, such admissions only draw attention to one's shortcomings (or self-perceived shortcomings), and make the other person think, "Yes, you're right, this really is an awful meal!"
I realized that by pointing out flaws, I would rob my client of the opportunity to enjoy his new shirt.  And that would have been sad for both of us, especially after the effort we both put into the project.
Instead of focusing on my failures,  I can look at my list of accomplishments. I made a pattern for a men's dress shirt from scratch, starting with a draft copied from a garment.  I fit the shirt to the client. I drafted from scratch sleeves, as well as finishing details such as collars, plackets and cuffs.  I arrived at a unique style for the shirt that both distinguished it from off-the rack, yet still worked as a piece of formal wear. I constructed a shirt that passed for something professionally made. I made both bride and groom happy.  That's a lot that went right and I'm really pleased I took on this project.
Thank You
Two individuals deserve special thanks.
To David Coffin, the project would not have been possible without the resources in his books, magazine articles and online courses.  I used some of his construction methods in this project for the first time, and he graciously provided me assistance via email.
To Paul Gallo, for the live instruction in draping and pattern making. He spent basically an entire class session showing how to draft sleeves, collars, and the other portions of a men's dress shirt. He answered my questions and provided valuable feedback to help me fit the client, especially for neck and sleeves.  He also helped give me the confidence to think I could carry on and complete the project.