Greetings after a long absence.  My personal life has been rather hectic lately, and after completing the shirt for my client's wedding I took a break from sewing for a while.
Readers who have followed the Tuxedo Shirt saga to this point will know I actually made two shirts.  The first was from a fabric that looked beautiful but was prone to wrinkling.  Since the wrinkly shirt was largely complete, I took time over the past week to finish this shirt for the client.  I personally put a lot of effort into it, so I did not want to see it go to waste.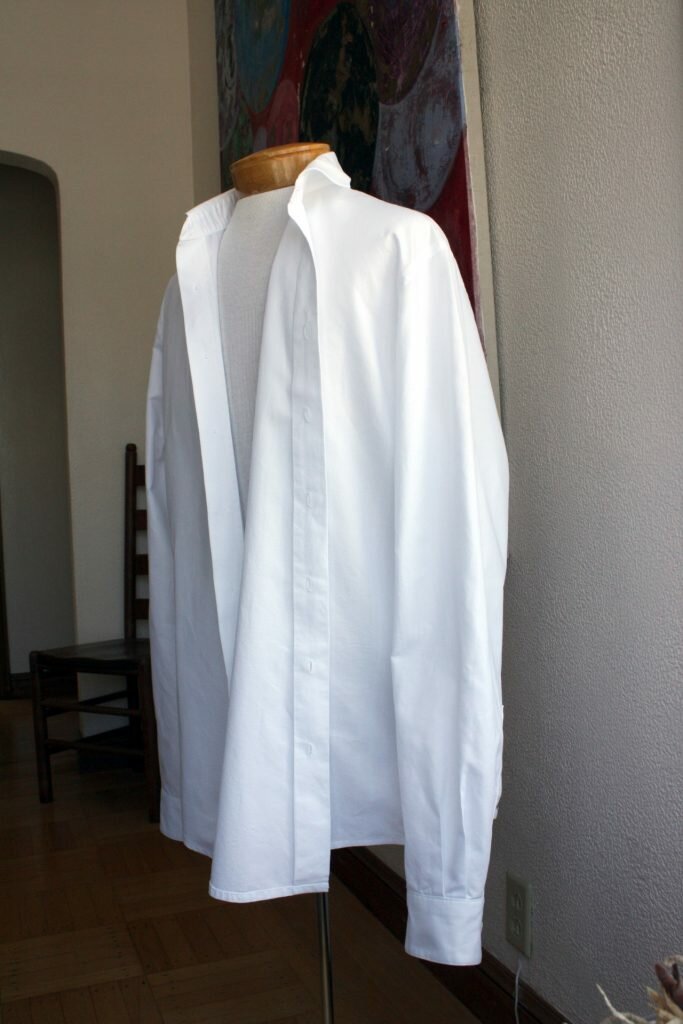 The idea is that this shirt would be more casual and suitable for every day wearing. A standard barrel cuff replaces the French cuff, and I lengthened the sleeve placket to make rolling up shirtsleeves easier.  This was a suggestion from Tammy at Sips N' Sews, where I did most of the work.

I had basted in a set of unfinished sleeves for fitting purposes. So the work was to pick off the sleeves and sleeve seam, finish the plackets and cuffs, then reattach the sleeves to the body of the shirt.

The barrel cuff required I adjust the sleeve somewhat.  To make a French cuff, you turn the sleeve placket underlap inward.  For a barrel cuff, you don't turn in the sleeve placket.  So the sleeve is a little wider, 1 inch in my case.  I took in the extra width by adding a third pleat at the sleeve.


I had cannibalized the mother-of-pearl buttons to produce the shirt ultimately worn to the wedding.  So I had to attach new buttons as well. I opted for plastic rather than mother-of-pearl, mainly because I have them on hand and the shirt is intended to be more casual.
Another minor difference is the shirt is an inch shorter than the "final" shirt, as I made a pattern adjustment between the two.

The collar turned out well, a little bit better than the final shirt.


The shirt really doesn't fit the dress form I'm displaying it on – it's too large, for starters – but here's a view of the back, including the yoke.
And finally, side seams.