At the close of my last article, I was busy sewing up a real, live "wearable muslin" to give my pattern a try.
Overall, I'm pretty pleased with the way it turned out.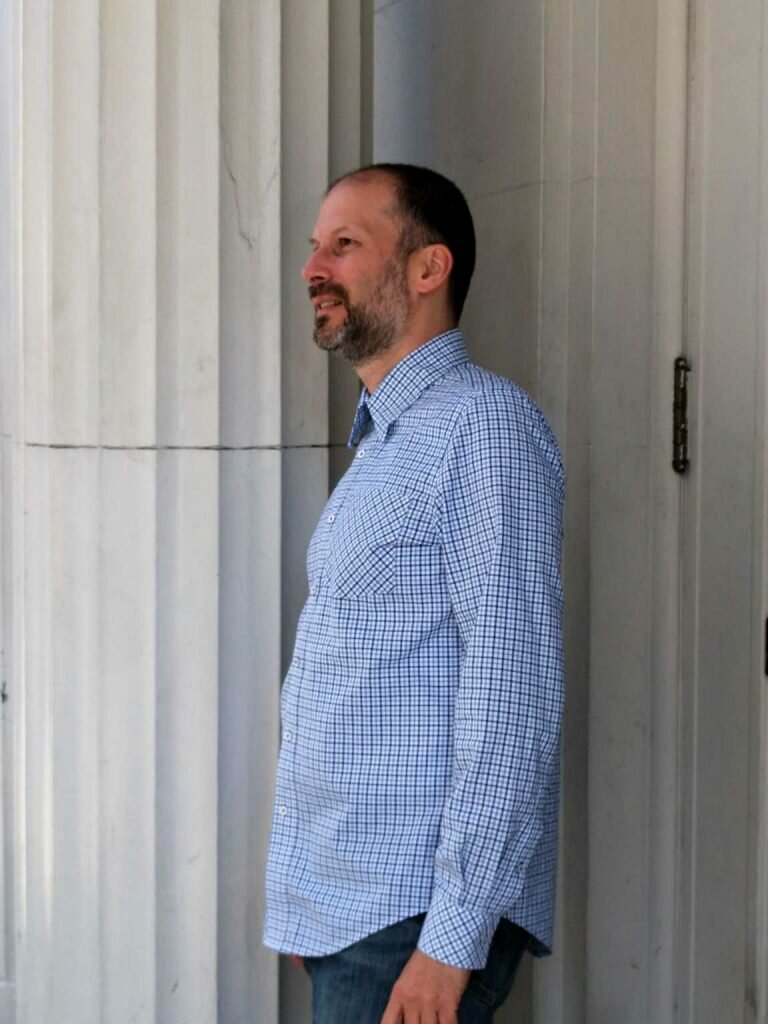 And here's some selfie photos showing the shirt as it is when tucked in:
The fabric was some blue gingham from JoAnn's that's been hiding in my stash.  I'm getting close to the end of the fabric I've bought and stockpiled from JoAnn's, from the days when the store was on my route from work and I would stop in frequently.
I honestly can't say I miss JoAnn's a whole lot; their fabric isn't the highest quality in general, and some past projects I've made with their fabric look a little bit "home made" because of that.  This blue gingham is fairly decent, however – easily as good as something you'd find in a shirt at Old Navy.  (I know that's not a huge compliment, but still).
Collar
I am having trouble getting the collar to roll at the proper point.  Following David Coffin's method of collar construction, I pressed in a crease along the line where the collar meets the stand, to set the "turn of cloth".  But the roll line of the collar, as I originally traced from the Famous Maker, is actually about 1/4 to 3/8 inch higher than the point where it joins the stand.  It wants to roll along the line where it was pressed, rather than higher up.
I am thinking about adding buttons to the collar points on this shirt to get it to stay in place.  And I am thinking about different collar designs for the next shirt.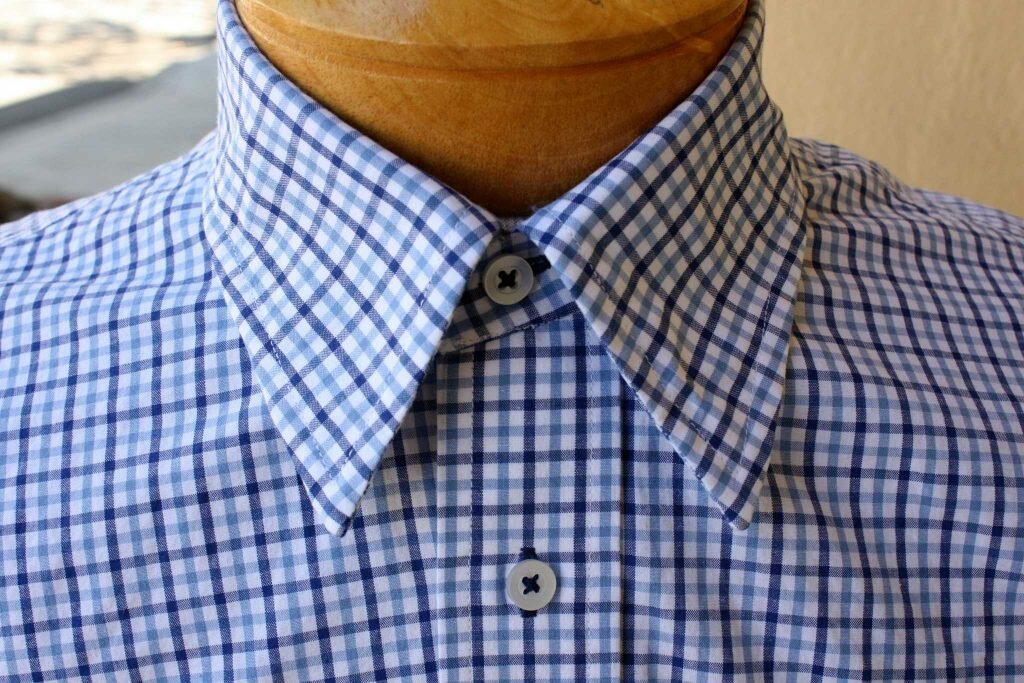 The front band is sewn-on, and I managed to get the gingham to match reasonably well.  I stitched on the buttons with a cross-mark "X" shape; this turned out to be more difficult than I expected to do with a home sewing machine and have it come out looking neat.  Store-bought shirts use dedicated industrial machines to do this work.
Pocket and Cuffs
The front pocket and cuffs are cut on bias for visual interest.  I missed getting the plackets to pattern-match on both sleeves, differently wrong on each.  One doesn't match vertically, the other doesn't match horizontally.  I'm not sure what happened here; I'll have to pay more careful attention when cutting the next set of placket pieces.
Side Seams
The patterns matched well on right side, but not so well on the left side (shown here).
During cutting, I did take the time to (a) attempt to straighten the grain of the fabric and (b) cut everything as a single layer. I partly blame the fabric itself; a finer shirting fabric would have more consistent grain.
Fortunately, this pattern is small enough that a miss on the pattern match isn't so noticeable.  And I stitched the flat-fell seam inside out, so only one line of stitching shows on the outside.  Again, this falls under the realm of issues most people won't notice.
How Well Does It Fit?
I plan to wear the shirt a few times to get an idea of how well it fits.  This is hard to do, because I am hypercritical of any issues I encounter, and also at what point do you stop and accept something for what it is?
Right now, I'm thinking the sleeve may need a little additional ease in back, because it is still a bit binding when I reach forward in certain situations.  For instance, when bending over to tie shoes I can feel the shirt restricting my movement.  But the sleeve length is just perfect, and I'm happy with the amount of ease around the biceps and forearms.
Every now and then I get a diagonal drag line across the clavicle, that says I might need a very slight square shoulder adjustment.
Still, I will enjoy wearing this shirt, and I will likely toss out one of my worn store-bought "favorite shirts" to make room for this shirt in my wardrobe.