Finally, the Chevron Latte Shirt is complete!
This shirt was a lot of work.  Not only was the detail work intricate, but other items such as the collar, pocket and cuffs gave me problems during assembly – and as I covered in Part 2, the front pocket was a complete re-do.
(Click or tap for closeups of any of the photos).
Fronts
The pattern alterations worked well. The tightness across the front of the shirt is gone, and the shoulder slope adjustment has eliminated the drag lines from shoulder to chest.  This photo does show a minor wrinkle line running from left shoulder to center front, but it's more of a fluke the way the shirt was laying when the photo was taken.
The fit is especially good considering my shoulders are asymmetrical, and I will never get an exact fit without making what's called a "complete pattern" – separate pattern pieces tailored for right and left.  Truthfully, I don't think I need to.
Closeup on the dress form.  I've discovered that the better the shirt fits my body, the worse it fits on my dress form.  Especially, my square shoulders don't match the more sloped shoulders on the form.  I'm considering a project to adapt the form to better match my body shape.  Just shoulder pads on the form could help.
Collar
The collar fit also improved, with the lowered neckline and added ease both lessening the tension in the front.  The front band also lays perfectly when the top collar button is buttoned; sorry for not getting a picture with the collar fully buttoned on me.
Sleeves
I got the effect I was looking for when I originally envisioned the chevron placket.  I love it.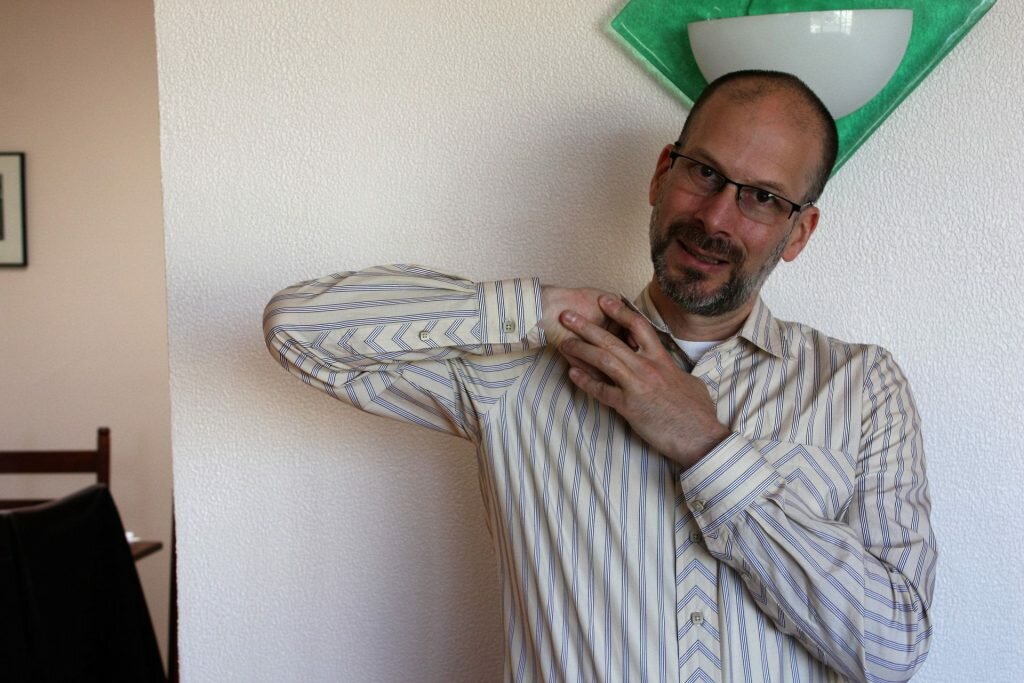 Back
Though I didn't make any fit adjustments in the back, the fit here is also really good – which is good, because it means I didn't screw it up.  My partner Jim tells me the back looks way better than the earlier muslins I was playing around with.
There is still some poofiness near the waistline; I'm learning from research that the poofiness may be a side effect of the extra ease afforded by the box pleat.  There may be some opportunities to play both with different pleat/gathering styles, as well as back darts in future projects.  I think back darts on this shirt would have looked very odd with the striped fabric.
Here's a closeup on the chevron back yoke.
Summary
I have no more fit changes I wish to make to the pattern.
I'm really happy with how everything came together for me on this project in terms of design, fit, and construction.  I really plan to enjoy wearing this shirt.