Well, thanks to weekend clouds, I'm still waiting to take my telescope caddy out into the field and try it out.  But that doesn't stop me from starting new projects.
I have learned that April is National Serger Month, so I want to try some projects with my serger.  I'm going to be working on three projects all at once.
T-Shirts
I have some light green argyle print knit fabric that has been gnawing at me, wanting to be made into a Spring T-shirt.  Plus I have some other cuts of jersey knits that have been sitting in my fabric stash.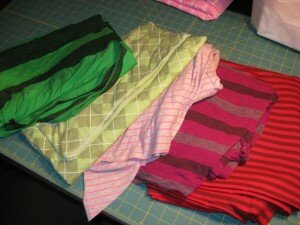 So I plan to make a batch of T-shirts.  I'll be using Kwik Sew 3299 as the pattern, which I've made several times in the past.  This time, I'll be altering the pattern to give a little more room in the chest.

Hoodies
Next, I have some cuts of sweatshirt fleece in black and charcoal gray that I bought at Joann's last fall.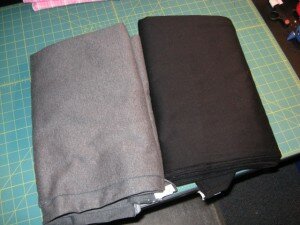 Originally, these were going to be made into two-tone raglan style sweatshirts with Simplicity 2015.  But now I want to try making hoodies for some reason. I'll be using McCall's 5252 as the pattern.  It's so hip it even has an MP3 player pocket, which I'll be including in my rendition of the pattern.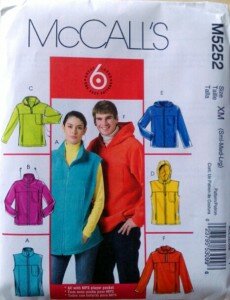 I will be making View E, with a hood, long sleeves, and a full-length front zipper. I also want to include a drawstring around the hood, and I'd like to attach knit ribbing cuffs and waistband rather than the simple hems shown in the pattern illustration.
Short-sleeve dress shirt
Finally, I was at Joann's this past week shopping for some notions, and I saw this pink seersucker shirting fabric on sale in their Spring fashion fabrics collection.
I bought enough to make a short-sleeve springtime shirt using McCall's 6044.
I have some pink buttons in my stash that should look nice on this shirt. I also have an order placed with Bay Tailor Supply for some fine thread to use for shirt construction. One of the spools is light pink, of course.
A New Arrival
Also this week, a new sewing machine arrived in the Line of Selvage studio!  It's a Brother 2340CV coverstitch machine

I've had my eye on this machine for a while, and when its price dropped on Amazon, I decided to pounce while it was cheap.
A coverstitch machine makes the hem you see on almost any T-shirt: two lines of stitching on the right side of the fabric, and a loopy stitch between the two lines on the wrong side of the fabric, covering the raw edge of the hem.  There are some sergers out there which can do this type of stitch. My Brother 1034D serger isn't one of them, and so the 2340CV is a perfect complement to its capabilities.
Together, the conventional sewing machine, serger and coverstitch machines should be able to handle nearly any garment construction task.  The T-shirts and hoodies are the first of several projects I'll be making with them.
Here's a "family portrait" of all three machines:
I think I may just be the poster child for Brother sewing machines.  I don't have any particular love or loyalty to the Brother brand, but they do seem to do a great job of putting out cheap machines that offer the essentials and perform well.
Next time, we'll get going on all three projects.