That was my first thought after I had written out the check to Tammy Gustin at Sips n Sews studio to purchase one of their industrial sewing machines, and had time to reflect on it.
Industrial sewing machines are not portable. They are bulky and difficult to transport; you may need to call a tech on-site if you can't repair or adjust it yourself. They need to be oiled everywhere, and I mean everywhere (more on that in a bit). They are designed for practicality, not convenience; many adjustments on an industrial require screwdrivers and setscrews rather than dials. In short, they are higher maintenance than a domestic machine and a higher commitment to own.
I really had no need for an industrial sewing machine at home when I had access to the studio. But with the demise of the studio, I could definitely see situations ahead where I would want to have one at home. And I also wanted a piece of the studio as a remembrance.
Moving the machine
The first problem was how to transport it from the studio to my home. I set up an appointment on Lugg. Early the next afternoon a large pickup truck showed up at the studio, along with Kyle and Julio, my Luggers for the job.
Industrial sewing machines operate at very high speeds, so all parts must be constantly lubricated to prevent heat and wear due to friction. Many industrial machines have an oil bath beneath the machine, mine is one of them. The oil must be emptied before the machine can be transported, to avoid spilling it all over the place.
I brought a funnel and a container to the studio; Tammy scooped the oil from the pan with a teacup and we funneled it into the container for me to refill the machine at home.
The machine must be transported standing up, so Kyle and Julio set it in the truck bed and locked it down with straps. They did a great job moving it into my garage.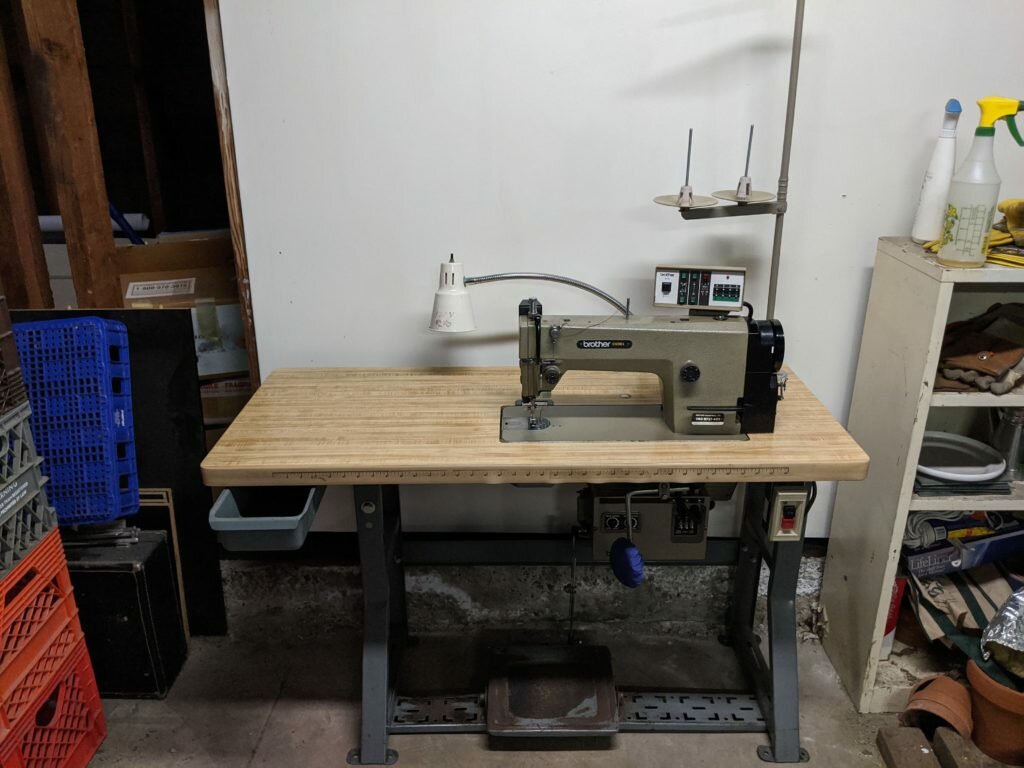 The integrated sewing table has a built-in worklamp. The first thing I discovered is the light didn't work; the switch was broken. More on this in a bit.
Continue reading